The new Royal Bay Secondary School is in a brand new development, which provides significant opportunities as well as a few unique challenges. Where an existing neighbourhood would have many streets and trail connections in place to a newly built school, Royal Bay streets are still under development. Routes are being established now through collaboration between the City, development teams, the School District and other neighbours to the site.
Colwood Safe routes to school survey
In November 2015, the City of Colwood encouraged Royal Bay students and families to complete a survey of "10 quick questions about how you get to school".  We received 233 responses that provide excellent information about about whether students were walking, cycling, riding the bus or driving to school and which routes they are traveling. This information has been extremely helpful in guiding which streets, sidewalks and pathways are the priorities to focus on.
View the 2016 School Travel Plan for Royal Bay Secondary
Survey overview
Survey results indicate that most students (64%) are still getting to school by bus or car.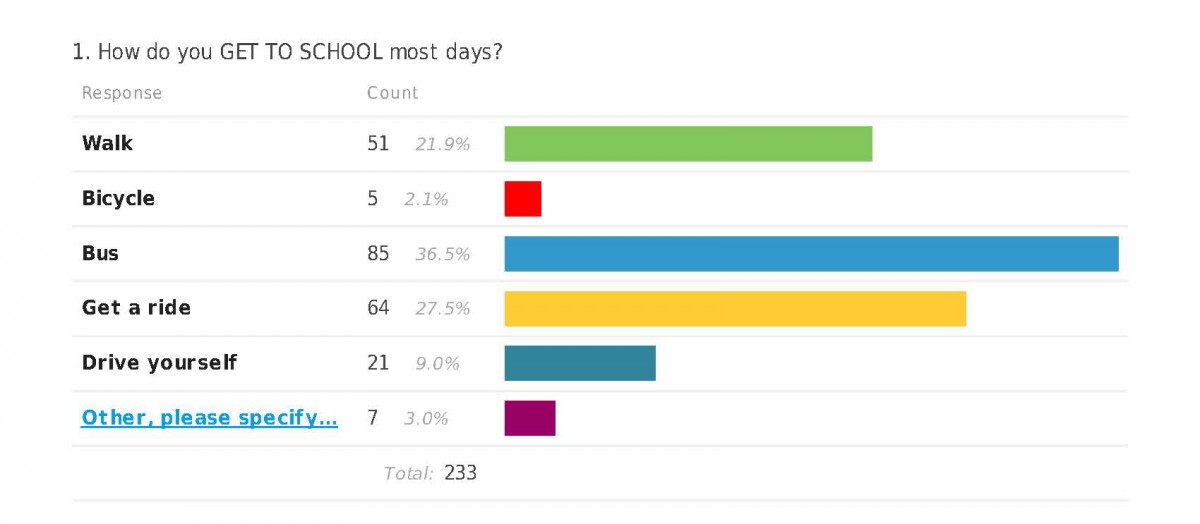 Many students (67.5%) indicated that they would choose to walk or bicycle if safer sidewalks and trails were available. Also, 61% felt that new trails would make their walk/cycle to school quicker. A whopping 96.9% of students agreed that walking or cycling to school is a good way to stay healthy.

When asked what new sidewalks, trails and bike lanes would be most important to them, these were the results in order of priority:
New sidewalks and bike lanes on Latoria Road (63.8% felt this was very important)
New sidewalks and bike lanes on Wishart Road (50% felt this was very important)
A new trail between Wishart Road and Royal Bay School (49.1% felt this was very important)
A new trail between Painter Road and Royal Bay School (44.4% felt this was very important)
New sidewalks and bike lanes on Dressler Road (30.5% felt this was very important)
Metchosin Road safety improvements were most frequently noted in the comments
A full report of survey results is available here.
Next steps - planning safe and comfortable travel routes
A new Colwood Transportation Master Plan was approved in 2015 to guide improvements to how people move in and through Colwood. The new Royal Bay community offers an excellent opportunity to put the transportation plan into action. 
Several City projects are planned or are underway to create new connections to Royal Bay Secondary School:
1. Latoria Road Pathway
A walkway was constructed along Latoria Road between Wishart Road and the new Latoria Boulevard in the fall of 2015. The section of Latoria Road between Wishart Road and Veterans Memorial Parkway will be completed in the coming months as property owners complete frontage upgrades. The City will complete the connections to ensure a continuous walkway along Latoria between Royal Bay Secondary School and Veterans Memorial Parkway.
2. Wishart Road Pathway
The City has constructed the first phase of a trail to connect Wishart Road through to the existing concrete pathway in Royal Bay. Trail construction will continue in phases as the nearby properties develop. The City is also in contact with the School District to arrange for the connection from the trail into Royal Bay Secondary School.
3. Painter Road Pathway
The City has been in discussions with the Royal Bay development team for several months about the creation of a pedestrian and cycling pathway through the end of Painter Road to Royal Bay Secondary School. Ensuring the safety of students through this undeveloped area is of paramount importance, and there are still some details to work out around that. The City will continue to work hard to create this much needed connection.
4. Cycling enhancements on the Metchosin Road hill
In September 2015, the City created a buffered bike lane for cyclists travelling up the Metchosin Road hill, and widened the downhill lane to create a marked shared vehicle and bike lane. Further enhancements are expected to be completed by the owners of Royal Bay as the area develops.
5. Left hand turn onto Latoria Boulevard
The Royal Bay owners will be creating a left hand turn lane on Metchosin Road for drivers making a left onto Latoria Boulevard from the direction of Metchosin.
6. Safety Improvements in Metchosin Road school zones
Council has approved the installation of a crosswalk on Metchosin Road near the transit stop at Dunsmuir Middel School. At the same time, that section of Metchosin Road will be designated as a school zone and an additional speed reader board will be installed to reinforce the speed limit to improve safety for students walking and cycling to both Dunsmuir Middle School and Sangster Elementary.
Enhancing the safety of school travel routes, and making it easy and comfortable for students to walk or cycle to school is a priority for the City. Every effort is being made to work with partners and funding available to create these connections in a timely way.