Esquimalt Lagoon is one of 54 National Migratory Bird Sanctuaries in Canada. The estuaries and salt marshes create highly productive ecosystems, a sheltered environment for fish, and rich feeding grounds for birds.
The Lagoon is a popular spot for feeding the ducks, geese and gulls and watching the swans swim. Look around and you'll see Blue Herons perched high in the evergreens and Bald Eagles soaring overhead. Bird enthusiasts flock to the area hoping to spot a wide variety of shorebirds such as Black Oystercatcher, Black-bellied Plover, Western and Least Sandpiper, Dunlin, Black Turnstone, Sanderling, Dowitcher, Semi-palmated Plover, Yellowlegs, and Killdeer. Learn more at Birding in British Columbia.
Interested in joining a coastal bird watching group?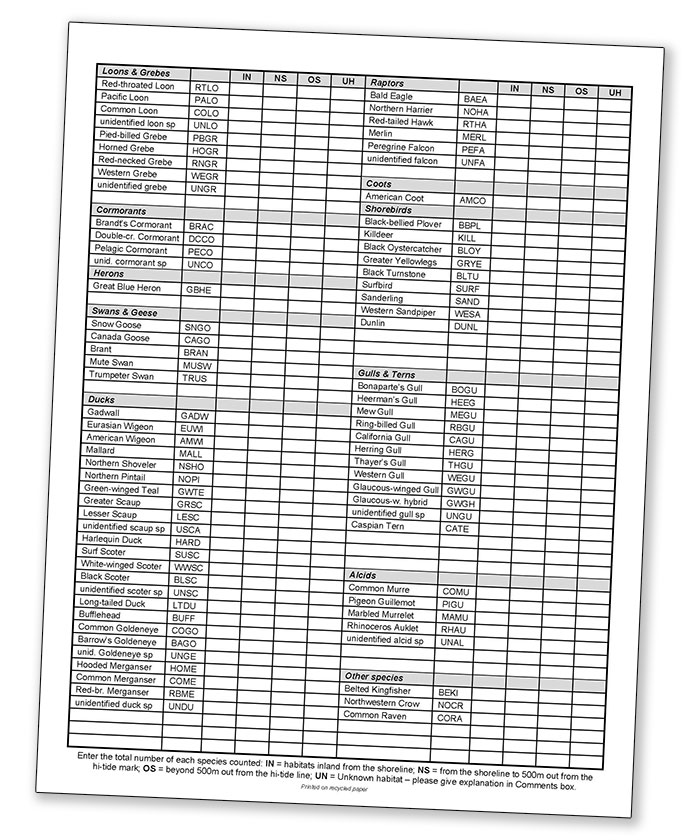 The BC Coastal Waterbird Survey aims to coordinate the efforts of people who care about waterbirds in British Columbia. Anyone who can identify coastal waterbird species in their area can participate in the BC Coastal Waterbird Survey! The goal of such coordinated collective efforts is the conservation of coastal waterbird populations in British Columbia.
This Survey Instruction Guide and Field Datasheet provide some excellent information to get you started.
Contact the Esquimalt Lagoon Stewardship Initiative at 250-360-3299 for more information.