RESCUE 56 - 2002-Spartan Metro Star Rescue Body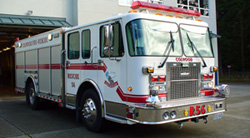 Outfitted with equipment for:
Auto Extrication
Confined Space Rescue
First Response (Medical Aid)
Fire Support Equipment
Electrical Generation Unit & Lighting
Seats 6 Firefighters
Rescue 56 was delivered in 2003 and is the "workhorse" of the Colwood Fire Department. It is superior in design and performance, has many technological features that make it a valuable multi-purpose vehicle suiting a variety of rescue and fire suppression support needs. This apparatus is first to respond to all rescue, motor vehicle incidents and medical aid calls in the city.
ENGINE 51 - 1995 Spartan Gladiator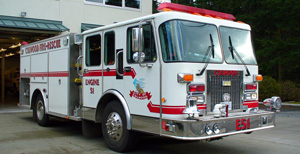 Specifications:
Total Length: 28' 9"
Total Height: 112"
Rear Mount 1500 IGPM Hale Pump
500 Gallon Water Tank
20 Gallon Class B Foam
Gallon Class A Foam
1000' of 4" Hi-Volume Hose
1000' of 2.5" Hose
Honda 6500 watt water cooled generator
2x 1500 watt Telescoping Lights
This vehicle is second due engine for the department. It is in good operating condition and meets current applicable standards for fire apparatus. It is maintained in superior fashion to ensure NFPA compliance. This vehicle has now been slated to be replaced in the Spring of 2020. 
ENGINE 52 - 2012 Spartan / Metro-Star LFD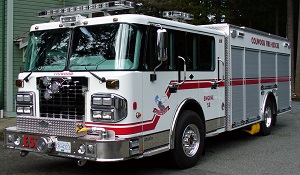 Specifications:
1750 IGPM Hale pump
500 Gallon Water Tank
Twin 25 Gallon Class A & B Foam
1000' of 4" Hi-Volume Hose
7 Pre-connected Attack lines
4750 Watt Command Light Tower
15 KW Hydraulic generator
Electronic Pump Controls
This engine is the newest to the fleet and is our front line engine.  E52 currently sits as our first due engine for the department.
TOWER 57 - 2015 Rosenbauer T-Rex 115' Articulating platform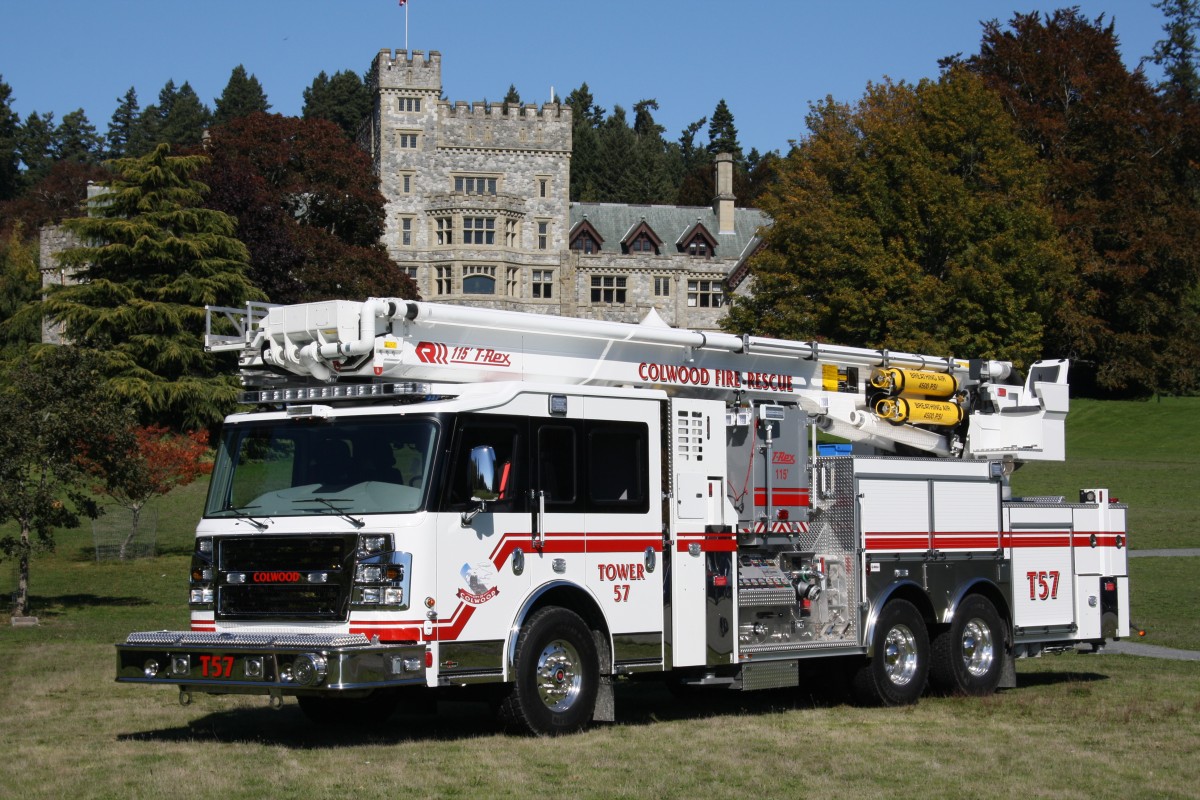 Specifications:
115' Articulating Platform
Crane Technology (support 8500 lbs at first boom)
1750 IGPM Hale Single Stage pump
1250 GPM Remote Controlled Monitor on Platform
Operation can be controlled either in the platform or at the safety position on the pedestal
3 video cameras on Platform (Zoom, Thermal and Fixed)
Seat 6 Firefighters
TANKER - 2008 Engine 58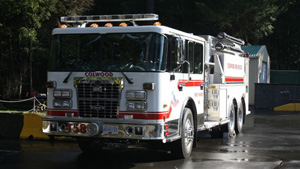 Specifications:
Spartan MetroStar Tandem Axle
425 HP Cummins 15L with Allison Transmission
Total Length - 32' 2"
Wheel base - 207"
Total Height 114"
Seats 6 Firefighters
PUMP -  Hale Q Max 1500 IGPM (Midship Traditional Side Panel Control)
TANK - Wellington Poly, holds 1648 IGPM with 3x Stainless 10" Quick Dumps (Right, Left, Rear)
FOAM SYSTEM -  Advantus Single A Foam (25 Gallon Tank)
LADDERS - 1x 35 FT - 3 Section, 1x 14 FT - Roof Ladders (Mounted on Zico Hydrolic Lift)
PRE-CONNECT - 2x 200FT of 1.5" hose, 1x 200FT of 1" Rubber Hose Reel
PORTA-TANK - 1250 IGPM (Mounted on Zico Electric Lift)
HOSEBED - 1000 FT of 4" HI-VOL, 500 FT of 2.5" Supply Line, 200 FT of Pre-Connect 2.5", 500 FT of 1.5" Leader Line
Special Features, include automatic turning and backup cameras, tire inflation monitoring system, complete driver and officer VMUX display control heads and 100% LED lighting package throughout. Truck Designed by Colwood Fire Rescue and proudly constructed by Hub Fire Engines of Abbotsford British Columbia, Canada.
TRUCK 54 - 2009 Ford F450 Crew Cab
Outfitted with:
PowerStroke 6.4L Twin Turbo Diesel
Custom Service Utility box
Tow Package
Seats 5
BATTALION 55 - 2013 Chevrolet Tahoe
This serves as a duty officer response unit after business hours.
CHIEF 50 - 2018 Chevrolet Silverado
This unit serves as a support vehicle at emergency incidents. It also serves as a backup unit for towing the foam & trailer units.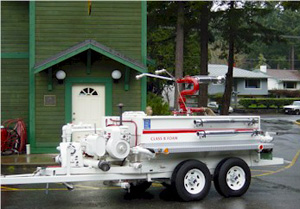 FOAM TRAILER - 500 gallon class B support unit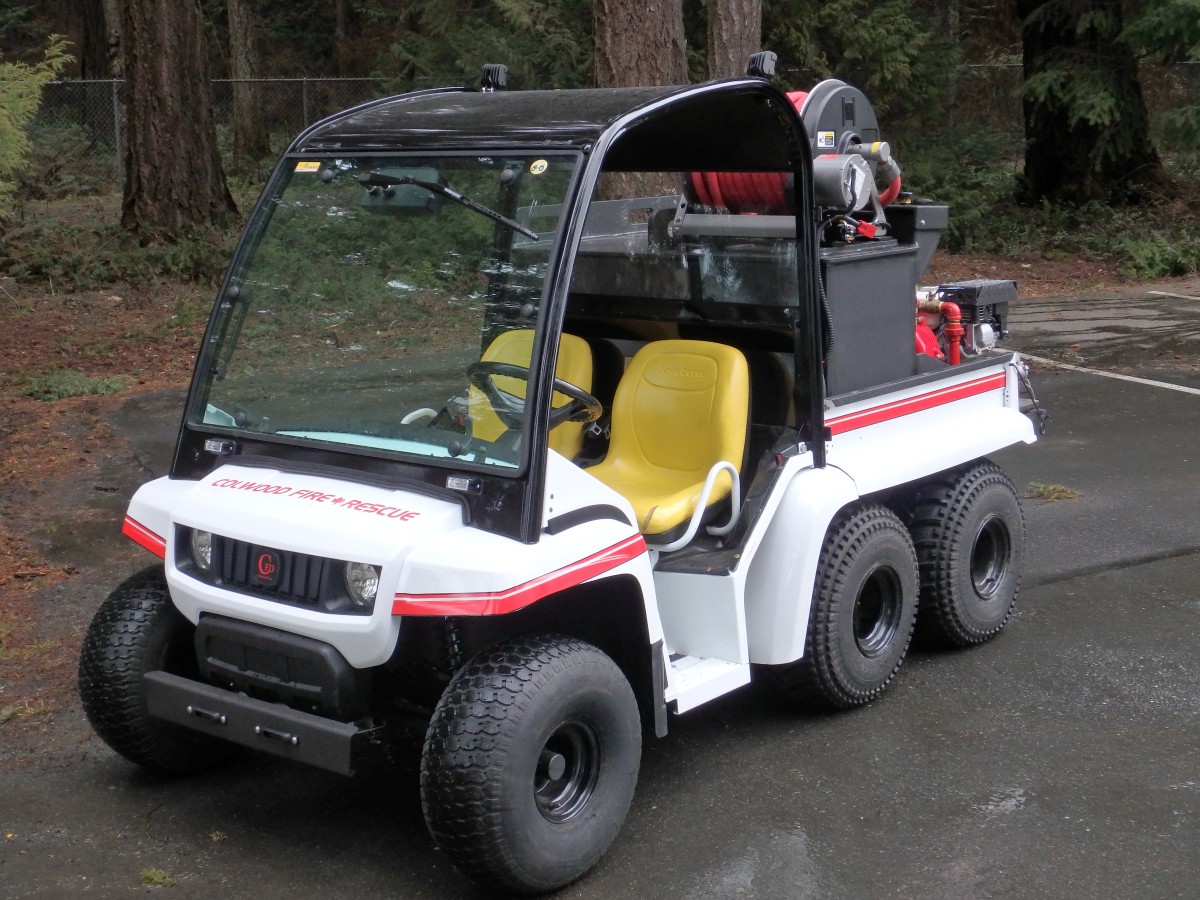 GATOR - for offroad fire rescue
INSPECTION 53 - 2016 Chevrolet Tahoe
This unit is used by the Fire Prevention Division to complete the required fire inspections and public education programs, as well as to shuttle firefighters to out-of-area training courses.