Colwood is home to a unique mix of neighbourhoods, each with their own distinguishing features to enjoy and opportunities to explore.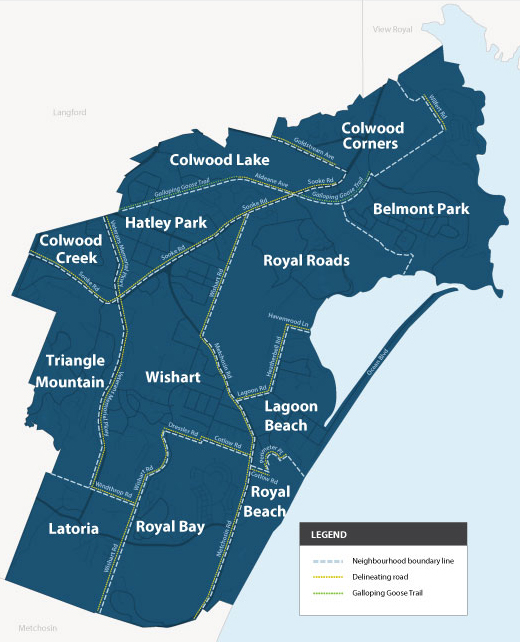 Colwood's treasured long-time neighbourhoods often include larger lots with mostly single family homes built since the 1960's, and feature mature trees and landscaping. As was common at the time these areas were developed, they are served by local roads that are shared by neighbours on foot, bicycle or in their cars, with access to local schools and parks. 
As Colwood grows, new neighbourhoods are emerging. In some areas, trees are being planted where no trees have grown for almost a century, and new parks and trails are provided by developers as amenities for all residents. Streets are built to new standards laid out in the Official Community Plan and Transportation Master Plan, and ongoing upgrades to established neighbourhoods will apply these same standards throughout more areas in Colwood. (Seven sidewalk projects are currently planned for construction: Owens, Benhomer, Lagoon, Fulton, Kelly, Hagel and Adye Roads.)
Recognizing and celebrating each distinct neighbourhood area
Identifying neighbourhoods not only makes the community easier to navigate, but further defines sense of place, acknowledges unique features and fosters pride and belonging for residents. Watch for a new sign at the entrance to your neighbourhood! They'll be installed throughout every Colwood neighbourhood in 2023, funded by a Canada Community Revitalization Grant. 
The name and boundary of each neighbourhood is intended to line up logically with local streets, natural features, and Colwood destinations. The brief descriptions below are a starting point to give a general sense of what's special and what's to come for each area. Want to make a suggestion? Let us know at srussell@colwood.ca.
Colwood Corners
The Colwood Corners Neighbourhood in Colwood's town centre area features a mix of some single family homes and a growing number of apartments and condominums, along with commercial shops, services and public amenities like West Shore Parks & Recreation. The Galloping Goose Regional Trail runs through the area as part of a seamless active transportation connection between downtown Victoria and Sooke. Ocean Boulevard provides a link to the Colwood waterfront, including Fort Rodd Hill and Fisgard Lighthouse National Historic Site, Esquimalt Lagoon National Migratory Bird Sanctuary and the Lagoon Beach.
Improvements underway in the Colwood Corners neighbourhood: Construction of a new pedestrian and cycling bridge connecting the Galloping Goose trail over Sooke Road is set to begin in 2023 with funding from a federal grant of $3.6M. The City is also working to create a cohesive vision for the future of the Colwood Corners town centre as the gateway to Colwood so that decisions made today will lead to a thoughtfully designed town centre in 30 to 50 years. Read about Colwood's Gateway Visioning project.
Belmont Park
The Belmont Park Neighbourhood is predominantly owned by the Department of National Defence and provides housing for the men and women who serve in Canada's military and their families. Pathways link this neighbourhood to the Galloping Goose Regional Trail, Royal Roads trails and down to the waterfront. Ecole John Stubbs Memorial School serves students from kindergarten to grade 8 with a focus on French immersion.
Improvements underway in the Belmont Park neighbourhood:  Pedestrian, cycling and transit improvements along Ocean Boulevard are planned with funding from Parks Canada to improve access to Fort Rodd Hill and Fisgard Lighthouse National Historic Site. This will make it easier and more comfortable for residents and visitors to walk or cycle or take the bus to Colwood's waterfront.  
Royal Roads
The Royal Roads Neighbourhood, like all land in Colwood, the Royal Roads lands are part of the traditional territory of the Lekwungen speaking people. The land is currently home to Royal Roads University and owned by the Canadian Department of National Defense, who in 2017 advised that they no longer had an operational need for the property. DND entered into discussions with Songhees and other First Nations about the future of the land. Treaty Negotiations about this property (and others throughout the region) are coming to a close, and determinations about the future status of the land are yet to come. In 2017 Songhees Nation and the City of Colwood have signed a Memorandum of Understanding outlining their shared interest in protecting the environmental and heritage value of the lands.
Colwood Lake
The Colwood Lake Neighbourhood features large lots with mature landscaping, many overlooking the Royal Colwood Golf Course and the peaceful Colwood Lake which is part of that property. The Galloping Goose Regional Trail meanders through the neighbourhood, providing an active transportation route through the community. Colwood Elementary School and David Cameron Elementary School are adjacent to this neighbourhood.
Improvements underway in the Colwood Lake neighbourhood: As part of the City's ongoing program of active transportation improvements, construction of a sidewalk along Hagel Road will improve comfort and safety, especially for kids and families walking to David Cameron Elementary School.
Hatley Park
The Hatley Park Neighbourhood sits between Hatley Plaza and Hatley Memorial Gardens, including St. John the Baptist Heritage Church and Colwood Pioneer Cemetery. The Galloping Goose Regional Trail runs through the neighbourhood, providing easy access to a regional active transportation route for residents. Herm Williams Park is a neighbourhood park with a kids playground and community events like music in the park and holiday events are hosted in the pergolas that grace the park. David Cameron Elementary School is adjacent to this neighbourhood.
Improvements underway in the Hatley Park neighbourhood: As part of the City's ongoing program of active transportation improvements, a new sidewalk will be constructed along Kelly Road between Sooke Road and Herm Williams Park, along with improvements along Metchosin Road and through Adye Road. In addition, a new Park Management Plan will be developed to guide improvements to Herm Williams Park with community input and aligned with the recommendations in the Colwood Parks & Recreation Master Plan. 
Colwood Creek
The Colwood Creek Neighbourhood features single family homes with large yards and is home to the 12 hectare Colwood Creek Park, which features a playground and splash pad for kids and large wide open spaces with accessible trails and the creek running through it. Trails connect to the Galloping Goose Regional Trail.
Improvements underway in the Colwood Creek Neighbourhood: A new Parks Management Plan will guide improvements to Colwood Creek Park, including clarifying on-leash and off-leash dog areas, and new seating, recreational amenities and environmental protections. 
Triangle Mountain
The Triangle Mountain Neighbourhood features single family homes built in unique hillside lots with rocky outcrops and mature landscapes. The mountain offers incredible views over Colwood and across the ocean to Victoria and the Olympic Mountains beyond. Lookout Lake Park is a hidden gem on Triangle Mountain for healthy walk, a cool dip or a bit of fishing for the trout that the lake is stocked with. 
Improvements underway in the Triangle Mountain neighbourhood: The Colwood Parks & Recreation Master plan is intended to guide improvements over the next ten years, and recognizes the need for dedicated park and playground space on Triangle Mountain. A Lookout Lake Park Management Plan will guide trail, washroom and seating improvements. In addition, construction of a new sidewalk on Fulton Road will increase pedestrian safety and convenience. 
Wishart
The Wishart Neighbourhood offers links down to the waterfront, the Royal Roads lands and to parks and trails like Ocean View Park, Outlook Park, and the Painter Trail connections into Royal Bay. Wishart Elementary, Sangster Elementary and Dunsmuir Middle Schools are located here, as well as Colwood City Hall.
Improvements underway in the Wishart Neighbourhood: Construction of sidewalks on Owens Road and Benhomer Drive will improve pedestrian safety, particularly for students and families walking to Wishart, Sangster and Dunsmuir Schools. Improvements to Ocean View Park are outlined in a new Parks Management Plan, including washroom facilities, seating, sport court improvements and more. 
Latoria
The Latoria Neighbourhood includes long established homes, newer areas in the Latoria Walk neighbourhood where Red Barn Market is located, and developing areas like Olympic View Golf Course where construction of new single and multi family homes and amenities is underway. The neighbourhood features connections to beautiful forested nature parks, Havenwood Park and Latoria Creek Park.
Improvements in the Latoria Neighbourhood: A new roundabout at the corner of Latoria and VMP will be completed in 2023 and studies are underway to plan for sidewalks and improvements along Latoria Road. Parks Management Plans will guide improvements to Havenwood and Latoria Creek Parks and Royal Bay development plans include an expansion of Latoria Creek Park with new connections in and through the park. 
Lagoon Beach
The Lagoon Beach Neighbourhood features both single family homes and newer condominium options with beautiful ocean views and easy access to the Lagoon Beach and Esquimalt Lagoon National Migratory Bird Sanctuary, as well as Royal Roads forest.
Improvements planned in the Lagoon Beach Neighbourhood: A new sidewalk is planned on Lagoon Road, and the Waterfront Stewardship Plan envisions a multi-use pathway from the Lagoon Bridge to Royal Beach, which will improve active transportation and create an incredible new amenity for the community to enjoy.
Royal Beach
The Royal Beach Neighbourhood is a developing area with plans for new homes, trails, parks and businesses. Public access is provided through private property to the Royal Beach Park and waterfront.
Improvements planned in the Royal Beach Neighbourhood: Zoning is in place for a master planned waterfront community with new homes, parks, trails, eateries, shops and services. On April 26, 2023, Colwood Council approved the Royal Beach Parks Master Plan which details how 19.45 hectares of parkland will be designed as a series of community amenities that will position Royal Beach as a regional destination. 
Royal Bay
The Royal Bay Neighbourhood is Colwood's fastest growing neighbourhood. The area has a century-long history as a gravel operation that was one of the region's largest industrial sites and major employers. Royal Bay is now a bustling neighbourhood with new homes, schools, parks and trails. A new commercial Commons will see businesses begin to open in the spring of 2023. It is home to Meadow Park and Murray's Pond Park with trail connections throughout.
Improvements planned in the Royal Bay Neighbourhood: The spring of 2023 will see the first new businesses open in the Royal Bay Commons, including Quality Foods, Cascadia Liquor, Pure Integrative Pharmacy, Sequoia Coffee, Big Wheel Burger, and Next Level Child Care. More parks are planned as part of the current phase of development, including expansion of Latoria Creek Park and new recreational amenities alongside the new elementary school site. It will also be home to a new elementary school, the Royal BC Museum Collections and Research Building, and a new Long Term Care Facility.