Havenwood Park is a beautiful 40 acre forested park with a network of well groomed hiking trails. In 2002, the City aquired Havenwood Park for the environmental benefit it provides in the heart of a growing community and for the recreation opportunities it provides to residents. The gorgeous setting of forest, ferns and wildflowers make it a favourite place for residents to wander and explore, and helps the City achieve its Official Community Plan goal of ensuring "People and nature are exceptionally well connected in Colwood."
There are two main trails: the Havenwood Steps Trail is a great place for a nature workout, and the trail provides access to Lookout Lake; the Olympic View Trail slopes upward to an incredible view point over the forest and across the Salish Sea to the Olympic Mountains in the distance.
On the east side of the park, the Windthrop Road Trail connects through Windthrop to Wishart Road, and the Parkway Place Trail leads to Ocean View Park and surrounding neighbourhood. 
The park is maintained in partnership with Habitat Aquisition Trust and the Friends of Havenwood Park and the Colwood Parks team is in continuous contact with these groups about park maintenance and enhancement activities. 
The boundary of the park is shown in the image below, with the privately owned property surrounding it.
New Havenwood Park Management Plan
See improvements planned for Havenwood Park over the coming years, including new trail connections, washroom facilities, and leash requirements to protect sensitive environments and respect the safety and comfort of all park visitors.
Havenwood Park Management Plan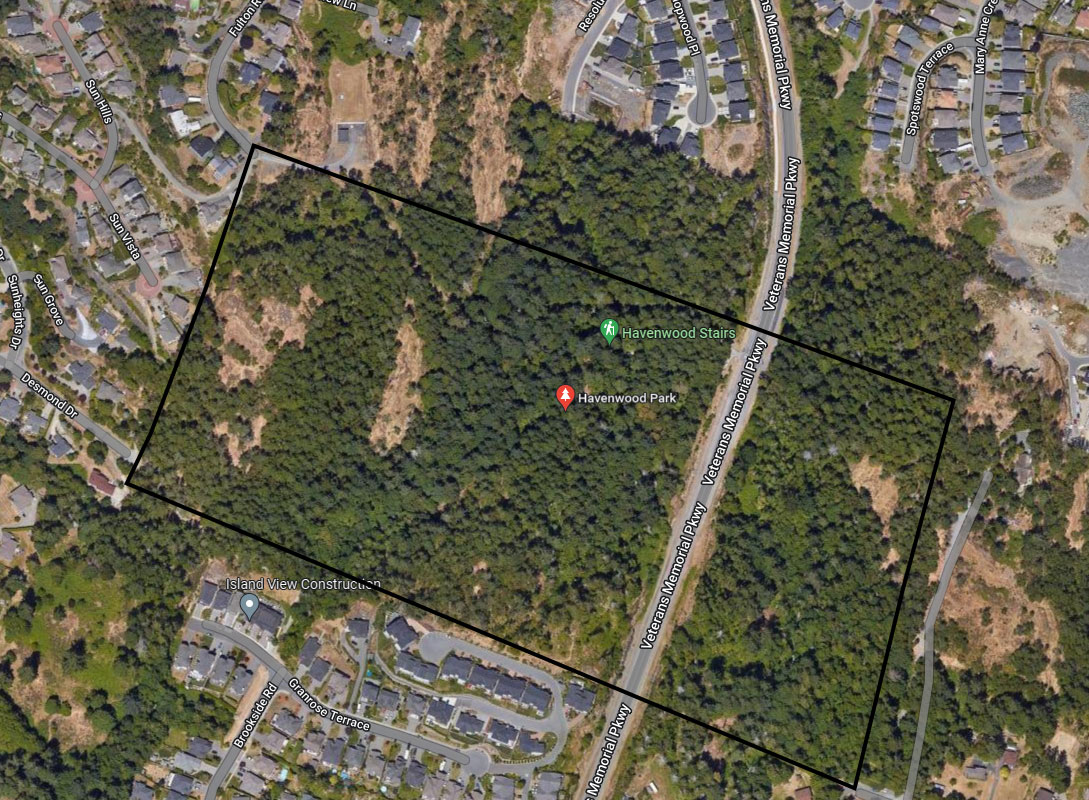 Accessibility Rules:
Well groomed gravel paths and wooden stairs.
Dog Information:
Note that the Havenwood Parks Management Plan adopted by Council on May 8, 2023 will mean a change to leash requirements in order to protect the sensitive environment and respect the comfort and safety of all park visitors. Currently, dogs should be under control of the owner at all times and on trails. Please pick up after your pets.