With your help, we are creating our first Parks & Recreation Master Plan to guide the improvements for our parks over the next 10+ years.
The process started this spring with residents sharing ideas. That resulted in a series of options that were presented for public feedback in Phase 2.
The input received to date will guide the compilation of the Draft Parks and Recreation Master Plan.
Stay tuned in December and January for the final phase (Phase 3) opportunities to review and comment on the Draft Plan.
You are helping to shape how our community grows, and the future changes and upgrades to our community's parks, trails, and recreation programs.
This Phase 2 "Ideas Map" was generated from a combination of the Phase 1 community feedback, other City of Colwood Plans, and technical analysis of strengths and gaps in our existing parks and recreation system. Click the image to enlarge the map.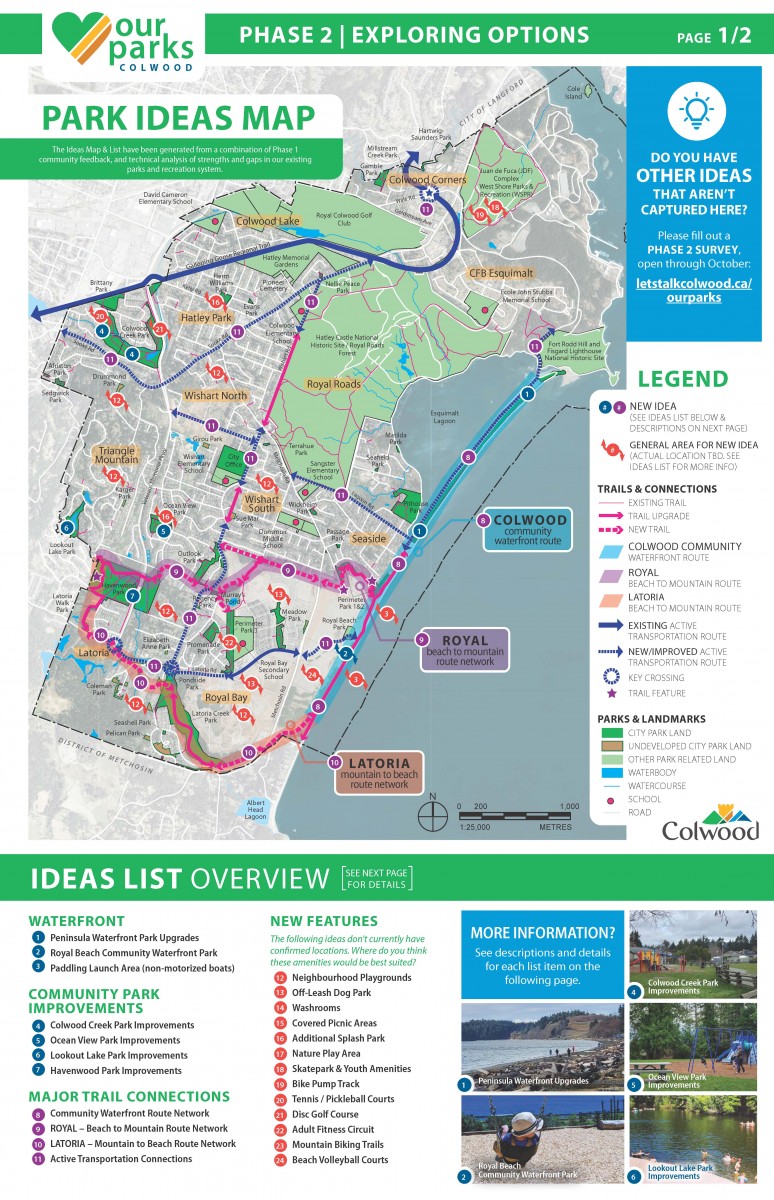 How will the plan come together?
We'll be developing the Parks and Recreation Master Plan with your help throughout the rest of 2020, as show in the process chart below.
We have just completed Phase 2. Thank you for sharing your feedback!
The final phase of the process will be a review of the draft master plan, stay tuned for this at the beginning of 2021.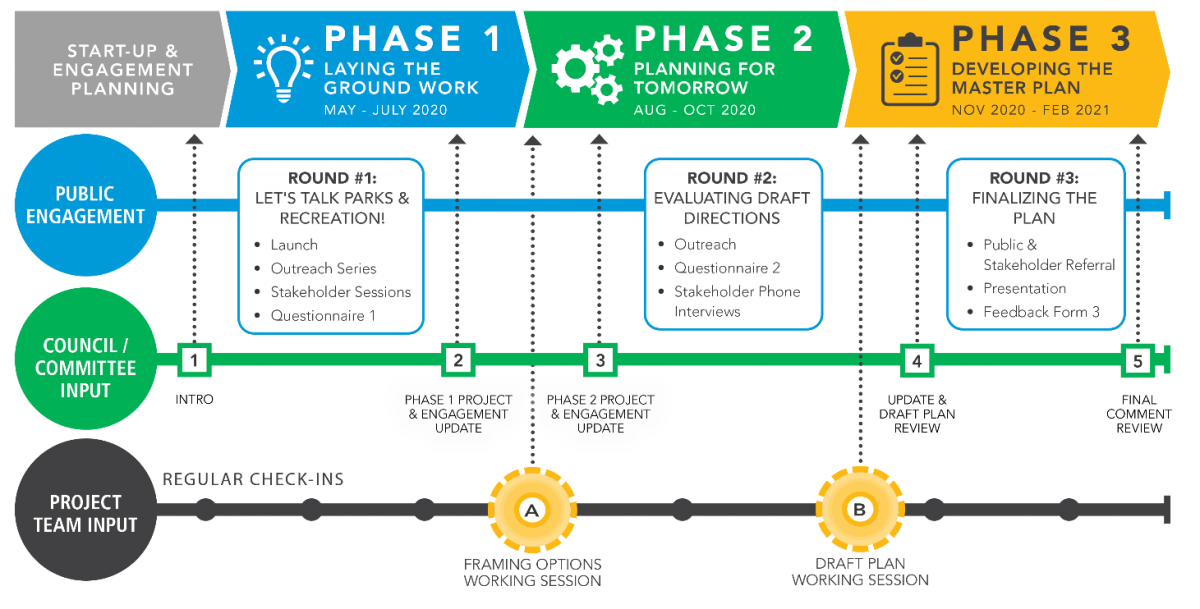 Project Overview
The Colwood Parks and Recreation Master Plan will:
Develop a vision for the future of our City's parks
Explore our community's hopes, desires, and concerns for parks
Review and analyze our existing City parks system and recent achievements
Explore parks and recreation trends relevant to our City
Identify new projects for future consideration
Provide action plans to guide parks changes and improvements for the next 10+ years
In recent years, we've been busy in our parks:
Completing the "Spray & Play" area in Colwood Creek Park
Developing parks in Royal Bay including Meadow Park
Improving crosswalk connections at Havenwood Park
Installing pergolas at Herm Williams Park
Expanding our trail network
and more…
What's does our Official Community Plan (OCP) say about parks?
Parks and natural areas are a defining part of our community. This is reflected in our Colwood OCP (2018) vision:
"Colwood is a spectacular seaside community set apart by its outstanding natural setting and exceptional quality of life. Nature is all around you in Colwood. Within minutes of stepping out your front door, you can be walking along the beach by the ocean, wandering down a shady trail though old growth forest, or enjoying the wide open natural green space of a local park."
This importance of our parks and natural areas is further emphasized by the first two of seven goals in the OCP:
GOAL 1: The waterfront is a stewarded, world-class destination for residents and visitors alike.
GOAL 2: People and nature are exceptionally well-connected.
---
With over 50 parks and trails in the area ranging from neighbourhood green spaces to vast forested parks and trails, there are always opportunities to get out and enjoy the outdoors.
In 2020 Colwood will create a new Parks Master Plan. Watch for ways to get involved at letstalkcolwood.ca!
The City of Colwood takes great pride in our parks, which make our City beautiful, promote healthy living options and provide gathering spaces that foster a sense of community. Read about Parks Maintenance in Colwood and get to know our beautiful parks below.