Colwood Creek Park features wide open grassed areas great for picnics and outdoor play. There is a wonderful playground for the kids, including a spray park for cooling off on hot summer days, with a water fountain and washroom. A paved and lighted trail meanders through the park and over a foot bridge that crosses Colwood Creek.
As an outcome of the Parks & Recreation Master Plan, a Park Management Plan was recently completed. This long-term strategic document will help guide future park infrastructure, upgrades, environmental considerations, and recreational use. Click here to view the plan. 
About Colwood Creek
Colwood Creek Park is named for the creek that meanders through the park, crossed by a foot bridge that connects the two large, level park areas on either side of the creek. Each summer, the Colwood Parks team works with the Ministry of Environment to maintain the health of the creek by removing garbage, debris and invasive plants.
The Colwood Creek watershed includes rocky hills, lush forested land, lakes, wetlands, residential, and urban areas. The creek begins at Humpback Reservoir, and flows eastward through forested land to Glen Lake, then southeast through residential areas and Colwood Creek Park, before crossing under the Veterans' Memorial Parkway. It then turns north and parallels the Parkway along the east side, until it reaches the the Royal Colwood Golf Club and Colwood Lake. From there the stream flows under Sooke Road, south through the Royal Roads University grounds, and discharges into Esquimalt Lagoon.
The lower portion of the creek in Royal Roads is surrounded by some of the last remaining old-growth forest in the region. Ecosystems present within the watershed include Coastal Douglas Fir forest,Garry Oak meadows, lakes, wetlands, riparian zones, and an estuary.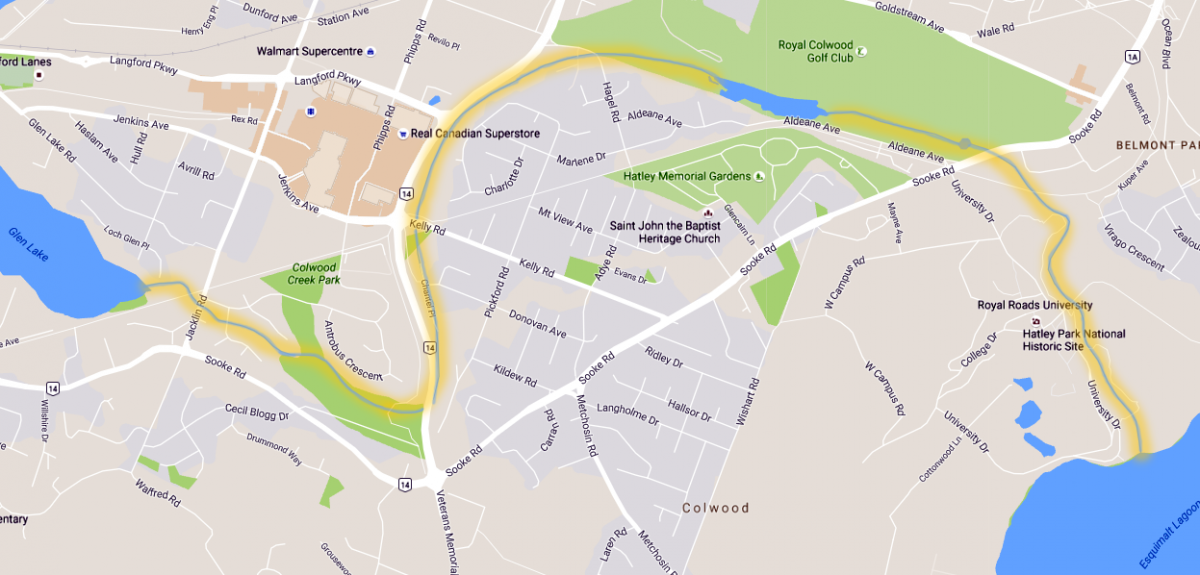 Accessibility Rules:
This park is fully accessible