---
Colwood students raise $10k for kids with cancer - April 2014

The grade 9 Leadership program at Dunsmuir Middle School, led by teachers Brian Hobson and Kris Johnson, has come to be known as the "Give it Back" program. Their focus is on finding ways to get the entire school community involved in events that raise awareness and funds for important causes.
In 2012, Dunsmuir student Jaimey Hamilton was the inspiration for her teachers and peers to 'Pay it Forward' to the BC Childhood Cancer Parent's Association.
The grade 9 student has overcome three bouts of leukemia: one when she was five years old, the second when she was nine and again when she was 12. She has been in remission since August 2012 after receiving a bone marrow transplant B.C. Children's Hospital in Vancouver.
Jamiey knows firsthand how difficult, exhausting and expensive it can be for young patients and their families to travel back and forth to Vancouver for appointments, chemotherapy and other treatments.
To help other families who face similar challenges, students in Dunsmuir's Leadership program took the initiative to raise $10,000 through a fun fair carnival, silent auction and t-shirt campaign. The t-shirt featured the slogan "Fight" in a design created by Raye Yesaki, who was a grade 9 Leadership student at the time. Profits from the sale of the shirts added to the total money raised, which will go directly to help families on Vancouver Island.
Brian Hobson has seen the incredible positive impact these young students can have when they unite toward a single cause. "In the very first year the leadership group raised $17,000 for Canuck Place and we've kept the momentum going ever since," says Hobson."We have current leadership students as well as other students from the school, staff, parents and even past leadership students who have gone on to high school and university who come back and get involved every year."
Mayor Hamilton would like to honour the staff and students who took the lead on the program's most recent initiative to raise funds for kids battling cancer. That includes this year's Dunsmuir Grade 9 Leadership students as well as students from the 2012/2013 class, who have now moved on to Belmont Secondary School.
Their ideas, energy and excellent organizational skills brought the community together for a fun event and a great cause. The $10,000 that was donated to B.C. Childhood Cancer Parent's Association will go a long way toward helping find ways to provide cancer treatment for children on Vancouver Island, reducing the need for travel to Vancouver. Well done, young Colwood leaders!
---
Students make Colwood the "Bloomingest Community" - March 2014
On Monday, March 24, kids and families from Mr. Laurie's grade 5 class at Ecole John Stubbs Memorial School filled Colwood Council chambers for the presentation of a Pay it Forward award for their colossal efforts in counting blossoms for the Victoria Flower Count. Their work helped Colwood earn the title of the Bloomingest Community in Victoria! The students went above and beyond, counting blooms around Hatley Gardens at Royal Roads University, encouraging friends and family to add their flower counts, and keeping spreadsheets to track their progress.
"The annual flower count is fantastic way to highlight the beautiful setting we live in. Colwood residents love their gardens, and we're fortunate to be home to many beautiful parks, including Hatley Gardens," said Colwood Mayor Carol Hamilton. "Thanks to everyone who boasted about their blossoms this year – especially our young students at École John Stubbs for taking pride in their community. What a wonderful way to welcome Spring!"
Graham Bell from The Butchart Gardens also presented Mayor Hamilton with the 'Bloomingest Community' certificate and congratulated the John Stubbs students. Butchart Gardens and Tourism Victoria are the organizers of the annual Victoria Flower Count.
Read the full story: Colwood the 'Bloomingest Community' in Victoria.
---
Kaelyn Abrahamson and Niki Ottosen: Colwood citizens helping others at any age - January 2014
Friends and family crowded into Colwood Council Chambers on Monday, January 13 for the presentation of two separate 'Pay it Forward' awards to incredibly generous individuals who demonstrate that you don't have to be a certain age to go out of your way to help others in our community.
Kaelyn Abrahamson is just 7 years old, but was determined to raise funds to help sick children at Children's Hospital. Her efforts raised $700, and she's not done! She has plans to organize fundraisers throughout the year.
Each Christmas since 2008, Niki Ottosen has spearheaded the Christmas Backpack Project - filling backpacks with warm clothes, personal hygiene items, food and treats for the homeless. This year her goal was 100 packs, but she surpassed that, providing 140 much appreciated gifts for those in need.
Read the full news release: Colwood citizens paying it forward at any age
---
Grade 3 and 4 Wishart students' compassion in action - December 2013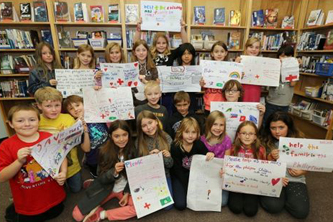 When Mrs. Brajcich overheard her Wishart Elementary grade 3 and 4 students talking about the devastation caused by Typhoon Haiyan in the Philippines, she encouraged them to think of ways they could help.
The students brainstormed ways they could raise funds for the children affected by the typhoon. They held bake sales and bracelet sales at school and sent out flyers encouraging people to donate cash or cheques.
Their hope was that they could help buy food for the children and "stuff to play with to take their minds off what happened."
They weren't sure how much money they would be able to raise. They just acted upon the instinct to help, despite feeling powerless and far away. "For me it's just as important as teaching them math and all of that stuff — having this awareness that they can actually effect change," said Mrs. Brajcich.
News of the student's efforts touched people throughout the region. In the end, hand-delivered donations along with online contributions and the proceeds from school bake and bracelet sales raised a whopping $3,226.45.
That amount was matched by the Canadian government, pushing the total that will go to Save the Children's disaster relief fund past $6,500.
The compassion and empathy demonstrated by students is an excellent example for all of us that it doesn't matter what age you are or how wealthy you are, "If we all give a little, it will make a big difference."
Colwood is fortunate to be home to such a wonderful group of energetic and compassionate youth, guided by parents, teachers and administrators who foster a sense of empathy and generosity. These students are living up to Wishart Elementary school's motto: We Help Others.
---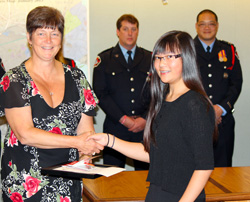 Rachel Lee - September 30, 2013
Rachel Lee volunteered to play piano to accompany the theatre production presented by Four Seasons Theatre Group at this summer's St. John the Baptist Centennial Celebration. Songs included the "Maple Leaf Rag" and the hymn, "All Things Bright and Beautiful." Her music brought the play to life and guests at the event commented that Rachel's music was 'amazing' and 'phenomenal'.
A truly talented pianist, Rachel has been studying piano for six years, since she was seven years old.
Rachel has consistently achieved "First Class Honours with Distinction" on her piano exams, the highest classification from the Royal Conservatory of Music (RCM). She is currently working on her RCM Level 9.
In 2012, Rachel was presented with the Susan Pappajohn Memorial Award by the BC Registered Music Teachers' Association for the highest Level 7 Piano achievement in Victoria, BC. She was invited to perform at the annual luncheon for the Victoria chapter of the BC Registered Music Teachers' Association.
Rachel's repertoire includes classical, baroque, romantic, and 20th and 21st century contemporary music. Rachel has performed in many different events and competitions, both solo and as an accompanist. Rachel is currently studying with Pam Smirl at PJ Music Studios.
Colwood is fortunate to have such a talented young musician in our midst and grateful to Rachel for generously sharing her time and talent for the benefit of our community.
---
Brandon Lockhart - September 30, 2013
When the pianist for this summer's St. John the Baptist Centennial Celebration had to cancel at the last minute, Brandon Lockhart volunteered his time and talents with no hesitation. He learned the music to lead guests through all the hymns for the church service, as well as the music for the wedding that happened that day. The Lieutenant Governor was a guest at the event that day and commented that she was very touched by the music.
Brandon is a talented musician and dancer who has lived in Colwood all his life. He has been studying piano since he was eight years old and took his Grade 8 piano exam in August 2013. He also plays trumpet and played with the Westshore Community Concert Band.
Brandon is an exceptional dancer, who begain dancing lessons at the Juan de Fuca Recreation Centre at the age of three. He moved on to Westshore Dance Studios, performing at many community events while he was attending Ecole John Stubbs Memorial School in Colwood.
At twelve years old, Brandon was accepted into the Royal Winnipeg Ballet School's Professional Division and has been studying there ten months of the year since then. He attends the University of Winnipeg Collegiate for his academic studies. He is now sixteen years old and in Grade 11.
Colwood is fortunate that this talented young performer is a member of our community and grateful to Brandon for generously sharing his time and talent with us!
---
Thomas - June 24, 2013
On June 24th, 2013 Mayor Carol Hamilton honoured 10 year old Thomas with a Pay it Forward award for his work raising awareness about autism. Over the last 3 years, Thomas has raised $4000 by participating in the Victoria Autism Awareness Walk. His fundraising efforts included a penny drive at his elementary school, where Thomas is a grade 4 student. The school has an old BC Transit fare collector in the office and Thomas encouraged students to fill it up with pennies, collecting over 14,000 pennies for autism awareness!
"It is with great honour that we present this award to you Thomas," said Mayor Carol Hamilton. "Young people like you, who dedicate their time and energy to helping others, make our community and our world a better place for everyone."
Thank you Thomas!
---
Erika Lahnsteniner - July 9, 2012
Erika Lahnsteniner, age 12, and Lindsay Hargreaves, age 14, were recognized for their efforts in organizing a community clean-up on May 27, 2012. Erika and Lindsay recruited about 40 residents from their community to clean up the streets, paths, forests and park lands.
On behalf of Council, Mayor Hamilton expressed appreciation for all the residents that came together to help the girls in their mission. Further, she stated that a community is a group of people, who have come together, in their work and where they live to try and improve the standard of living and quality of life, this is an example of that.
The Mayor also acknowledged the Red Barn Market for donating food for the volunteers to enjoy at the end of their hard work.
Mayor Hamilton presented Erika and Lindsay with a framed certificate from the Pay it Forward program recognizing their efforts in organizing the community clean up and each recipient with a $100 gift card for the future shop.
---
Nicole Fredrickson - November 29, 2011
Nicole Fredrickson was nominated by Karen Robertson, Manager, RBC Colwood Branch for all the work she does in organizing the Ovarian Cancer Canada Walk of Hope in Victoria.
Nicole's mother was diagnosed with ovarian cancer in 2003. Throughout the next two and a half years Nicole helped care for he mother Dolores. While Dolores was going through treatment they heard about Ovarian Cancer Canada's Walk of Hope and it was Dolores' wish to participate in this event.
Her wish came true in 2005 when she, Nicole and her grandaughter went to the Comox Valley to join in the event. After the walk she told Nicole that they should bring the walk to Victoria.
Later that year Nicole's mom passed away at the age of 69. As a way of dealing with the grief of losing her mother and to honor her wishes Nicole decided to start a walk in Victoria.
That year, thanks to her determination and hard work she brought the walk to Victoria. 2011 marked the 6th year of the walk and an amazing $81,000 was raised.
Nicole says that "some people feel intimidated by the preconceived notion that community involvement takes up too much personal time. Wrong. You can choose what you contribute. You get back tenfold what you put into it".
Nicole was presented with a certificate, a letter of Congratulations, a gift card to Future Shop which she is paying forward to her daughter for all the hard work she does for the Ovarian Cancer Walk of Hope in Victoria. Nicole was also presented with a gift certificate from Cross Roads Bar and Grill.
---
Grayson Timlock - October 24, 2011
Seven year old Grayson Timlock was nominated by Mayor Saunders. Grayson had his long hair shaved off in support of Tour de Rock. WIth his dad beside him, both holding hands in support of each other, it was a a very emotional scene. Grayson is an example of what is right in this sometimes crazy world and he is a true youth leader in our great community. His motivation for his fundraising effort was that he wanted to do it for his Poppa, who was diagnosed with cancer in May. The last total in Grayson's Fund Raising Can was very close to three hunddred dollars. Councillor Wysiecki and Mayor Saunders congratulated Grayson and awarded him with a congratulatory letter, a $75 gift card to Future Shop, and a $75 gift certificate to Cross Roads Bar and Grill.
Helen Martin was nominated by Mayor Saunders because she is a remarkable citizen who cares passionately about Colwood and goes to great lengths to build community pride. Helen can always be seen walking through Colwood and quite often you will see her walking her grandchildren to school, making sure other children get across the street safely, and stopping to pick up litter. Helen has always been a contributor and she provided input as to how Colwood can develop in a sustainable way; she also goes out of her way to provide constructinve input to committees or council. Helen volunteers her time for the City and has never once asked for anything in return. Mayor Sandres and Councillor Wysiecki congratulated Helen and awarded her with a certificate, a congratulatory letter, an orchid, and a $75 gift certificate to Cross Roads Bar and Grill
---
Ravi Parmar - June 27, 2011
Sixteen-year old Ravi Parmar, is a grade 11 student at Belmont Senior Secondary. He was nominated by Stephanie Longstaff of Sooke Parent Advisory Council for organizing the petition and the student protest about the conditions of Belmont Secondary School. He was very successful in this venture and now carries on the battle for two new schools by helping to organise a community barbeque to keep this important matter in the media. His efforts will not benefit himself or his cohort of students, only future students of this area will benefit. He is a humble, hard worker, who deserves recognition for his efforts and strong leadership.
On behalf of Council and the Pay It Forward Committee, Councillor Shaun Wysiecki and Mayor David Saunders thanked Ravi for his commitment to helping others and presented him with a framed certificate of acknowledgement, a congratulatory letter from Mayor and Council, a $75 gift certificate for Cross Roads Bar and Grill, and a $75 Future Shop Card.
---
Megan Robertson - Feb 14, 2011
Twelve year old Megan is a grade seven student at Dunsmuir Middle School. She was nominated by Ed Savage for her inspiring fundraising initiative to help a fellow student, 14 year old Lucas Savage. On November 25, 2010, Megan heard about Lucas' Lymphoma diagnosis and that he had to be flown to Children's Hospital in Vancouver for treatment. She immediately set out on a fundrasising campaign making and selling "Friendship Bracelets" to help riase money to pay for the family's expenses. Megan and her younger sister have been making bracelets every night since in an effort to raise money to help this family. Mr. Savage nominated Megan to show their family's appreciation for the efforts of "one amazing young woman that truly exemplifies citizenship, compassion, caring, and at this time of the year, the true meaing of Christmas".
Megan was presented with a framed certificate, a congratulatory letter, a gift certificate for Cross Roads Bar and Grill, and a $75 Future Shop Card.
---
Reid Smith - January 10, 2011
Reid Smith was nominated for an inspiring and selfless initiative: instead of trick or treating on Halloween night, he asked his neighbours to donate a non perishable item for the Goldstream Foodbank. The neighbourhood stepped up and donated 75 pounds worth of food and tossed in candy for Reid as well. The Pay It Pay It Forward Committee was advised that it was amazing to see how many people ran to their pantry to get a food item for Reid, who spent three hours that night trying to make a difference.
Reid was presented with a framed certificate, a congratulatory letter, a gift certificate for Cross Roads Bar and Grill and a $75 Future Shop Card.
---
Alexandre Dumont - December 6, 2010
Alexandre has played Juan de Fuca Minor Hockey since he was six years old and he has been working hard since June to raise funds for Cops for Cancer, including shaving his head. He raised the most money at his school and was given the privilege of presenting the cheque to the Cops for Cancer representatives. Alexandre was presented with a framed certificate, a congratulatory letter, a gift certificate to Cross Roads Bar and Grill and an iPod Shuffle.
---
Austin Hall-Silvester - November 8, 2010
Austin is 10 years old and he has been involved in fund raising for Cystic Fibrosis and Cops for Cancer. For the past two years he has assisted his mother in gathering, sorting and taking cans, bottles etc. to the bottle depot and donating the money to Cystic Fibrosis. He has also taken part in the Great Strides Walk for Cystic Fibrosis. Both this year and last he had his head shaved for Cops for Cancer Tour de Rock to raise money. Austin was presented with a framed certificate, a congratulatory letter, a gift certificate for Cross Roads Bar and Grill and a $75.00 Future Shop Gift Card.
---
Five businesses in our community - October 25, 2010
Schools is back in session and once again the City is working to raise funds to pay for the crossing guard program. The Pay It Forward Committee has recognized the five businesses in our community who have committed to supporting the Crossing Guard Program to protect our children. These corporate sponsors have made financial donations to help cover the costs for crossing guards in the City of Colwood. Each representative from CUPE Local 374, Royal Bay Bakery, Thrifty Foods, Westland Insurace and Windsor Plywood were presented with a framed certificate, a congratulatory letter and a $25 Thrifty Foods Smile Card. The intention of the Pay It Forward Committee was that the award recipients would Pay It (the $25 Thrifty Foods Smile Card) Forward to someone else deserving of recognition.
---
Division 3 Grade Five Students from Wishart Elementary School - May 25, 2010
The students raised money and goods for three charities over the past year. Their teacher, Deanna Brajcich, is very proud of their accomplishments and their commitment to raising money and goods for those in need. The students raised $200 for WILDARC; organized and advertised the Wishart Coats for Kids campaign achieving top fundraiser status for the entire Victoria area; and raised $3,117 to send to Haiti for the Save the Children program. These students will be recognized in the Save the Children annual publication. The fundraising was an entire school event organized by Division 3 and it was open to anyone wishing to donate. The donations were matched by the government allowing the students to raise over $6,000.
Each student was recognized for their humanitarian efforts and presented with a certificate of appreciation and a congratulatory letter.
---
Fire Chief Russ Cameron, David Topping, President of the Colwood Volunteer Firefighters' Association - May 25, 2010
A firewood chop was held recently and the wood, donated by the City of Colwood, was sold as a fundraiser. The Colwood Volunteer Firefighter's Association members felt that it was fitting that they return the revenues from this event to the Pay It Forward Program in support of the City's initiative to youth in our community. The President presented the Pay It Forward Program with a cheque for $600.
---
Jaelyn Kolarich and Avalon Grass - April 12, 2010
These two award recipients put their energy into helping those who cannot help themselves; they work hard and make contributions to the SPCA. For just over a year now Jaelyn and Avalon tirelessly work to ensure the SPCA receives the benefits of their hard work. Both Jaelyn Kolarich and Avalon Grass were presented with certificates to recognize their commitment to helping animals. The Pay It Forward Program made a donation to SPCA in the name of Jaelyn and Avalon.
---
Jaxson Creasy and Dunsmuir Athletic Leadership Teacher Advisory Group - March 8, 2010
Jaxson Creasey was nominated for his leadership and successful fundraising campaign for Canuck Place; he has been there on many occasions and wanted to do something to Give it Back. Jaxson's efforts engaged the entire student body at Dunsmuir School and their Give it Back campaign was launched. Jaxson, well-known as a "ray of sunshine" and for his great, big infectious grin, and the students of Dunsmuir Athletic Leadership Tag program launched an extremely successful fundraising campaign and silent auction.
Jaxson was presented with gift certificates for Future Shop and CrossRoads Bar and Grill, and a Certificate of Appreciation for his actions.
Additionally, the Pay It Forward Committee decided that because Jaxson's inspiration spread throughout the student body creating a great Give it Back program, all those students involved should also be recognized with a Pay It Forward Certificate. The Dunsmuir Athletic Leadership Teacher Advisory Group received a Certificate of Appreciation as well.
---
Darin Kamsteeg - January 11, 2010
On a dark night in late 2009, 14 year-old Darin Kamsteeg and his friend Shelby were crossing a Colwood street when Shelby was struck by a vehicle.
Darin acted quickly to take control of the situation, acting calm yet quickly in an otherwise chaotic circumstance. His friend was rushed to hospital thanks to Darin's quick thinking and ability to be a young hero at the accident scene.
Darin was presented a framed certificate, a gift certificate to Crossroads Bar & Grill and a gift certificate to Future Shop.
---
Ella Kendler - September 14, 2009
Ella, the City of Colwood's first Pay It Forward recipient, was presented with a framed certificate, a gift certificate to Crossroads Bar & Grill and an iPod shuffle. Ella who is 6 years old, was recognized for the good deed she did - collecting pop bottles with the proceeds being given to Alli Anctil who is a 21 month old child that has recently been diagnosed with cardiovascular problems. Alli will be undergoing cardiac surgery next week at Children's Hospital in Vancouver.