Family and friends crowded into Colwood Council Chambers on Monday, January 13 for the presentation of two separate 'Pay it Forward' awards to incredibly generous individuals who demonstrate that you don't have to be a certain age to go out of your way to help others in our community.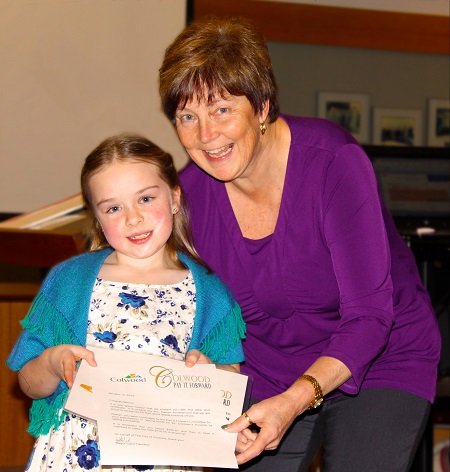 "The Colwood Pay it Forward program was designed to acknowledge and encourage acts of kindness and generosity in our community," said Colwood Mayor Carol Hamilton. "Kaelyn, Niki and Dawna need no encouragement. Their generous actions inspire each of us to act on our instinct to help, no matter what age we are or how limited our resources may be."
Kaelyn Abrahamson is just 7 years old, but the Colwood youngster was determined to raise funds to help sick kids at Children's Hospital. Kaelyn organized a poinsettia sale and hoped she might earn about $100 that she could donate. Before long, she had $350, and was surprised when one generous purchaser gave her a cheque for $350 to double her earnings to $700.
And now she's really caught the giving bug! Kaelyn has recruited her younger brother Kai to help keep the good work going. They will be selling Mother's Day hanging baskets this spring.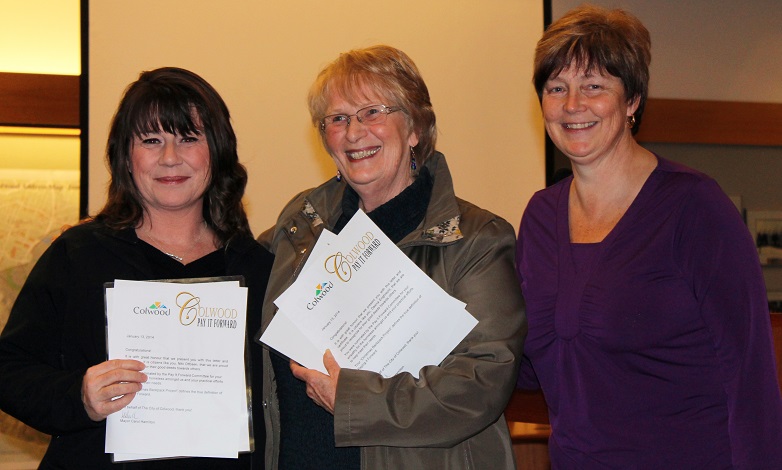 Niki Ottosen's dedication to paying it forward also began at Christmas time, when she started the Christmas Backpack project in 2008. Each Christmas, she and her aunt Dawna Engbrecht put together backpacks stuffed with warm clothes, personal hygiene items, food and treats for the homeless.
Ottosen works as a gardener and spends a lot of time outdoors. "I know what it's like to be cold and wet and tired," she says. "But I don't know what it's like not to have anywhere to go on top of that."
The first year, Niki began with 20 backpacks that she hoped would bring warmth and comfort to folks who found themselves out in the cold at Christmas. Each year, the Christmas Backpack Project has grown. This year, Niki's goal was 100 packs, but with the help of donations from community members through a box provided at the Colwood Thrifty Foods, she surpassed her goal, providing 140 much appreciated gifts for those in need.
If you would like to contribute to the Christmas Backpack Project for this coming year, contact City Hall at 250-478-5999 to be connected with Niki.
If you are interested in pledging funds for a Mother's Day hanging basket, contact the Abrahamson family at kaelynforkids@gmail.com.
Do you know someone who deserves recognition for their good deeds, positive leadership or sharing their time and energy for the benefit of others in the Colwood community? Nominate them for a Pay it Forward award at www.colwood.ca/payitforward.
-30-
Media Contact:
Sandra Russell
Communications Manager, City of Colwood
250-893-1595 Updated contact info: 778-677-5345
Follow us on Twitter @CityofColwood and Facebook CityofColwood .