The Lagoon Bridge was built in 1930. 
1930 – The bridge was constructed by the provincial government 
1968 – The superstructure was replaced 
1984 – The bridge was widened 
1985 – The City of Colwood was incorporated and responsibility for the bridge was transferred to the City 
Frequent advertisements in the local papers around 1912 promise beautiful "Ocean Beach" home sites in Royal Bay, on a "real bathing beach near town". They promise that the "completion of the Belmont road in the near future will connect with the famous spit which skirts the lagoon and enters directly into Ocean Beach". In the end, the bridge was not built until 1930.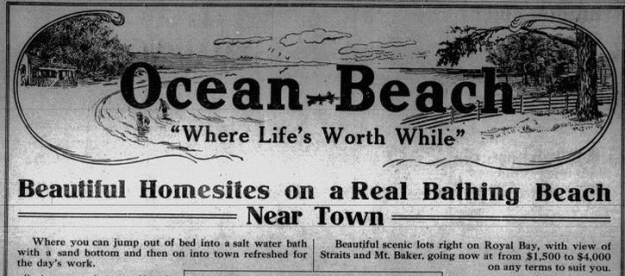 Excerpt from an advert in the Victoria Daily Colonist, November 24, 1912
The Daily Colonist in 1909 describes the plan of the provincial public works department to build a 2 and ¾ mile road connecting Belmont landing to Albert Head Road: "The route at first proceeds over a hill…runs along land adjoining the government property where the Rod Hill fortifications are, and on reaching the waterfront at Esquimalt lagoon a 1000-foot lumber bridge will be necessary to connect it with the spit. The spit itself forms a natural road which only needs grading over the mile and a quarter which it extends." Property developers were keen to capitalize on these planned developments.
With the bridge construction came further development with the Dugout Pub and Restaurant being built at the east end of the peninsula. It was a popular place that was sorely missed when it was destroyed by fire.
Many cabins and summer homes were also built along the spit.
In 1940, the Department of National Defence expropriated the land on the peninsula and it was once again used as a firing range. The civilian properties were all removed, and the ones that were substantial were relocated elsewhere in Colwood. Residents at time have told stories of mock bombing raids over the lagoon where RCAF crews would have to drop flour filled sacks onto targets. They were not always accurate and it was often a dangerous place to be!