Set on the waterfront in the prestigious Royal Bay community in Colwood, Royal Bay Secondary School opened its doors to students for the first time on September 8, 2015, providing state-of-the-art learning opportunities for West Shore students.
Exceptional learning opportunities
The learning areas are designed to accommodate a wide range of learning styles, with lots of open spaces for students to connect and collaborate, and includes many opportunities for applied learning.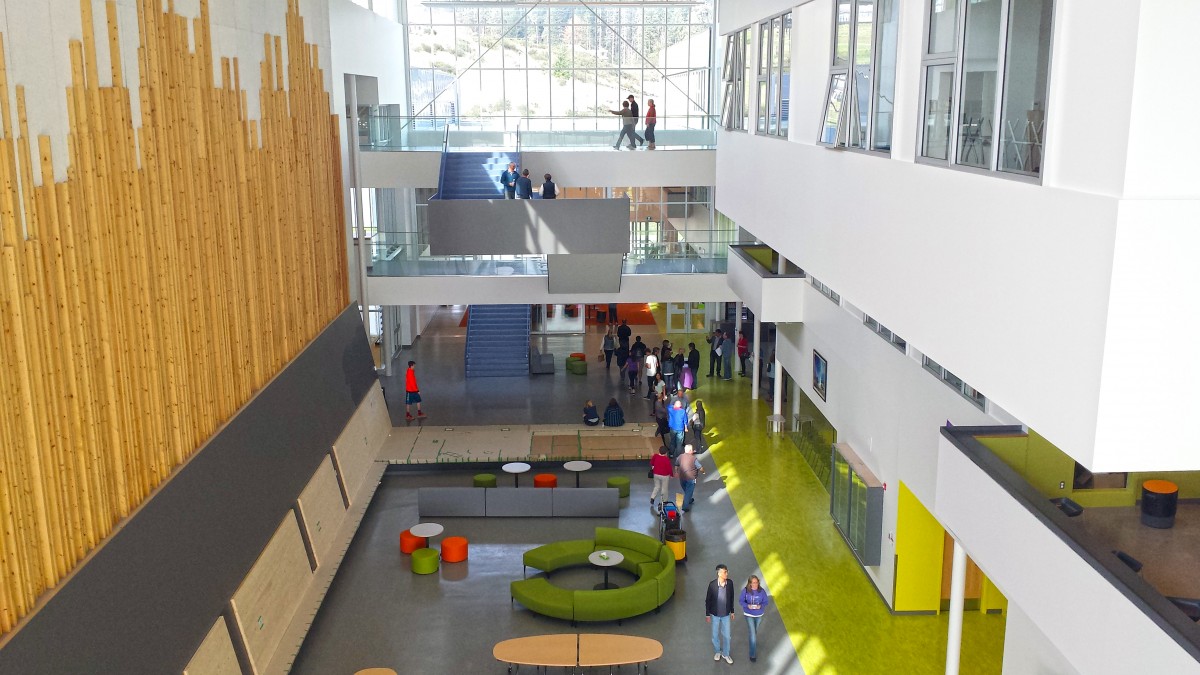 The school features a 350-seat theatre, an extensive labour skills training area, a commercial teaching kitchen that will serve students and staff daily, an expansive media centre and library, a green room for media studies, two gymnasiums, the south island's only rubber asphalt running track, a grass field and a lighted all weather turf field, a rooftop basketball court and more.
Focus on community
Community focus is one thing that makes this school truly unique. While most schools sit unused outside of school hours, Royal Bay Secondary School has been designed with community uses in mind. It will provide arts, culture and recreational opportunities for all members of our community through a neighbourhood learning centre and an all weather field that share programming with West Shore Parks & Recreation. The 350 seat theatre will bring the community together for performances and celebrations, while the trades and commercial cooking programs will provide apprenticeships and applied learning within our community.
Promoting active living
The first two new streets leading to the school – Latoria Boulevard and Ryder Hesjedal Way – are designed to encourage students (and everyone!) to walk, cycle, connect with friends and neighbours and enjoy the incredible views this community offers. With beautiful landscaping separating sidewalks from vehicles and safely buffered bike lanes for cyclists, these streets provide the foundation on which road improvements will be built throughout Colwood over time. Take a look at the newly approved Colwood Transportation Master Plan to get a sense of what's envisioned for our streets, trails and public spaces. 
Exciting times ahead
This exceptional learning facility will be an important hub around which the new Royal Bay Community will grow. Over time, Royal Bay students will have access to a wide variety of shops and eateries. The development team for this 400 plus acre property plans to begin building the first phase of several hundred homes in 2015, with new businesses, stores and restaurants not far behind. You can review the area plan for the Royal Bay Community to get a better sense of the exciting plans for the area. Colwood's Economic Development Strategy outlines how we will work to attract businesses that create the best opportunities for our community while protecting the natural assets that we value and enhancing quality of life for residents.