We're planning sidewalk and cycling upgrades in your neighbourhood!
Painter Road Sidewalk Upgrades are scheduled for construction in Summer 2021. Colwood Council directed staff to award the contract for the works at their May 25, 2021 meeting.
Improvements are planned along Painter Road between Dressler Road and Metchosin Road to improve pedestrian and cycling access and support active transportation networks with safer routes to school.  This is the first project in the City's 10-year program of active transportation priority upgrades.
Over $1M in federal and provincial grants
Infrastructure Canada and the Province of BC are investing in Colwood. The City earned federal and provincial grants for these active transportation improvements.
Designing safer routes to school
As shown on the attached concept drawing (see below), Painter Road upgrades between Dressler Road and Metchsoin Road will include:
raised concrete sidewalks on the Dunsmuir School side of Painter Road,
buffered bike lanes on both sides along the length of Painter Road,
improved pedestrian and student access around the parking and drop off area in front of the school, and
improved pedestrian and cycling safety at the intersection of Dressler and Painter Roads to reinforce the active transportation link to the Painter Trail and interconnected network of trails planned in and around Royal Bay.
These improvements are particularly important for the many families with children attending Sangster Elementary School, Dunsmuir Middle School and Royal Bay Secondary School.
This work may cause traffic delays and disruptions at times, and we appreciate your patience as we strive to complete this project prior to September when school resumes.
Click image to view a full size pdf.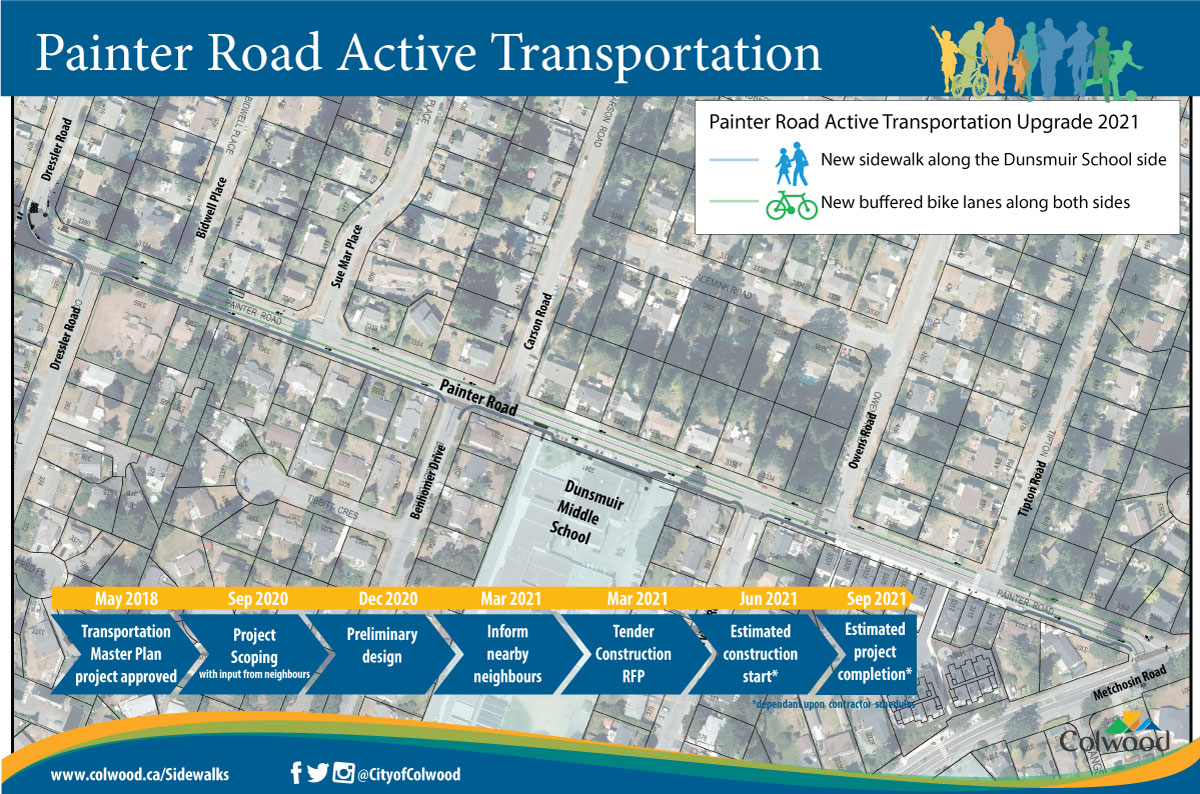 Questions?
If you have additional questions about the project, please contact Colwood Engineering at 250-478-5999 or engineering@colwood.ca.