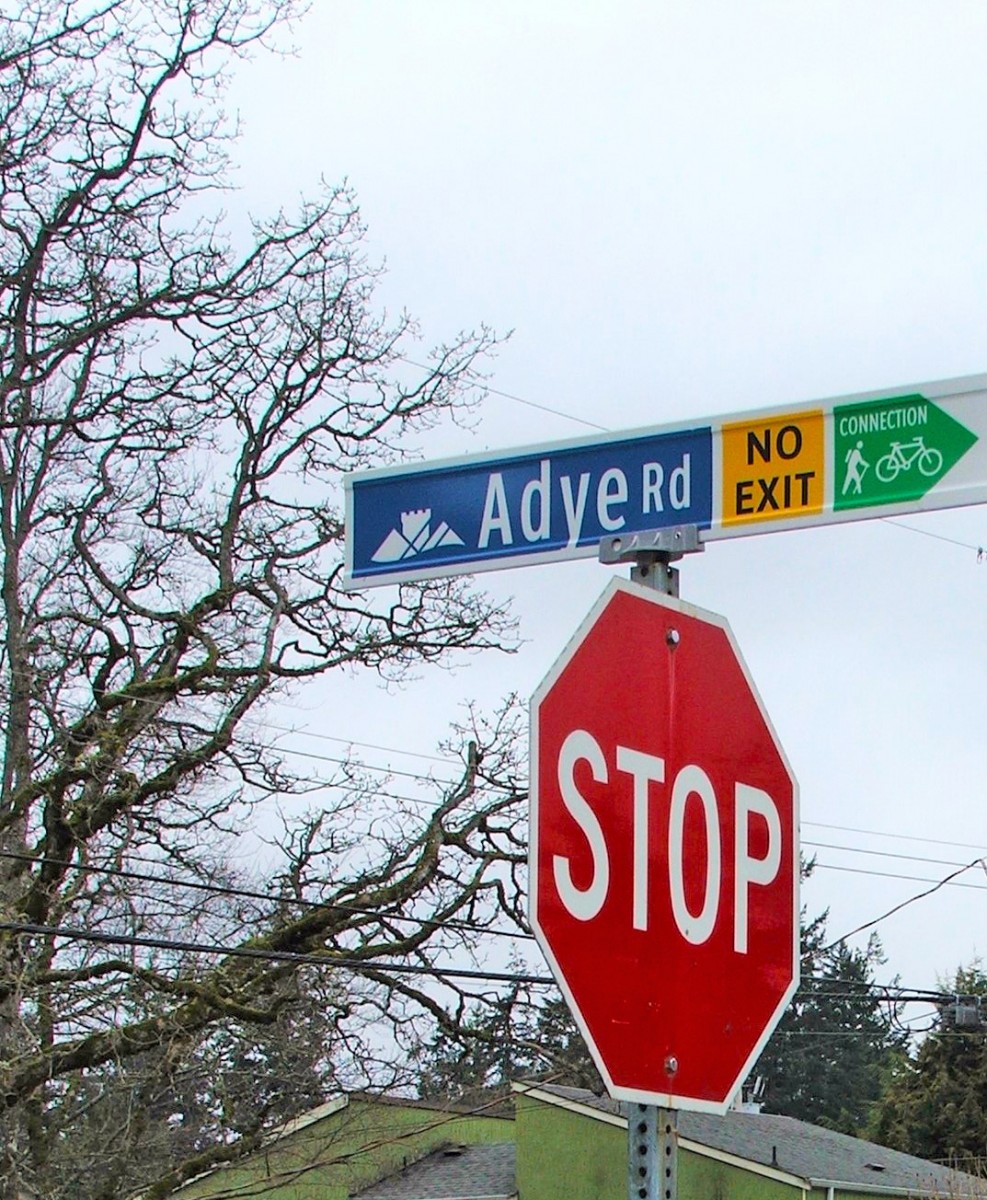 Have you noticed new street name signs being installed in some Colwood neighbourhoods? It's one simple step the City is taking to make people aware of walking and cycling connections, encourage active transportation and make it easier to navigate within our community.
More information, better visibility, less clutter
By increasing visibility and including more information on the street name signs, the City was able to decrease the number of signs overall. For example, 'no exit' signs were traditionally an additional sign that added visual clutter. Adding this information to the street name blade while doing a general sign review and clean up is one way we're improving how our community looks and feels overall. 
Enhancing active transportation routes
Adding walking and cycling connections is a new feature that will become even more important as the City's Active Transportation Plan brings the construction of new sidewalks and cycling lanes, beginning this year with sections of Painter Road and Metchosin Road and continuing over the next ten years and beyond. 
A phased approach
Signs will be replaced throughout Colwood over the next 12 to 18 months, working through the community by tackling it in four sections. The first area in and around Colwood Corners and Colwood Lake Estates is now complete with signs currently being installed. Staff are reviewing signs and connections for the next round of upgrades in the Wishart North and Lagoon neighbourhoods now. That will be followed by the Triangle Mountain and Colwood Creek areas and then the Latoria and Royal Bay areas. 
- 30 -
Media Contact
Sandra Russell, Communications Manager
778-677-5345
Find this release online at www.colwood.ca/News
Subscribe for Colwood news at www.colwood.ca/Subscribe
Follow @CityofColwood on facebook, twitter and instagram