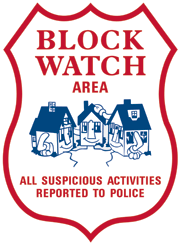 Block Watch is a community-based crime prevention program which aims to improve the quality of life within a neighbourhood by minimizing preventable crime and promoting closer community ties. The program relies on the community and the Police working together in a partnership to achieve these aims. A Block Watch committee, along with a Block Captain, host meetings to bring neighbours up to date on issues pertaining to their area.
Benefits:
Reduction in home owner's insurance.
A general reduction in crime.
Receive decals to place on your windows to deter crime.
Installation of a Block Watch sign on your street.
If you are interested in hosting or attending a Block Watch meeting please contact West Shore RCMP Community Policing Section at (250)391-3327.