On December 10, 2018 the provincial government's 2018 British Columbia Building Code will come into effect.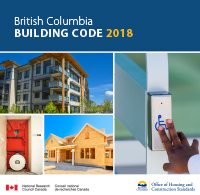 New building permit applications submitted after December 7, 2018 will be governed by these revisions. The 2018 BC Building Code includes enhanced code language for clarity, introduces new concepts, and in some areas, expands existing requirements.
Some of the more important changes include:
new accessibility requirements for persons with disabilities,
updates to airborne sound transmission ratings,
seismic design and climatic data, and
updates to stairs, ramps, handrails and guards, including an increase in the stair run dimensions for residential buildings.
Learn more
There are a number of resources available to help Code users understand the new 2018 BC Building Code. Visit www.gov.bc.ca/buildingcodes for more information.