A proposed development on Seafield Road in Colwood includes shifting the road right of way to the centre of the property to make space for homes and driveways on both sides of Seafield Road. This aspect of the plan was included in the information presented at the public hearing when the property was being rezoned in June 2014.
Below is the content of the newspaper advertisement that was published in the Goldstream News on December 22 and December 27, 2017.
The City of Colwood hereby gives notice of its intention to permanently close to traffic that portion of Seafield Road measuring approximately 0.260 hectares, shown in the area outlined in the sketch below, and to remove the dedication of that portion of Seafield Road as highway.
Road Closure and Dedication Removal Bylaw for a portion of Seafield Road between Heatherbell Road and Selleck Way Bylaw No. 1687, 2018, closing that portion of Seafield Road to traffic and removing its dedication as highway, will be considered by the Council of the City of Colwood at its regular meeting scheduled for January 8, 2018 at 7:00 pm at City Hall, 3300 Wishart Road. Persons who consider they are affected by Bylaw No. 1687 will be provided with an opportunity to make representations to Council at the meeting, or by delivering a written submission tot he Chief Administrative Officer by 4:00 pm on Friday, January 5, 2018.
The CIty of Colwood further gives notice of its intention to see the closed portion of Seafield Road to Seafield Properties, Inc., for consolidation with their abutting property legally described as Lot B Plan VIP7004. The closed portion of Seafield Road will be transferred to Seafiled Properties Inc. in exchange for the dedication of a new highway measuring approximately 0.367 hectares, providing a replacement road that will be known as Seafield Road.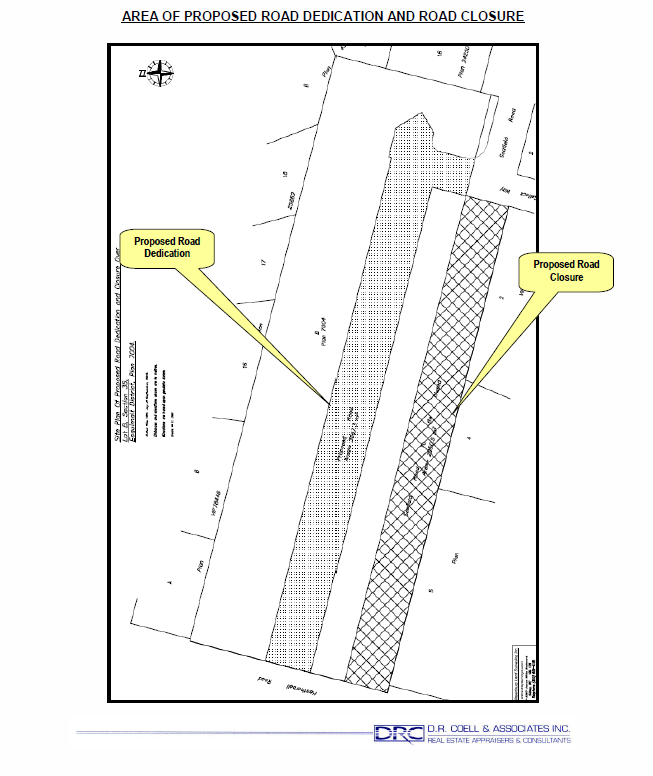 Bylaw No. 1687 is available for viewing at Colwood City Hall and may be obtained by contacting City hall at 250-478-5999.
Questions on the proposed bylaw and disposition may be directed to the Chief Administrative Officer at ihowat@colwood.ca; City of Colwood, 3300 Wishart Road, Colwood, BC V9C 1R1, or 250-478-5999.