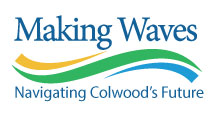 The Colwood Making Waves project aims to engage as many community members as possible in the creation of a bold new official community plan for Colwood. This preliminary report, published on December 12, 2016, presents the results of public engagement activities to date.
A variety of methods have been employed to raise awareness about the process and provide opportunities for all Colwood residents to join the conversation.
During the summer of 2016, large graffiti feedback boards were placed at community events to introduce the project and gather initial input about what matters to Colwood residents.
This input informed the content of three workshops hosted in October and November 2016, with expert speakers and focused table conversations among community members. At the same time, 'sounding boards' were placed in local shops and an interactive online survey was developed to capture input from a broad audience.
Engagement will continue in January with stakeholder meetings and a fun and interactive Ideas Fair.
Public Engagement Highlights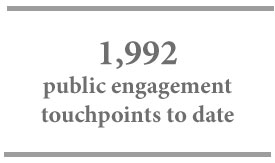 The Official Community Plan Steering Committee was initiated with open membership
49 members of Colwood Council and staff participated in workshops to provide input and build organizational understanding and support for the project
89 people signed in at three Expert Speakers & Talk Back Night workshops during October and November, providing detailed input on key topics​
544 survey responses have been submitted to date
191 responses have been provided on Sounding Boards in local shops
34 emails received at City Hall with input into the Official Community Plan
982 visits to Making Waves web pages on Colwood.ca
2 newspaper advertisements, 2 earned newspaper articles
12 Signs and posters around the community, including the West Shore Parks & Recreation electronic sign, Jim Pattison Subaru sign and City signs and posters
87 #MakingWaves social media posts recorded to date
Top areas of interest
Town Centres: Colwood Corners, Royal Bay, Allandale Lands - walkable centres where people can eat, shop, gather, relax and play.
Transportation: Create walkable centres, cycling connections, increased transit and dedicated bus lanes, reduced vehicle speeds, improved infrastructure. Take steps to support regional transportation solutions.
Trees & Topography: Urban forest strategy, tree preservation areas, protection of wetlands and natural areas, maintain views
Tidelines & Waterfront: Celebrate and protect the waterfront, preserve the lagoon, improve walkability, consider a boardwalk to Royal Bay, plan for waterfront restaurants and parks.
Engagement locations
One of the project engagement goals is to offer feedback opportunities in as many geographic areas of Colwood as possible, and to seek input where people are, rather than ask them to go out of their way to participate. The map below provides a graphic representation of engagement to date.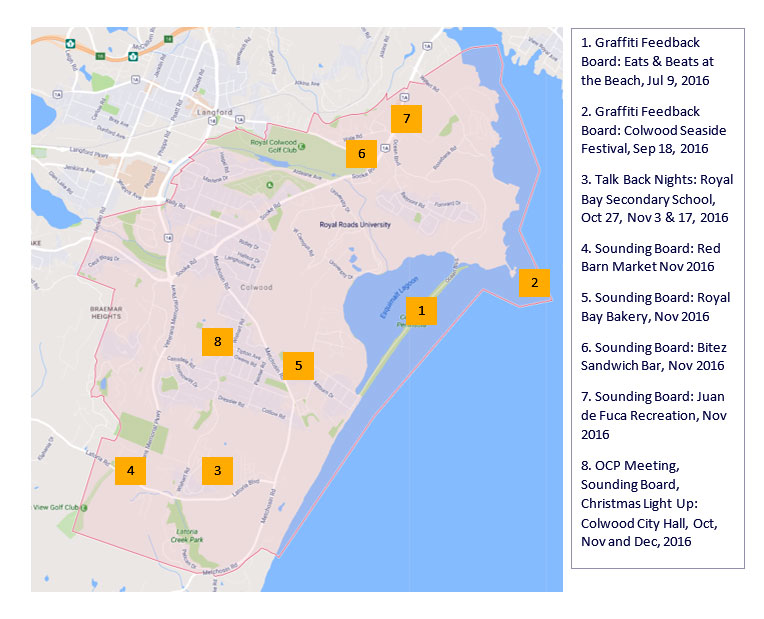 How feedback will be used
All comments, ideas and concerns collected from September 2016 through January 2017 will be collected to outline priorities and bold ideas for Colwood. During January and February 2017 a draft plan will be developed for review. From March to November 2017 a rigorous plan will be developed to provide clear and concise policy to guide growth and change in Colwood.  
Learn more
Find more detailed, preliminary 'conversation overviews' on the Colwood web page Making Waves – What we've heard.