Colwood is home to more than 600 businesses in a wide range of industry types:
Personal, health care and social services
Construction, repairs, waste management and remediation
Food, retail and accommodations
Professional scientific and technical services
Arts, entertainment and recreation
Finance and insurance
And others
Find a current business in Colwood by name, address or category:
As a growing seaside community, Colwood is the place to be for new businesses!
Plans for Colwood's newest waterfront neighbourhood at Royal Bay include more than 70,000 square feet of commercial and retail space. Colwood Corners in the town centre has the potential for 125,000 sq ft of retail space. Olympic View Golf Course has begun site work for their new mixed use development and the Allandale District will expand Colwood's mixed use employment opportunities. New plans are to come for the Royal Beach seaside village on the ocean, with easy access to the oceanfront beach just a step away.
Economic recovery during COVID-19
Learn how Colwood is working to support a strong economic recovery and a thriving community: 
Colwood economic recovery plan - promoting prosperity throughout our community
Survey finds 92% satisfaction rate among Colwood business owners and clarifies what they need to succeed
92% of the Colwood business owners surveyed this summer said they are satisfied with the City of Colwood as a place to own and operate a business, and the majority report being very satisfied. Results also revealed some key areas where the City can focus its attention to help business owners thrive.
This is welcome news and important information for Colwood Council who has made Prosperity – both as a City and at the household level – one of its four key Strategic Priorities.
The survey was the first step in the creation of a new Colwood Business Retention, Expansion and Attraction program to help business owners succeed and draw new complementary services and employers to the City.

The City of Colwood engaged MDB Insight to conduct the telephone survey in August 2021 to understand how best to support our local business community. Using a random sample of the 622 active business in Colwood, the team completed 101 interviews. 
Small businesses with staying power
Small, long time local businesses are the heart and soul of Colwood. Most businesses surveyed have been in business for more than 10 years, have 5 or fewer employees, own their properties, are focused on the local and regional markets.
23% of businesses indicated that despite the COVID-19 pandemic, their level of satisfaction was more positive than 12 months ago and 66% responded that their level of satisfaction had remained the same during this time.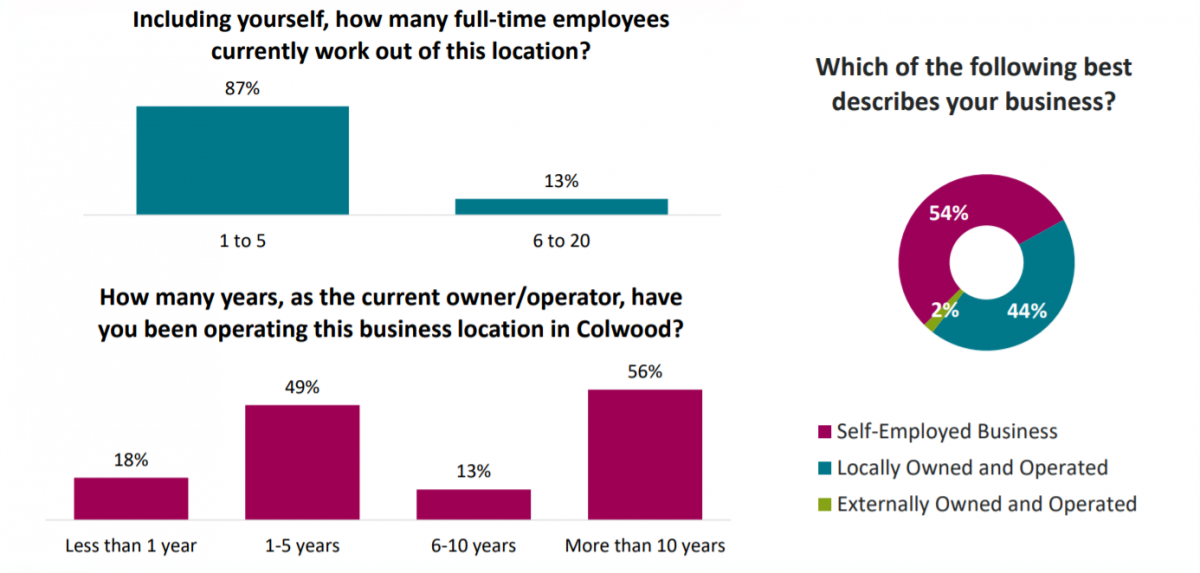 Colwood is here to help business owners
Most Colwood Business owners know who to reach out to at the City if they have an issue.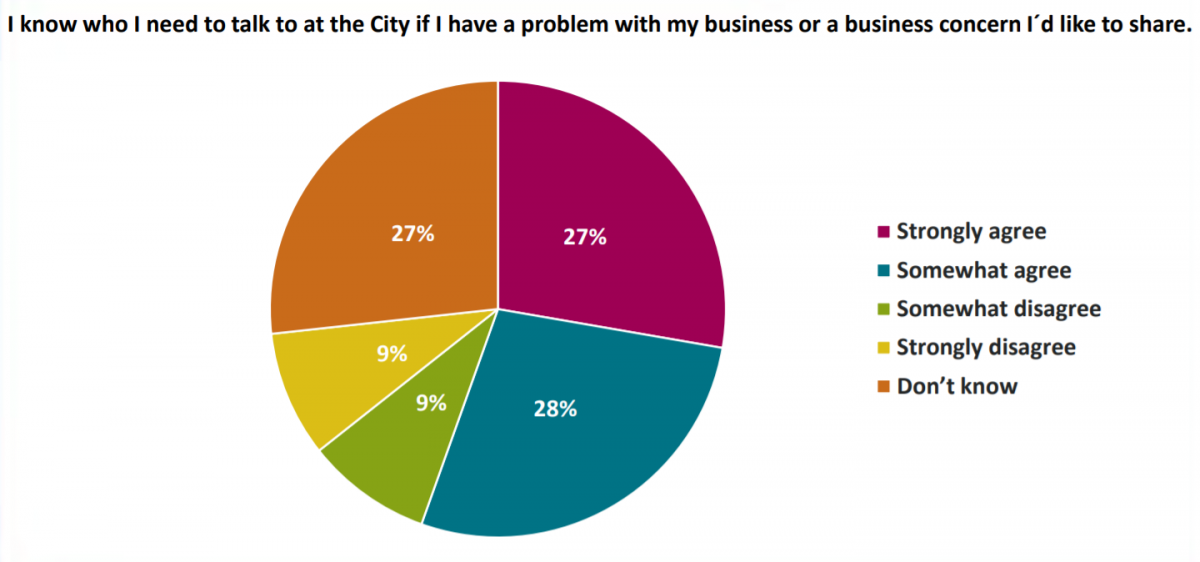 When asked to rate their satisfaction with 22 different local factors affecting their business performance, responses were positive with only 6 factors having a satisfaction level of less than 50%.
The factors with the highest levels of satisfaction were the relationship with local government for business needs, availability of internet service to support current and future business needs and the City´s response to Covid-19 Global Pandemic.
Where Colwood business owners would like to see improvement
The survey revealed the top priority business factors where review, adaptation or sustained attention are most likely to lead to higher business satisfaction.
The top priorities are:
availability of health and medical services,
availability of unskilled labour,
availability of adequate, affordable housing,
affordability of commercial space for rent or lease and
availability of skilled labour.
Scientific survey methodology
A scientific methodology is a methodology whereby each business in the population has an equal probability of being selected. This ensures that the results of the final sample is representative of the greater business population in Colwood. The margin of error associated with our final sample size is +/- 9.75% with a 95% confidence interval meaning that the results are repeatable 19 times out of 20. Please note that this represents the maximum margin of error and in many cases the margin of error would actually be less.
Review the full survey presentation from MDB Insight as presented to Colwood's Economic Prosperity Committee on September 13, 2021 and find see a full list of Colwood businesses at www.colwood.ca/Businesses.