During spring break and continuing through the fall, construction will begin on a signalized intersection and a transit exchange at Metchosin Road and Latoria Boulevard in Colwood's Royal Bay neigbourhood. These planned upgrades are triggered by current and future growth in Royal Bay and Royal Beach to enhance safety and support a range of transportation options whether you are walking, cycling, using transit, or driving.
It's a City of Colwood project in partnership with Royal Bay developers, GableCraft Homes, and Royal Beach developers, Seacliff Properties and Reliance Properties, funded by developer contributions to Colwood's Roads Development Cost Charge program.
Expect traffic delays during this work that will ease traffic flow once complete
Already complete are installation of underground drainage and electrical infrastructure. The first work we'll see over spring break is the removal of the boulevard on Latoria at Metchosin, followed by road widening and addition of turning lanes and traffic signals, sidewalks, protected bike lanes, a transit exchange and landscaping. Construction is expected to continue through the fall and may be influenced by availability of labour and supplies.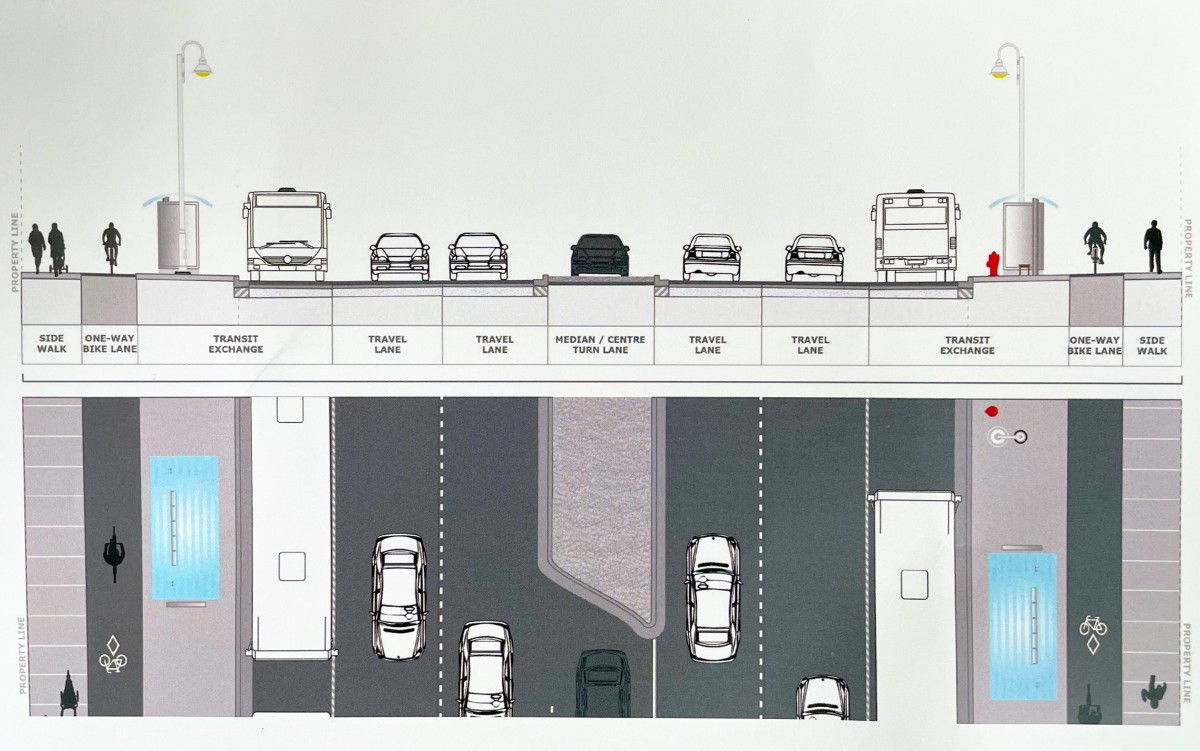 Once complete, this project will ease the flow of traffic and provide access to the Royal Bay Commons Retail Village when it opens in 2023, as well as to Royal Beach as new public spaces, parks, trails, eateries, shops, services and homes are built in this area over the coming years.
How is timing determined for infrastructure improvements like this?
When land rezoning is considered, applications require a traffic impact assessment. This results in a development agreement which maps out the timing of road infrastructure improvements needed to accommodate growth in alignment with occupancy of new homes and businesses.
What other transportation improvements are planned in the area?
This work will be complemented by construction of a roundabout at the intersection of Latoria Road and Veterans Memorial Parkway which is expected to begin in the coming months.
Work continues in preparation for sidewalks and additional vehicle lanes on Latoria Road, starting with requirements to ensure environmental protection is in place for Latoria Creek which runs alongside.
New sidewalks are also planned in seven locations around the City to support safe routes to school and encourage students to walk or cycle.
Colwood continues to provide additional options such as the GOCO Ride Sharing app as well as monitoring traffic in real time and over time to guide data driven transportation planning. Traffic models will continue to be updated as the population of the West Shore grows to determine the design and timing of future improvements.
Your patience is appreciated as the pace of improvements picks up in Colwood.
Learn more about roads projects at www.colwood.ca/Roads and about transportation initiatives at www.colwood.ca/GoColwood.
- 30 -
Media Contact
Sandra Russell, Communications Manager
srussell@colwood.ca
Subscribe for Colwood News at www.colwood.ca/News
Follow @cityofcolwood on Twitter, Facebook and Instagram