The City of Colwood is moving forward with the next seven sidewalk and cycling projects in Council's 10-year program of active transportation upgrades. On November 8, 2021, Council awarded the contract for scoping, design and contract administration for the seven projects to McElhanney Ltd.
Enhancing mobility is one of Colwood Council's four strategic priorities, and expanding the City's Active Transportation Network is one of the key tactics to help achieve the goal of making it safer and more enjoyable for residents and visitors to walk or cycle in Colwood. These on-street improvements will be complemented by trail connections outlined in the Colwood Parks & Recreation Master Plan and the vision of a Galloping Goose pedestrian and cycling bridge over Sooke Road.
The seven routes to be scoped and designed in 2022 include:
Kelly Road - sidewalk improvements on the south side
Benhomer Drive - sidewalk improvements on the north side of Benhomer Drive between Painter Road and Metchosin Road
Owens Road - new sidewalk on one side of Owens Road between Wishart Road and Painter Road
Hagel Road - new sidewalk on the west side of Hagel Road between the Galloping Goose Regional Trail and David Cameron Elementary School walkway
Lagoon Road - new sidewalk on the south side of Lagoon Road between Heatherbell Road and Aloha Avenue
Fulton Road - new sidewalk on the west side of Fulton Road between Sooke Road and Townview Terrace
Adye Road / Metchosin Road - neighbourhood bikeway along Adye Road and Metchosin Road between the Galloping Goose Regional Trail and Sooke Road
Involving residents in the scoping of projects 
Make sure your're registered on Let's Talk Colwood! Beginning in the new year, residents will be encouraged to provide input into the scoping of these projects to inform the detailed design process. Resident involvement will help to create a shared understanding of current and desired travel habits on each route, the interface between private property lines and City infrastructure, how street parking may be integrated with sidewalk design, as well as landscaping and drainage considerations.
The engagement process will also highlight and help to refine the City's overall vision for an interconnected network of active transportation routes that includes on-street not only sidewalks and bike lanes, but also neighbourhood trail connections and links to the Galloping Goose Regional Trail.  
Stay informed about Council decisions as improvements proceed
Watch for more details about each project to come forward over the coming year. Join the conversations at LetsTalkColwood.ca and subscribe for meeting and news updates by email at www.Colwood.ca/Subscribe.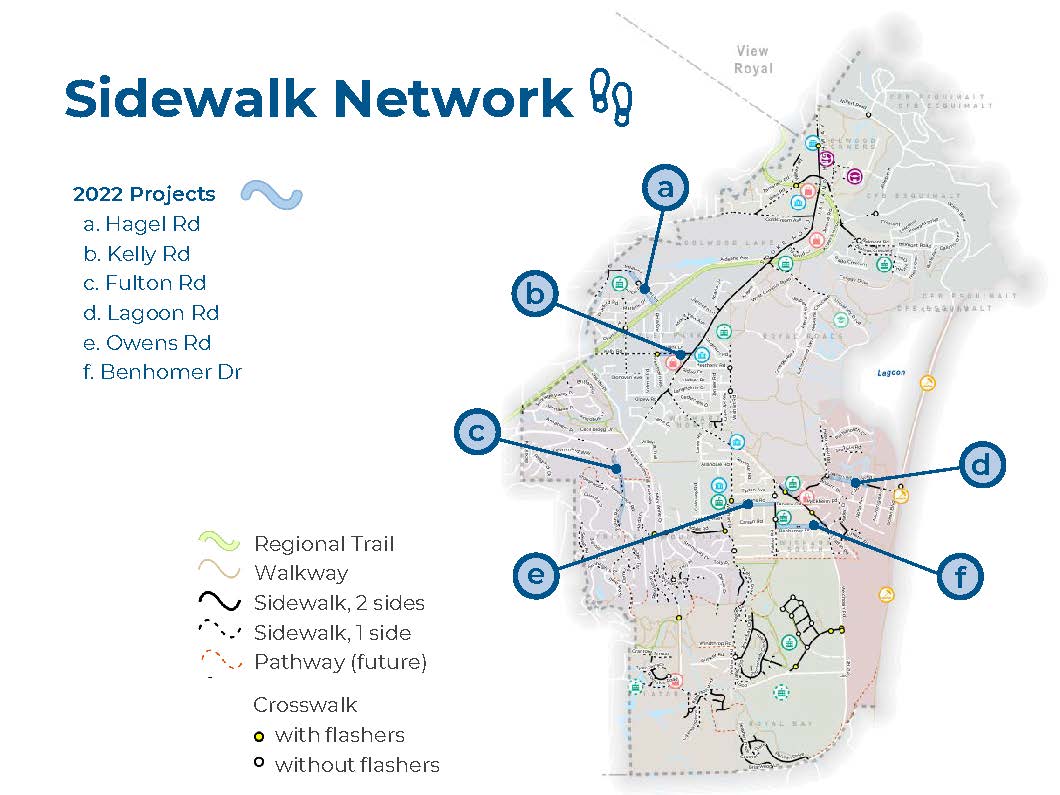 - 30 -
Media contact
Sandra Russell, Communications Manager
srussell@colwood.ca
Find this release online at Colwood.ca/News
Subscribe for Colwood news at Colwood.ca/Subscribe
Follow @CityofColwood on Facebook, Twitter, and Instagram