Today, Mayor Rob Martin and members of Colwood Council and staff were treated to a demonstration by the West Shore RCMP Police Service Dogs and their handlers.
Mayor Martin volunteered to be tracked and apprehended by 8-year old German Shepherd Erik, under Corporal Melvin Sansome's steady hand. Councillor Gordie Logan also volunteered and was quickly apprehended by 4-year old Halla, led by Constable Dave Lewis.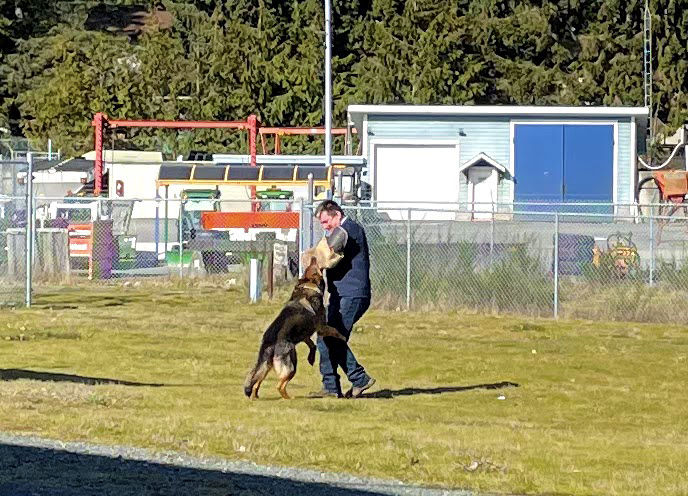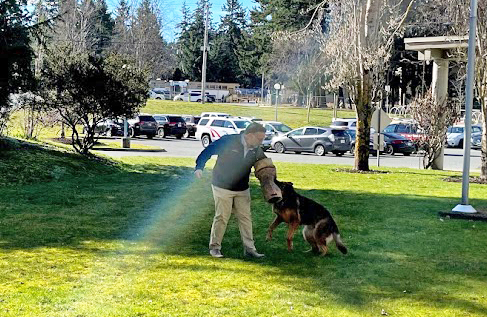 Halla is an expert in tracking explosives, and can recall and locate 51 different odours. She recently led officers to the location of an arson suspect from another municipality who attempted to hide in some bushes on the shore of Esquimalt Lagoon.
Erik was also in the news this week, having located a large amount of illegal drugs that had been stashed in a retaining wall where only an expertly trained police dog would find it.
Corporal Sansome explained that Police Service Dogs and their handlers go through extensive training before entering the field. They are instrumental in locating people who are lost, finding evidence, conducting drug searches, locating weapons and explosives, and tracking dangerous offenders. By quickly limiting the movement of an offender, police dogs increase the safety of arrests for those involved as well as innocent bystanders.
Colwood and the West Shore are well served by these highly skilled service dogs and their handlers.
[Pictured at the top of this page from left to right are: Mayor Rob Martin, Constable Dave Lewis and Halla, Inspector Todd Preston, Corporal Melvin Sansome and Erik, Councillor Gordie Logan and Councillor Stewart Parkinson.]
- 30 -
Media Contact
Sandra Russell, Communications Manager
778-677-5345
Find this release online at www.colwood.ca/News
Subscribe for Colwood news at www.colwood.ca/Subscribe
Follow @CityofColwood on facebook, twitter and instagram