Seaspan Victoria Shipyards has announced plans to consolidate their South Island supply chain operations in a new 81,500 sq.ft. office and warehousing space in Colwood's Allandale District on Veterans Memorial Parkway near Sooke Road. The property is owned by Omicron Development Inc.
Seaspan's new custom designed office and warehouse space will be built by Omicron Development Inc. on the 3.95-acre Lot A parcel within the 20-acre mixed use development.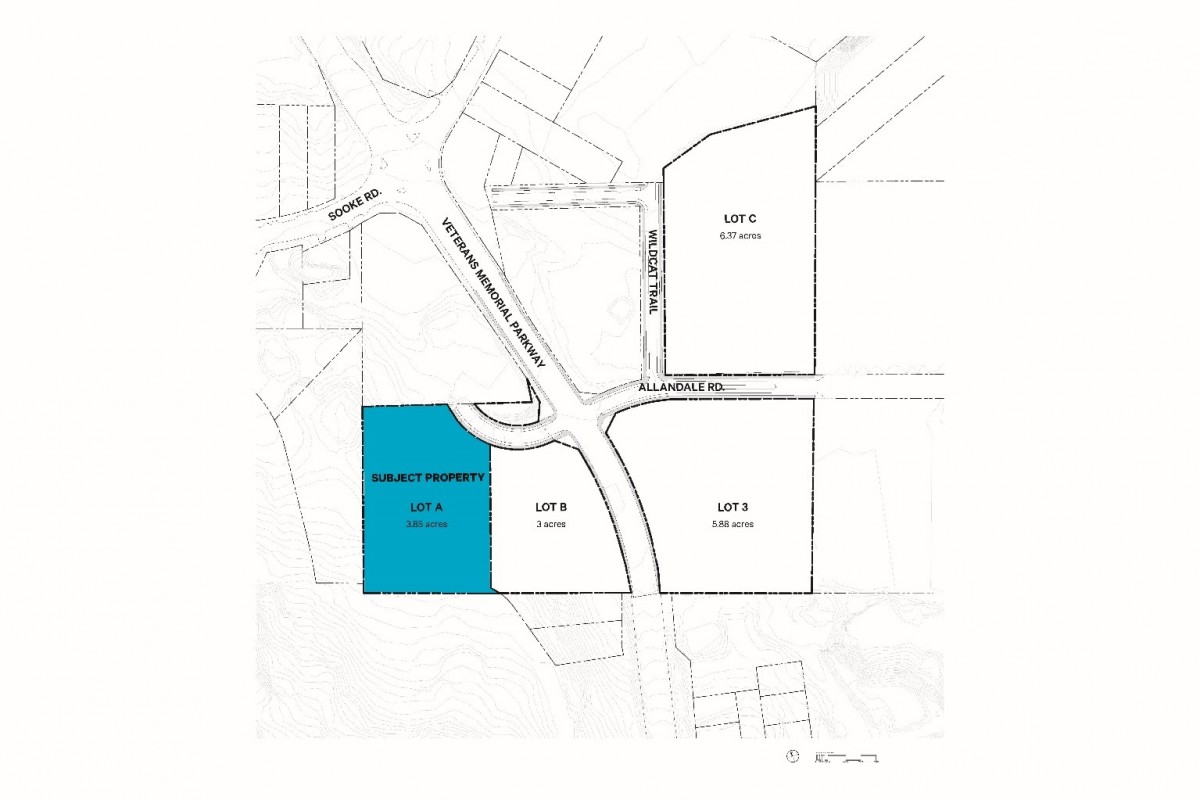 Upon approval of the development application, this $26 million project is estimated to create 90 construction jobs over the next 1.5 years as well as approximately 44 long term jobs at the new Seaspan Victoria Shipyards location in Colwood.
Currently Seaspan Victoria Shipyard's team of logistics and procurement professionals is located across three offices, and materials are spread across four warehouses in the Victoria area. The Development Permit application meets all requirements under the property's existing M2 land-use designation and does not require rezoning.
Mayor Rob Martin, City of Colwood
"We are thrilled about the prospect of welcoming Seaspan Victoria Shipyards and their employees to Colwood," said Colwood Mayor Rob Martin.

"With this one proposal, Omicron and Victoria Shipyards will bring a $26 million dollar construction investment to Colwood along with nearly 100 construction jobs and significant long term employment.

We look forward to it being the first of many announcements for the 20-acre Allandale District which will expand Colwood's tax base and create jobs for residents close to home."
Joe O'Rourke, Vice President and General Manager, Victoria Shipyards:
'"The growth and complexity of Seaspan Victoria Shipyards' long-term customer contracts have increased our need to consolidate sourcing and management of materials for vessel repair, refit and conversion projects. We look forward to leasing a superior set of warehouse buildings at Allandale District to support our growth in the maritime sector."
- 30 -
Read the full release from Omicron Development Inc.
Omicron Development Inc. in Partnership with Lotus Capital Corp. Proudly WELCOME SEASPAN VICTORIA SHIPYARDS TO ALLANDALE DISTRICT, a New Industrial, Commercial and Retail Hub in Colwood
Allandale District Background
Omicron Development Inc., the developers of Eagle Creek Village, a mixed-use commercial, retail and residential development in View Royal, along with their partners, Lotus Capital Corp., entered into a purchase agreement with Ridley Bros. Development Co. Ltd. in the fall of 2019 for approximately 20 acres in Colwood known as the Allandale lands. Now named Allandale District, the majority of land is currently zoned M2 and, under the City of Colwood's 2018 OCP, is designated Mixed-Use Employment.  Located on both sides of Veterans Memorial Parkway and Allandale Road, and bordered by Sooke Road, Allandale District represents a 20-acre parcel of land identified as an "intended growth area" in the City of Colwood's 2018 Official Community Plan (OCP). The property features four distinct development parcels and proposes new businesses and service amenities for this fast-growing business and family-friendly community. 
Media Contact
Sandra Russell, Communications Manager
778-677-5345
Find this release online at www.colwood.ca/News
Subscribe for Colwood news at www.colwood.ca/Subscribe
Follow @CityofColwood on facebook, twitter and instagram