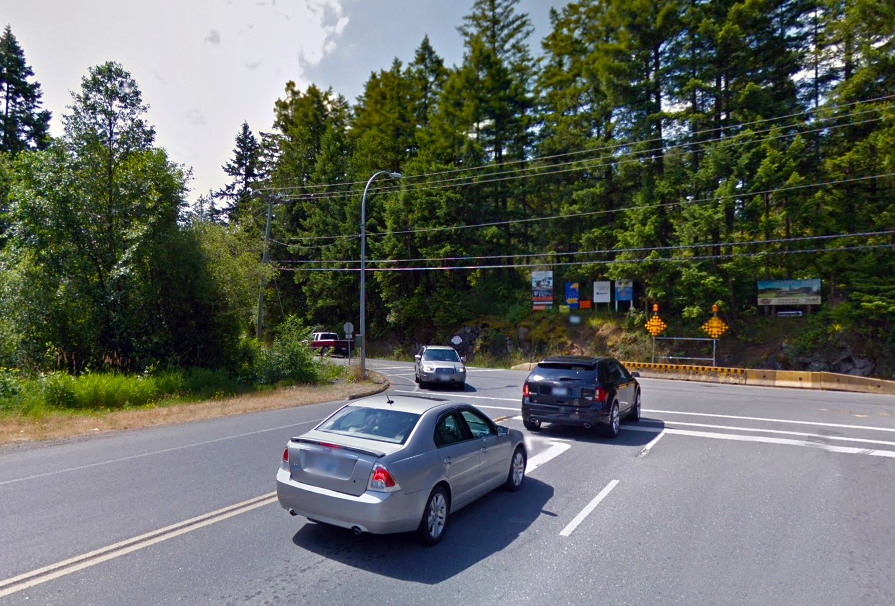 Colwood Council will budget for the design and construction of a new roundabout at the intersection of Latoria Road and Veterans Memorial Parkway in 2020/2021. It's one of several transportation upgrades proposed to accommodate growth in this area of Colwood as the Royal Bay, Royal Beach and Olympic View neighbourhoods build out. 
This would be a single lane roundabout to start, with future plans to upgrade to a two lane roundabout. The feasibility of adding lanes to Latoria Road is also being explored, although more study is required to better understand the environmental and soil conditions along Latoria Creek.
For more detail and drawings, see the Traffic Impact Analysis for Royal Bay, Royal Beach and Olympic View
Why a roundabout?
The traffic study determined that the current three-way stop at the intersection of Latoria Road and Veterans Memorial Parkway will not meet future needs. In addition, Olympic View development plans include extending Veterans Memorial Parkway through to the Olympic View property, so this will become a 4-way intersection.
Safety: Roundabouts improve safety as one-way traffic and angled entry lanes reduce the chance of t-bone or head-on collisions. They also have a slowing effect, forcing drivers to brake as they navigate around the central island and eliminating the impulse to speed up to beat a traffic light.
Flow: With no stop signs or traffic lights to halt traffic, roundabouts promote a continuous flow of vehicles that can reduce delays.
Environment: Improved vehicular flow reduces fuel consumption and greenhouse gas emissions, and central islands offer landscaping options that a traditional concrete intersection does not.
Additional information about the use and benefits of roundabouts can be found on the ICBC website. 
What other upgrades are proposed?
This is just the first of many road and intersection upgrades proposed to accommodate new development expected in Colwood's Royal Bay and Latoria neighbourhoods over the next 10 to 20 years. These area-specific improvements will be complemented by the City's Strategic Plan which calls for enhancements to the pedestrian and cycling network throughout Colwood as well. 
The proposed Latoria area upgrades are the result of a joint Traffic Impact Analysis by transportation planning consultants Watt Consulting Group and Bunt & Associates. The analysis considered the number of new homes projected to be built in Colwood at Royal Bay, Royal Beach, Olympic View and other properties in between. "Background" traffic coming into Colwood from Metchosin and Langford was also considered.
The following intersections have been identified for improvements over the next 5 to 20 years:
Intersection on Latoria Road at: Wishart Road.
Intersections on Metchosin Road at: ​Latoria Boulevard, Lagoon Road, Painter Road and Wishart Road.
Intersections on Veterans Memorial Parkway at: ​Castlewood, Cairndale Road, Allandale Road and Sooke Road.
BC Transit plans for future transit exchanges based on community need at Latoria and Metchosin Roads and in Royal Bay, as well as expanding service to Royal Beach and to a potential passenger ferry terminal.
Learn more
For more detailed information, please read the report that was presented to Council on January 13, 2020.