Colwood Council has directed staff to bring forward detailed cost estimates to initiate an area plan that would accelerate the revitalization of a key piece of the City's town centre.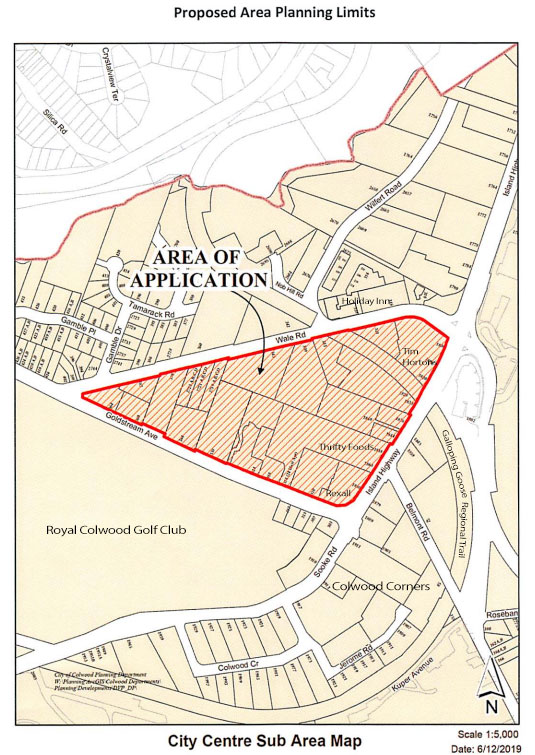 The 27-acre 'triangle' of properties in the heart of Colwood bordered by Goldstream Avenue, Wale Road and Island Highway has significant strategic value for the City's ability to achieve the vision of the Official Community Plan for this commercial area.
While some lands within the proposed area are already developed, approximately 75% of the land area is envisioned for a higher use to meet the City's land use objectives. 
"This plan would create a clear vision for the development of Colwood's town centre based on what we heard from the community throughout the OCP process," said Colwood Mayor Rob Martin. "With strong leadership, clear direction from the City, input from the community and developers who are willing to deliver, we have the opportunity to create a truly vibrant and walkable town centre."
A clear vision to accelerate desirable development
Initiating an area plan for this district will ensure there is a clear vision for how the land is to be developed. It will allow the City to accelerate desirable development, expand the City's tax base, pave the way for new services and amenities and put the City in a pro-active position for handling growth.
It will also provide certainty to both the City and future developers of the lands as to what this neighbourhood will  look like. 
Involving the community
Significant consultation with the community will be a necessary part of creating an area plan, as well as the City's overall Zoning Bylaw update. Watch for opportunities to learn more and get involved if this initiative moves forward. 
Next steps
Staff will be bringing a report back to Council with detailed cost estimates to complete the area plan. Should Council approve moving forward with the area plan, the process is likely to take between four and six months.
More background information is available in the staff report presented to Council on June 24, 2019. You can also watch video of the Council discussion.