A series of new parks and trails planned for the Royal Bay development received final approval from Colwood Council on July 9, 2018.
The plan includes both Natural Parks and Neighbourhood Parks. Natural parks are open spaces that provide both recreational opportunities and ecosystem functions, such as restoring habitat connectivity between the forest and the shoreline, and managing the flow of stormwater. Neighbourhood Parks are intended to be vibrant community gathering spaces that meet a range of community needs, from quiet, contemplative spaces to active playgrounds, sports fields, and areas for markets and festivals.
The first park in Royal Bay is already well established and widely enjoyed. Meadow Park opened in 2016 at the corner of Latoria Road and Sparrowhawk Avenue.
Five additional parks are envisioned for the Royal Bay - Latoria North area (with several more planned in the future on the south side of Latoria Boulevard). The timing for construction of the parks will be triggered by the developer's application to begin construction of the subdivision. The image below provides an overview of the 'greenway' of parks running through the neighbourhoods within the Latoria North boundary.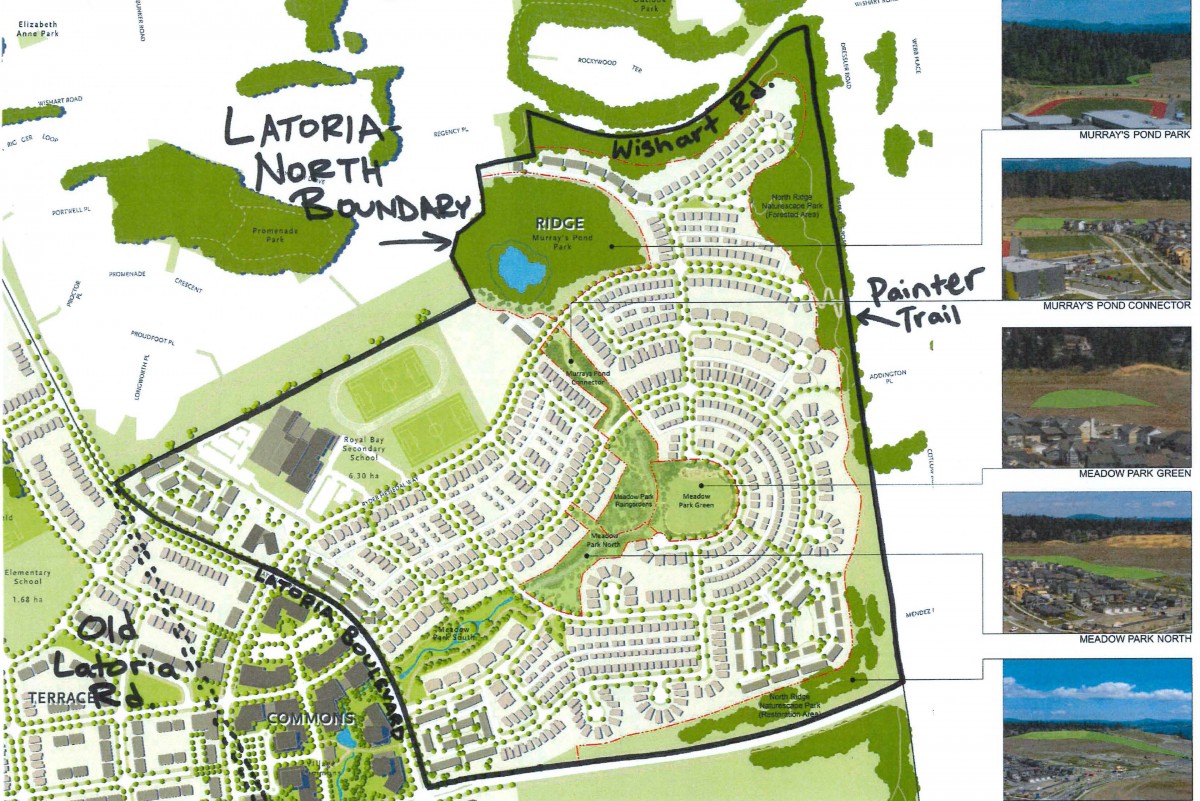 Meadow Park North will be a continuation of Meadow Park, as a Natural Park with a greenway and trail connection to the more formal Meadow Park Green, and beyond to Murray's Pond.

 
Meadow Park Green is envisioned as a Neighbourhood Park and the hub for play and recreation, featuring play structures, seating, and open space activity areas. 

 
Murray's Pond Connector will be a small Natural Park with a trail that links Meadow Park North and Murray's Pond Park.

 
Murray's Pond Park will be a Natural Park with paths intended to minimize distruption to the woods and the pond itself. The trails will create a connection between Ryder Hesjedal Way, Parkside Park, and the existing Perimeter Pathway that runs from Latoria Road above Royal Bay Secondary along the upper Royal Bay neighbourhood.

 
Finally, North Ridge Park will provide a restoration-focused forest and naturescaped Natural Park with a walking trail through the sloped areas bordering the new Royal Bay neighbourhoods in Latoria North.

These parks will create pedestrian and cycling connections between neighbourhoods and offer new opportunities for people in Colwood to get out and active, as well as protecting and restoring natural habitats and stormwater systems. However, they will also require ongoing maintenance by the City, which comes with a price tag. It was important for Council to weigh the many community benefits against the estimated annual maintenance costs of $210,000 for this series of parks. Council's vote was unanimous in favour of moving forward with the parks plan for Royal Bay Latoria North.
Want more details? Read the full Council report on the Royal Bay - Latoria North Parks Plan.