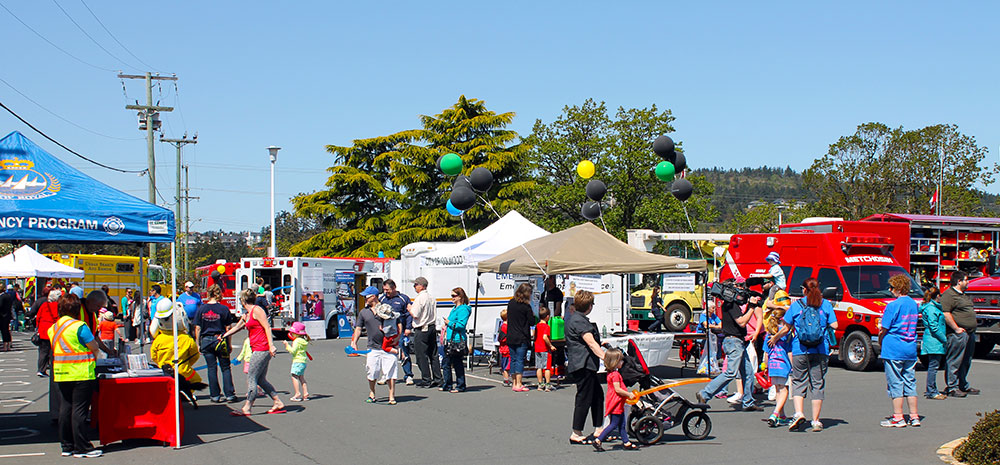 People from around the Capital Region were invited to take part in the 8th Annual Regional Emergency Preparedness Fair at West Shore Parks & Recreation this past weekend. The importance of being prepared was especially relevant this year, with continuing reports of devastation from the earthquake in Nepal. Extreme weather events such as earthquakes, forest fires and floods, both on Vancouver Island and beyond, provide an important reminder that we need to be prepared for a similar situation here in the capital region. 
Regional Readiness

Emergency services personnel, vehicles and equipment from around Vancouver Island come together in this one location to give participants a first hand look at our region's arsenal of emergency services and tools. On display was everything from the Royal Canadian Navy Bomb Disposal suit and robot, the regional Hazmat Response Unit, the RCMP armoured vehicle, plus mobile command centres, search and rescue units, fire trucks, all terrain vehicles and more. 
Focus on Families

A big focus of the event is for kids, who gain so much by being familiar with this kind of equipment, in case they are ever involved in a major event. Having the chance to talk with firemen, policemen, military personnel and others helps them understand these people will be there to help. The little ones could climb into the vehicles, spray the fire hoses, put out fires and have fun learning about emergency preparedness.
Our region is fortunate to have strong emergency management teams, services and equipment. We are grateful to the many dedicated men and women who devote their time, energy and expertise to our safety. But the most important message for each of us: the first line of defense is to ensure your family is prepared with a plan and emergency supplies. 
Your responsibility
Being prepared is one of the best ways to serve your community in the event of an emergency.
Every family should have an emergency plan so that you know what to do in the event of an emergency.
You should also have an emergency kit at home and in your vehicle in case of earthquake or emergency.
Familiarize yourself with the most effective way to stay in touch with loved ones during an emergency.
Make sure your smoke alarms and CO2 alarms are in working order at all times.
Read more about Emergency Planning in Colwood.