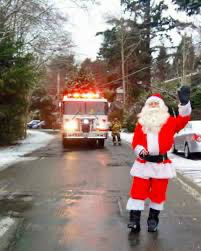 Santa is coming to your neighbourhood on the Colwood fire truck with your firefighter friends!
He may not make it to every one of Colwood's smaller streets, but when you hear the sirens, come out and say Merry Christmas! 
He'll have treats to share, and if you are able to share a few food items for someone in need, they would gratefully accept your donation and take it to the Goldstream Food Bank for you.
This year Santa will also spend some time at a local park as well, so kids can come and say hello there. Here's the projected route!
9:00-11:30 Morning routes
Route #1
Belmont Park, Goldstream Ave, Wale Rd, Gamble Dr, Gamble Pl, Tamarack Rd and Loiacono Pl
Route #2
Aldeane Ave to Kelley Rd between Sooke Rd to VMP
Route #3
Kelly Rd to Lynlark between VMP and Sooke
Route #4
Brittany to Jacklin (Colwood creek park) Sooke to Afriston Place
Route # 5
Triangle Mountain 
Come visit Santa in the park!
Meadow Park Royal Bay 9:00-11:00
12:30-3:00 Afternoon Routes
Route #6 
Wishart south Allendale to Delora between Wishart to VMP
Route #7
Lagoon Area, Lagoon Rd to Metchosin betweenMetchosin to Ocean Blvd
Route #8
Painter to Metchosin to Cotlow and Ledsham to Metchosin between Sooke and Wishart