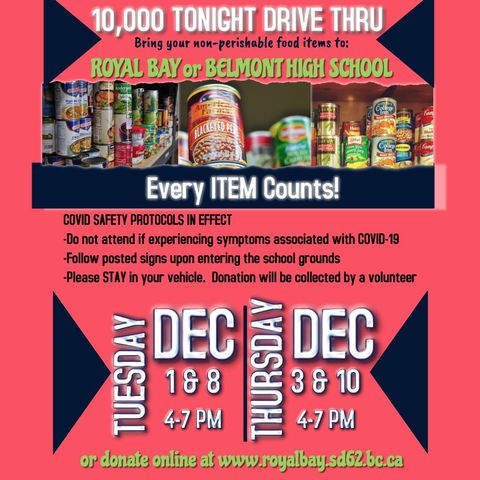 UPDATE: ROYAL BAY SECONDARY ADVISES THIS EVENT IS CANCELLED BASED ON A RECOMMENDATION FROM ISLAND HEALTH
It's that time of year again! 10,000 Tonight, where Royal Bay Secondary students rely on us to help them collect at least 10,000 food items for the Goldstream Food Bank. This year it's a drive through drop off for safety or SD62 families can provide a cash donation through School Cash Online. Please give if you can!
Drive through drop off dates
Instead of having one night where students go door to door to collect food, over 2 weeks students will bring food donations to their classrooms and a monetary donation option will be available through school cash online. There will also be 4 community donation drop offs available at the school on the following days from 4-7pm:
Tuesdays Dec. 1st
Thursday Dec. 3rd
Tuesday Dec. 8th
Thursday Dec. 10th
All will be open between 4pm and 7pm for drop off.
COVID safe protocols for the drive through event
Do not drop off food at the event if you or anyone in your household has symptoms consistent with COVID-19.
Follow the appropriate signage and wait for instruction. You will be asked to stay in your vehicle. Please do not exit. Our volunteers will be there to take care of your donation.
Please ensure your items are easily accessible for our volunteers to take (i.e. somewhere in your car [ex. the trunk] where there is no contact with any of the passengers). We would like the process to be as contactless as possible.
Please give if you can
Donating is a fantastic way to support your community during the holiday season and in this especially hard time, so come and support the 10,000 tonight tradition- it would not be possible without YOUR contributions. Hope to see you there!