Traffic delays are expected:
When:   November and December 2023
Where:  2330 Sooke Road near Veterans Memorial Parkway
What:    Developer frontage improvements: sidewalk, cycling lane, centre median
Delays are expected at 2330 Sooke Road between Veterans Memorial Parkway and Metchosin Road during November and December. Please consider an alternate route to avoid delays.
Description of Works:
Construction of a landscaped boulevard and concrete sidewalk in front of the townhouses at 2330 Sooke Road.
Creation of a buffered bike lane along the townhouse frontage, to be further extended as part of the next phase of the 2330 Sooke Road development.  
A center median will be installed to delineate turning movements between the 2330 Sooke Road townhouse access and the newly created left turn lane onto Lynnlark Place.
New asphalt paving is scheduled in mid-November, weather permitting. The new pavement area will be provided in two phases with the first phase starting from the Lynnlark intersection through the townhouse frontage. The remaining pavement works and extended concrete sidewalk will commence with the next phase of the 2330 Sooke Road apartments development.
More about developer frontage improvements:
Development frontage improvements such as sidewalks, cycling and road improvements are paid for by the developer.
Colwood's Development Services and Engineering teams work with developers to define required frontage improvements prior to the issuance of a development permit or building permit.
Improvements are guided by Colwood's Official Community Plan and Transportation Master Plan, as well as a Traffic Impact Assessment and other technical data related to a specific property.
The City has received applications for the development of other properties along this section of Sooke Road. As additional properties develop, the sidewalks, cycling lanes, and other improvements will be extended along the route.
Design drawings:
The grey areas indicate locations where work is happening now.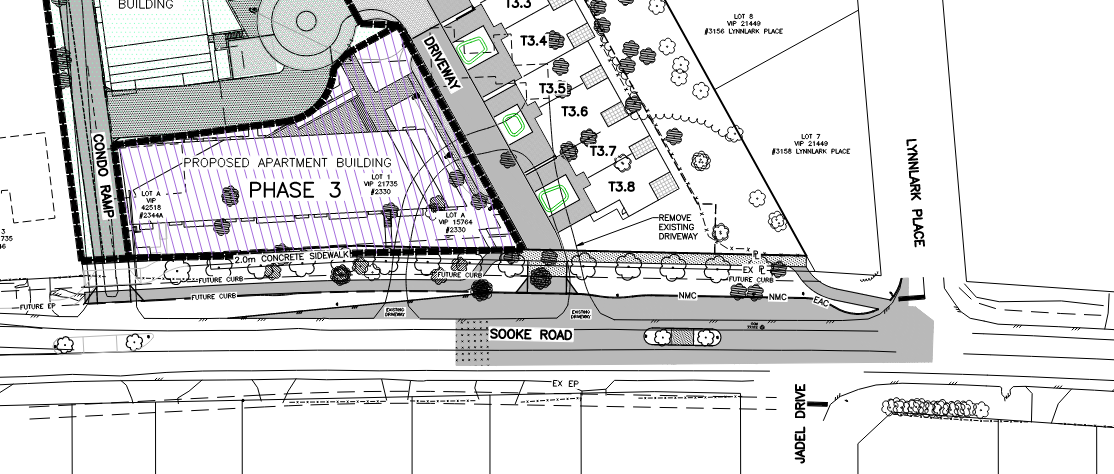 Contact for the works:  
Argus Excavating Ltd.
250-857-3353
Get details and check traffic maps at www.colwood.ca/Roads