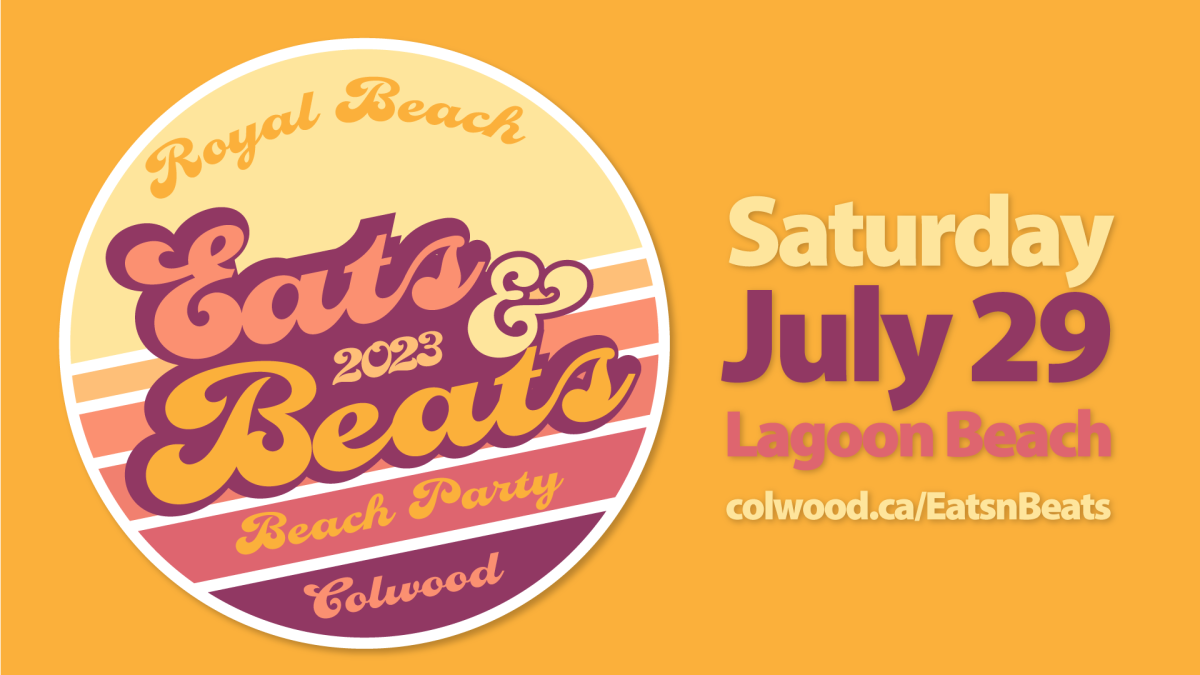 Head to the Lagoon Beach on Ocean Boulevard in Colwood on Saturday, July 29, 2023 from 1pm until 8pm for the Royal Beach Eats & Beats Beach Party! It's live music all day with a food truck festival, a craft beer garden, a street market, a climbing wall, paddling, cycling and more! We're celebrating summer with FREE fun on the street, sand, and sea. Enjoy hot eats and cool beats right on the beach with Hatley Castle on one side and Fisgard Lighthouse on the other. 
Live music, street food and beach beverages
Picture yourself with your favourite people on the sunny beach by the ocean, cold beverage in hand, grooving to the summertime tunes of some of the best local bands. Watch for lineup announcements to come. 
Sample international flavours from more than a dozen favourite food trucks, enjoy an ice cold beer or cider from the Victoria Beer Society beachside beer service and wander the beach street market for unique local treasures you'll only find on the island.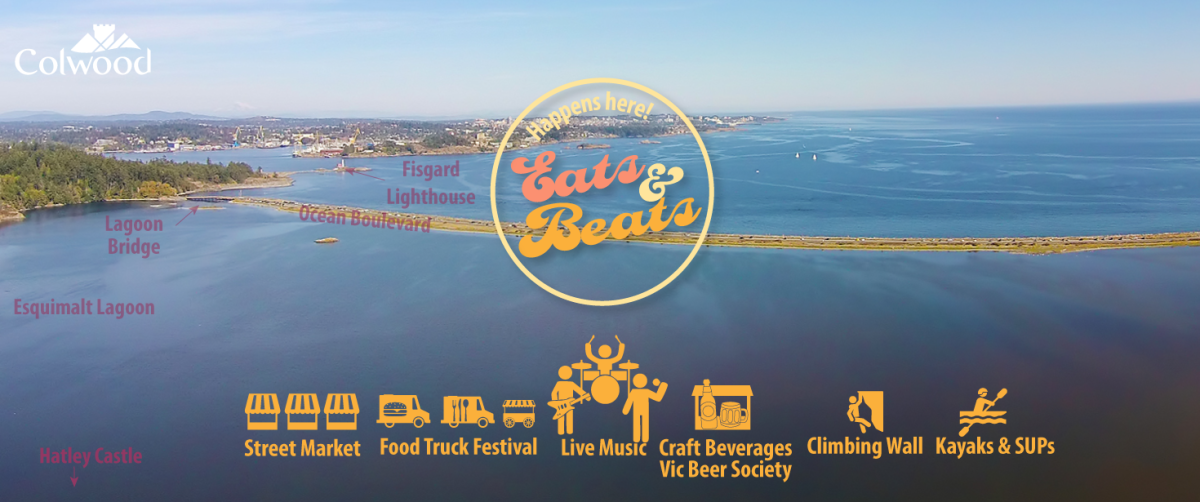 Tons of free activities at Eats & Beats
Eats & Beats will get you moving too! Stroll along the beach street market featuring unique Vancouver Island gifts, crafts, treasures, and treats. (Vendor application)
Flex your muscles on the Eats & Beats climbing wall, which is equipped with an auto belay system to let you down easy, making it a fun, safe, outdoor activity for all ages.
Try out a kayak or stand up paddle board, go for a spin on an e-bike, and grab some friends for beach games.
Getting to Eats & Beats
With two Eats & Beats shuttle buses, bike parking, and free parking all along the lagoon, there are lots of ways to get to Eats & Beats.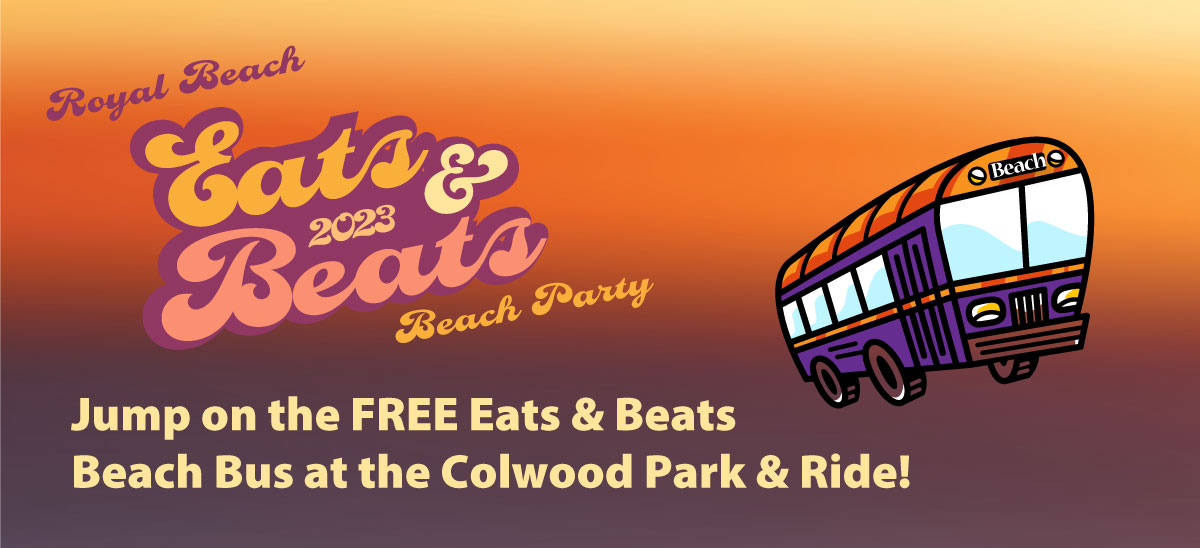 Driving to Eats & Beats: Drive to the Park & Ride and jump on a free shuttle. Ocean Boulevard will be closed to through traffic for the event, but there will be some vehicle parking along the beach on Ocean Boulevard. Parking attendants will assist drivers.
Hop on a free Eats & Beats Shuttle: The Eats & Beats Shuttles will run all day between the the event and the Park & Ride at Island Highway and Ocean Boulevard (next to West Shore Parks & Recreation). 
B.C. Transit makes it easy to get to the event: Take transit to the Colwood Transit Exchange (Routes #50, #52, #53, #61) then hop on the complimentary shuttle to the event. For more information visit http://bctransit.com/victoria/schedules-and-maps
It pays to cycle! Use the free Capital Bike Valet and get $5 Eats & Beats Bucks to use at the food trucks! The Locker from Capital Bike is a safe and secure, staffed bike parking service. There is also covered bike parking at the Colwood Transit Exchange at West Shore Parks & Recreation, right next to the Park & Ride where you can jump on a shuttle to the site. The Galloping Goose Regional Trail leads directly to the the Transit Exchange and the shuttle bus stop, so biking is a great option.
Got your own kayak? Paddle over to Eats & Beats! If you have your own kayak or canoe - park at Royal Roads University for an easy paddle across the sheltered lagoon to the event.
However you get there...don't miss the best beach party of the summer! 
Need hotel accommodation?
Spend the night in Colwood just up the road from the beach at the Holiday Inn Colwood. Find more accommodation options in Colwood.
Title Sponsor: Royal Beach - a joint project by Reliance Properties and Seacliff Properties
     
Inviting sponsorships now... take advantage of promotional opportunities!
Leverage an estimated $70,000 in promotional value as Title Sponsor. Or select an event element to brand with your business name as a Gold Sponsor - the stage, a performance, a seating area or one of the many activities offered. Or simply opt for cash sponsorship as an easy way to add incredible value and brand recognition beyond your regular advertising efforts. Contact Sandra Russell, Communications Manager at srussell@colwood.ca to explore options.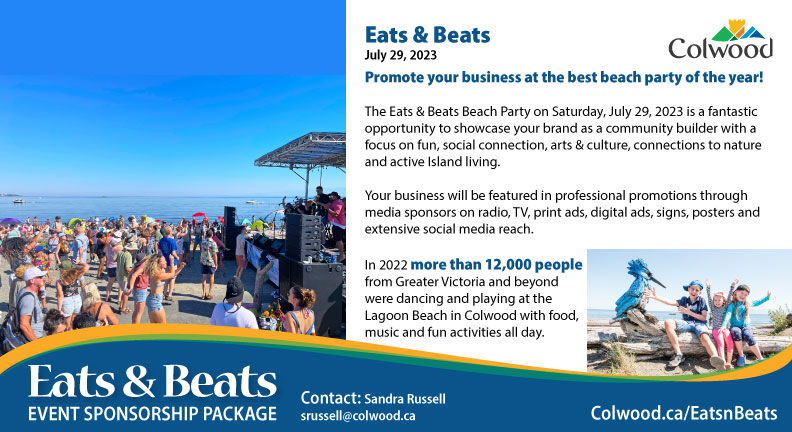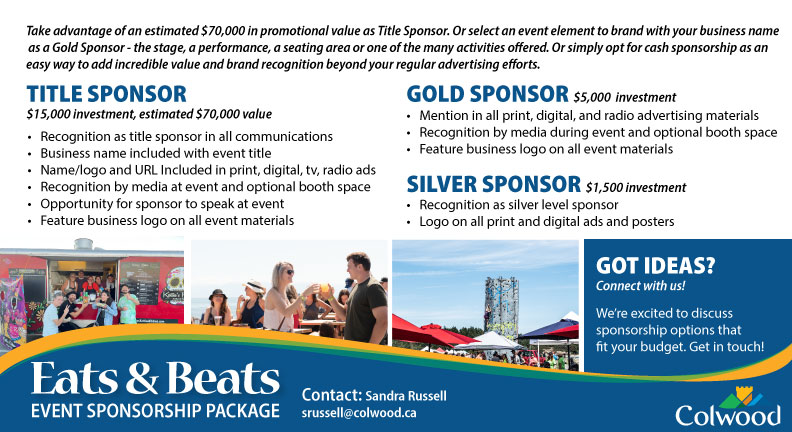 Watch this space for updates and artist announcements! www.colwood.ca/EatsnBeats.