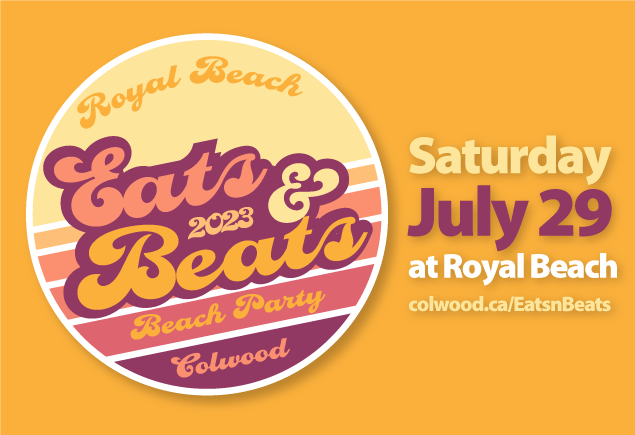 Head to Royal Beach at the corner of Metchosin and Latoria roads in Colwood on the ancestral land of the Lekwungen speaking people this Saturday, July 29, 2023 from 1pm until 8pm for the Royal Beach Eats & Beats Beach Party! It's live music all day with an international food truck festival, a craft beverage garden, a street market, a climbing wall, paddling, cycling and more! We're celebrating summer with FREE fun on the street, sand, and sea. Let your friends know you're going on the Eats & Beats facebook event page!
Live music, street food and beach beverages
Picture yourself with your favourite people on the sunny beach by the ocean, cold beverage in hand, grooving to the summertime tunes of some of the best local bands. Watch for lineup announcements to come. 
Sample international flavours from more than a dozen favourite food trucks, enjoy an ice cold beer or cider from the Victoria Beer Society beachside beer service and wander the beach street market for unique local treasures you'll only find on the island. 

Bringing the beats
Don't miss THE ZOLAS at the Eats & Beats Beach Party!
The Zolas - 7:00 pm
Get ready for a high energy, sonic love letter to the mid-'90s golden age of British pop. Following their 2016 radio-smashing, Juno-nominated breakthrough Swooner, The Zolas latest album Come Back to Life is an unrepentantly joyful ode to a magical time in music. At the same time, the Zolas aren't afraid to get serious on the lyrical side of things. Come Back to Life touches on everything from waking up to Canada's appalling treatment of its First Nations (Wreck Beach/Totem Park) to global wealth disparity (I Feel the Transition) to artists being priced out of the cities they've helped make great (Bombs Away). Have a listen and be there for dancing by the ocean when The Zolas perform live at Eats & Beats.
Nautical Disaster - 5:30 pm
If you've seen Nautical Disaster at other beach events, you know they are the most energetic, enigmatic and authentic Tragically Hip tribute band. Have a listen to Nautical Disaster.
The Projectors - 4:00 pm
Victoria's newest indie rock band with a familiar yet modern and unique sound, drawing on influences from the early "aught rock" scene of The Strokes and The Walkmen. Learn more about The Projectors.
The Temps - 2:30 pm
Dance away the afternoon with classic hits and modern rock. - The Temps play songs you forgot were your favourites and bring the good times wherever they go. Check out The Temps.
OK Charlie - 1:15 pm
Playing songs that fill the dance floor, OK Charlie brings the absolute best of both the modern and retro. Check some cool new OK Charlie tracks.
DJ Blacasphalt - between every set
The beats won't stop at Eats & Beats! Blacasphalt will keep the tunes coming all day. Dancing is mandatory.
There will be dancing!
Along with this fantastic line up of five talented local bands that will bring the energy for the perfect beach party vibe, don't miss performances by the Lekwungen Dancers at 1:00pm and Funkanometry at 3:30pm and again 5:00pm, the Island dance duo that's taking the world by storm after their appearance on America's Got Talent.
Serving up the eats
Sample a variety of international flavours at the Eats & Beats food festival with more than 15 food vendors to try! 
Experience tons of free activities at Eats & Beats
Eats & Beats will get you moving too! Stroll along the beach street market featuring unique Vancouver Island gifts, crafts, treasures, and treats. (Vendor application)
Flex your muscles on the Eats & Beats climbing wall, which is equipped with an auto belay system to let you down easy, making it a fun, safe, outdoor activity for all ages.
Try out a kayak or stand up paddle board, go for a spin on an e-bike, and grab some friends for beach games.
Getting to Eats & Beats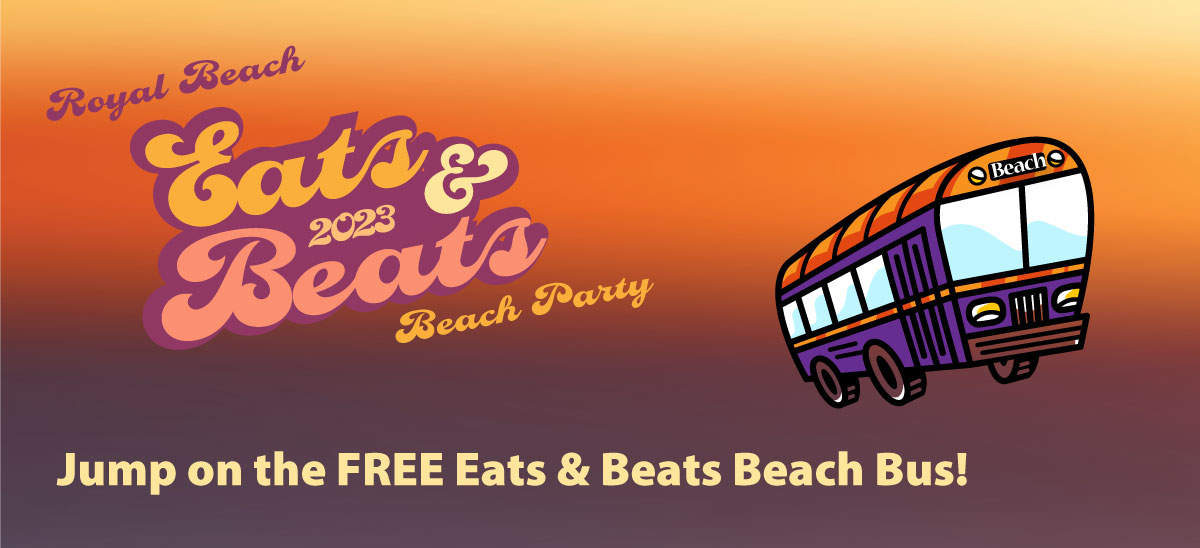 With two Eats & Beats shuttle buses, bike valet parking, and free parking just up from the event, there are lots of ways to get to Eats & Beats.
Hop on a free Eats & Beats Shuttle: Three FREE Eats & Beats Shuttles will run all day to the event at Royal Beach. There will be one shuttle stop at Royal Bay Secondary School and one near the new Quality Foods Royal Bay. You'll also be able to jump on a Beach Bus running between Royal Beach Park and Metchosin Road any time, all day. Follow the Eats & Beats signage! 
B.C. Transit makes it easy to get to the event: Take routes #50, #52, #53, or #61 to Royal Bay, then hop on the complimentary shuttle to the event. For more information visit http://bctransit.com/victoria/schedules-and-maps
Ride your bike. It pays to cycle! Use the free Capital Bike Valet and get $5 Eats & Beats Bucks to use at the food trucks! The Locker from Capital Bike is a safe and secure, staffed bike parking service. The Galloping Goose Regional Trail runs right through Colwood. Jump off the trail at Hatley Gardens cemetery and make your way up Adye Road then zip along Metchosin Road for an easy downhill cruise to Royal Beach.
Walk to Eats & Beats! Park at the Lagoon Beach for a leisurely walk along the beach to the Royal Beach site. It's just about 1km between the Lagoon washrooms and Royal Beach. Or if you live in the area, enjoy one of the many trails into Royal Bay and down to the beach. 
Got your own kayak? Park at the Lagoon Beach and paddle over to Eats & Beats! 
However you get there... don't miss the best beach party of the summer!
Need hotel accommodation?
Spend the night in Colwood just up the road from the beach at the Holiday Inn Colwood. Find more accommodation options in Colwood.
Title Sponsor: Royal Beach - a joint project by Reliance Properties and Seacliff Properties
     
Gold Sponsors

Silver Sponsors
Silver Sponsors
Inviting sponsorships now... take advantage of promotional opportunities!
Leverage an estimated $70,000 in promotional value as Title Sponsor. Or select an event element to brand with your business name as a Gold Sponsor - the stage, a performance, a seating area or one of the many activities offered. Or simply opt for cash sponsorship as an easy way to add incredible value and brand recognition beyond your regular advertising efforts. Contact Sandra Russell, Communications Manager at srussell@colwood.ca to explore options.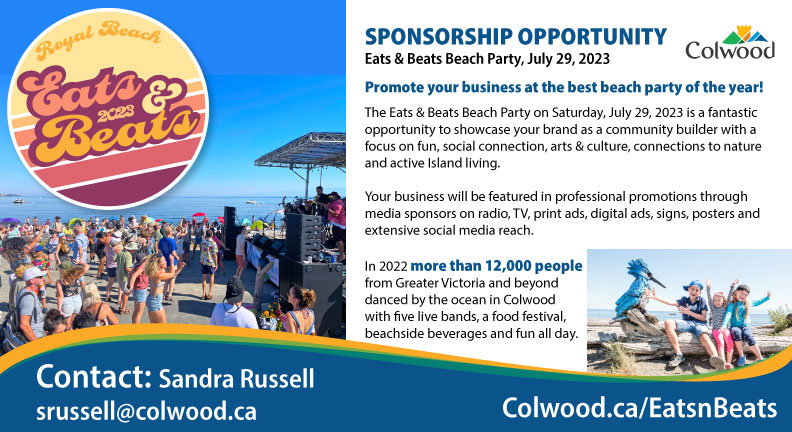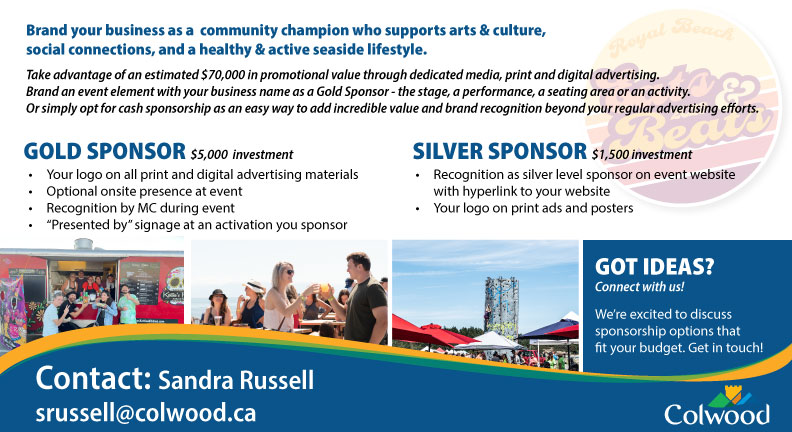 Watch this space for updates and artist announcements! www.colwood.ca/EatsnBeats.