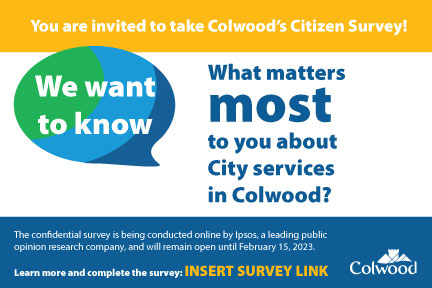 The City of Colwood is encouraging residents to take part in a satisfaction survey to share their views about quality of life in Colwood. It is an opportunity to talk about which city services are most important to you and where there are opportunities for improvement. The findings will help Colwood Council and staff better understand citizen priorities and expectations.
"As a new Mayor and Council, our focus is on listening to residents to deepen our understanding of their wants, needs and expectations," said Mayor Kobayashi. "One way we hope to do that is by encouranging residents to participate in the Colwood Citizen Satisfaction Survey. We want to know what matters most to residents."
Look for a postcard in your mail box with your unique survey link!
Survey postcards will be in the mail to Colwood addresses in the last week of January. Each postcard includes a unique and confidential survey link. Type the link into your web browser to respond to the survey. Participants may choose to be included in a prize draw for a $250 visa gift card. 
Got your postcard? Jump to the survey now! Click this link then type in your unique ID number: https://ipsossurvey.ca/colwood 
Didn't receive a postcard from Canada Post? Email info@colwood.ca to receive a unique ID number promptly.
How will citizen survey results be used?
The survey findings will inform the City's 2023 strategic planning process to guide short and long term priorities. The information will also be compared with previous survey data to evaluate progress over time. Results of the survey will be made available on the City of Colwood website when they are collated and presented to Colwood Council. 
Feedback drives improvement
The City is striving to continually improve our community and provide the highest quality of service for citizens. Asking residents 'how are we doing?' and 'what's most important to you?' provides critical information we need to make decisions about the community-building services, projects and initiatives we will focus on. To all those who participate, we sincerely appreciate your time and value your input.
Learn more
Read about this and previous Colwood Citizen Satisfaction Surveys at www.colwood.ca/CitizenSurvey
- 30 -
Media Contact
Sandra Russell, Communications Manager
srussell@colwood.ca
Subscribe for Colwood news at www.colwood.ca/Subscribe
Follow @cityofcolwood on Facebook, Twitter and Instagram