The City of Colwood calculates and prepares all property tax notices each year. Tax notices are issued near the end of May and tax payments are due on the first business day after July 1st.
Read the 2016 Property Tax Newsletter [PDF].
Claim your Home Owner Grant.
Find Ways to Pay Taxes.
Property Tax Rates
Property taxation provides for city services and improvement projects. The property tax rate is set by Council each year. The tax rate, together with the assessed property value, determines the amount of property tax payable each year. 
See the 2016 Tax Rate Schedule (Mill Rates) [PDF] and check "Where your tax dollars go" for more information.
Where your tax dollars go
Less than half of the revenue from property taxes is controlled by the City of Colwood. Funds collected for other government agencies are simply passed on to them. This makes the system more efficient – residents receive a single tax notice rather than having each organization bill separately.
The City collects approximately $23 million in property tax annually. Approximately $11 million is collected on behalf of other government agencies, including: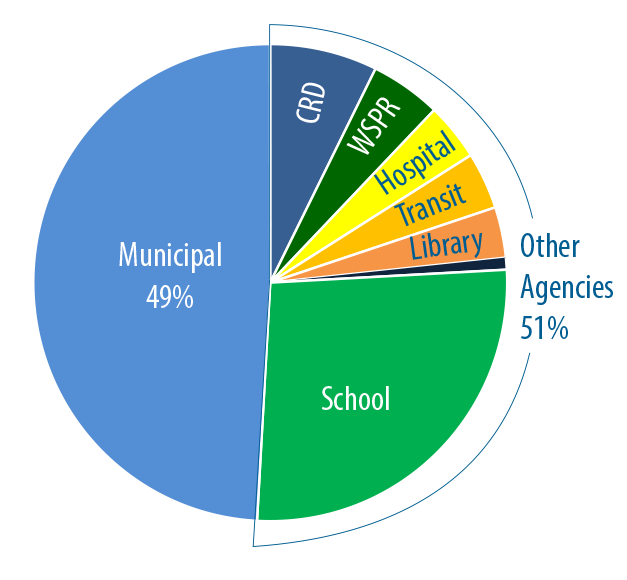 The nearly $12 million that is retained by the City funds city services such as police and fire protection, street lighting, road and drainage maintenance, operating parks and recreational facilities, and planning and managing city developments and enhancements.
Ways to Pay Your Property Taxes
Property Assessment
Home Owner Grants
Tax Sale Information
Where Your Tax Dollars Go
Frequently Asked Questions
Need more information?
Please contact the Colwood Finance Department at finance@colwood.ca or 250-478-5999.