Creating A Community Garden at Colwood City Hall
The City of Colwood is supporting our local community to create a Community Garden on the City Hall property.
Why a Community Garden?
Community gardening is recognized as a valuable community recreational activity that contributes to health and well-being, positive social interaction, community development, environmental education, connection to nature, protection and use of open space as well as economical, nutritious food production and food security.
Get Involved - Come to the Community Garden Open House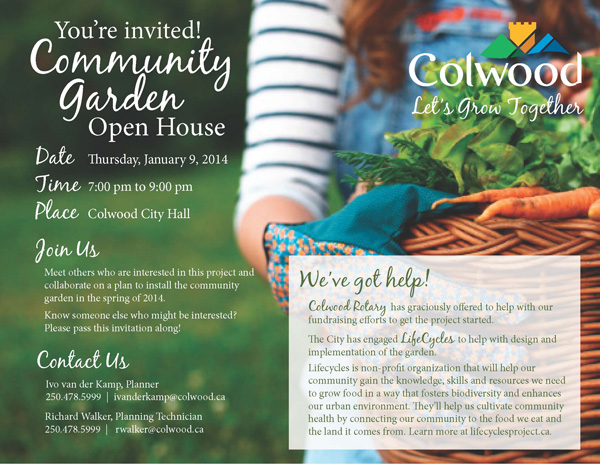 Date: Thursday, January 9, 2014
Time: 7:00 pm to 9:00 pm
Place: Colwood City Hall
Meet others who are interested in this project and collaborate on a plan to install the community garden in the spring of 2014. Know someone else who might be interested? Please pass this Community Garden Open House Invitation along!
We've got help!
Colwood Rotary has graciously offered to help with fundraising efforts to get the project started.
LifeCycles will help our community gain the knowledge, skills and resources we need to grow food in a way that will foster biodiversity and enhance our urban environment. They'll help us cultivate community health by connecting our community to the food we eat and the land it comes from.
Get in Touch
In order for this effort to be successful, volunteers from the community will be needed to help organize, secure donations of materials (e.g. fencing, lumber, irrigation, tools etc.), and construct the garden. If you are interested in helping to make the community garden a reality, or, if you're simply interested in growing food on City property, please contact Richard Walker, Planning Technician or Ivo VanderKamp, Planner at 250.478.5999.
Feel free to print and share our original flyer about the community garden.
Other Community Gardening Initiatives in Colwood
Westshore Teaching Garden
At Colwood School, you will find the Westshore Teaching Garden, where school age youth and community members of all ages can learn sustainable gardening practices through hands-on lessons and projects, throughout the year.
Victory Garden at Esquimalt Lagoon
The Coast Collective Arts Centre is growing a Victory Garden to build community and contribute to local food security. This pilot project has a mission to help mentor the simple and important changes our community needs to make in response to a changing climate -- actions as simple as learning how to grow more of our own delicious and nutritious organic produce ... like tomatoes! The garden will serve as the physical home of the West Shore Arts Council's West Shore Harvest Program, growing community awareness and fresh food with and for our community, including the Goldstream Food Bank.