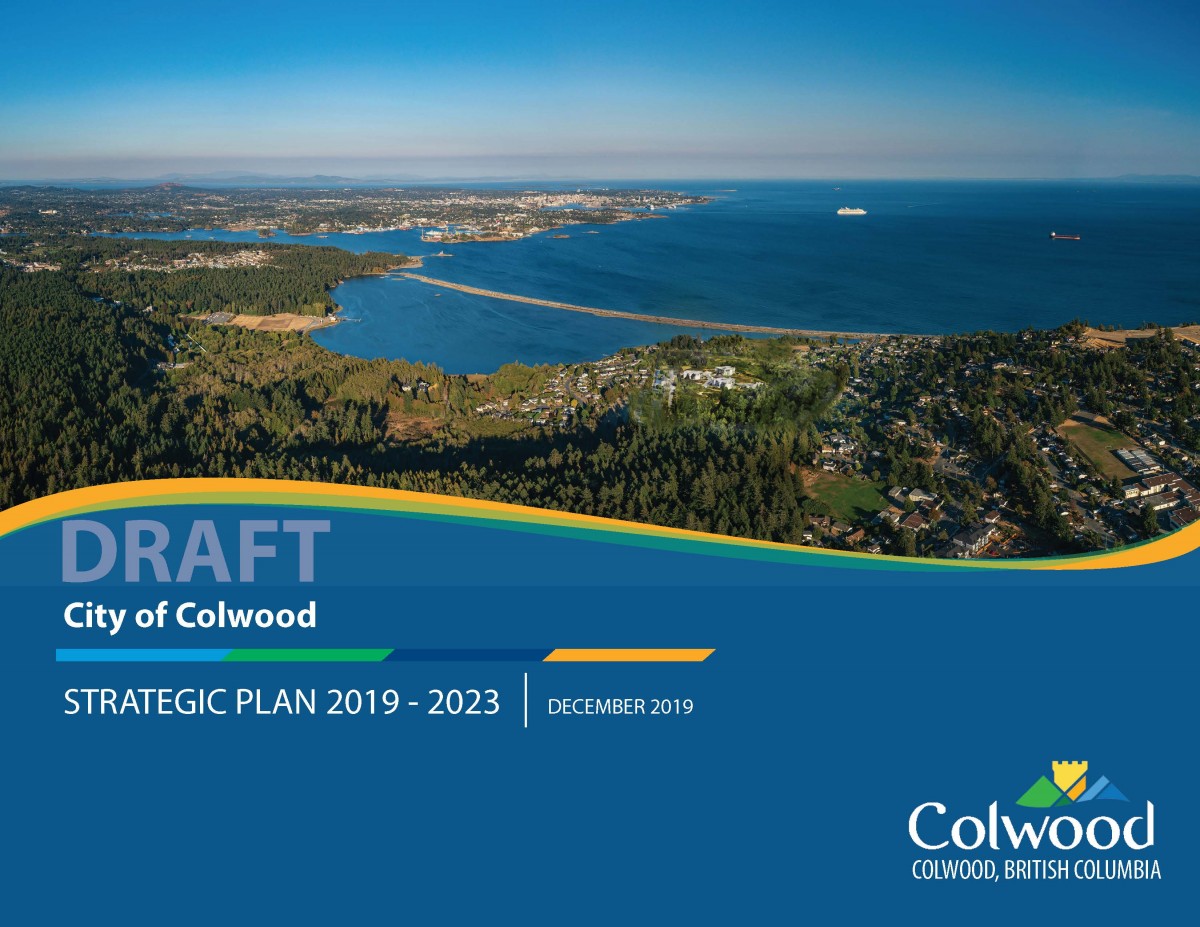 Colwood wants to hear your views about a new Draft Strategic Plan that aims to address the needs and expectations of the community as expressed in the Official Community Plan.
The plan is not intended to list everything the City does, but to outline priority areas where Council has identified a gap and wants to see meaningful progress over the next four years. 
The Draft Strategic Plan focuses on four key goal areas: Mobility, Prosperity, Governance and Vibrancy.
Goal 1: Mobility
The City will strive to enhance residents' quality of life by creating a safe, convenient and connected network of streets, sidewalks, trails and cycling routes for people of all ages and abilities.
The plan proposes reviewing the design of priority roads, creating sidewalk and cycling plans, measuring vehicle congestion, increasing the comfort and convenience of transit and engaging the community on the concept of a passenger ferry.
Read the Mobility section  |  Provide feedback on Mobility tactics
Goal 2: Prosperity
The City will make decisions that promote the prosperity of residents, businesses and the City as a whole. This includes supporting new business investment, but also household prosperity considerations that allow for residents to enjoy a high quality of life with access to recreation, education, employment and housing choices.
The plan proposes creating a household prosperity census to better understand what needs to be done to improve prosperity for residents, as well as creating targets to diversify Colwood's tax base. And we'll plan for public realm improvements to enhance enjoyment and attract new business investment.
Read the Prosperity section  |  Provide feedback on Prosperity tactics
Goal 3: Governance
The City will continue to engage citizens through clear, honest communications, responsible financial management and transparent decision making that reflects the needs and wishes of the greater community, as described in the Official Community Plan. 
The plan proposes building the City's service levels based on resident expectations, reviewing tax and fee levels, planning for infrastructure needs and reducing Colwood's energy use and GHG emissions.
Read the Governance section  |  Provide feedback on Governance tactics
Goal 4: Vibrancy
The City will work to create more welcoming and interesting public spaces that encourage access to a range of recreational, social, cultural and heritage opportunities, especially at the waterfront, in parks and on streetscapes and boulevards.
The plan proposes building our understanding of community needs through cultural assessments, neighbourhood engagement and housing needs assessments, then planning for parks improvements, community events, arts and culture, heritage and beautification. 
Read the Vibrancy section  | Provide feedback on Vibrancy tactics
Next steps for the draft Strategic Plan
The community will be encouraged to provide input about the draft Strategic Plan throughout January 2020. Staff will present an engagement summary to Council at the end of January when Council will consider adoption of the Strategic Plan. Specific tactics outlined in the plan will be considered during budget deliberations in February and March.
Review the full Colwood Draft Strategic Plan 2019 - 2023
- 30 -
Media Contact
Sandra Russell, Communications Manager
778-677-5345
Find this release online at www.colwood.ca/News
Subscribe for Colwood news at www.colwood.ca/Subscribe
Follow @CityofColwood on facebook, twitter and instagram