Today, Colwood Mayor Carol Hamilton sent a letter to Premier John Horgan, Minister of Transportation Claire Trevena, BC Transit and local area mayors requesting a meeting to move forward on solutions to traffic congestion in the Capital Region.
It is widely acknowledged that the most significant transportation issue the Capital Region currently faces is congestion on the Trans-Canada Highway during rush hours. 
See also: Colwood and View Royal working with BC Transit on Rapid Transit Plan for Island Highway
And: Meeting with the Minister: Rapid Transit between Victoria and the West Shore
The letter comes on the heels of the recent renewed push for a CRD Transportation Service. "Let's take a common sense, proactive and collaborative approach to addressing our region's most pressing transportation issue, before adding another unnecessary layer of governance," said Hamilton. 
The Mayor's letter asks for a joint meeting to put into action the construction of express transit lanes on the Trans-Canada Highway and supporting municipal arterial roads. 
"As leaders, we must take action to meaningfully address the congestion concerns in our region, and make transit a more reliable and attractive option for commuters," she said. 
The CRD Regional Transportation Plan (2014) identifies as a priority "rapid transit between the West Shore and Downtown Victoria in order to build ridership." Lanes dedicated for transit and HOV now would lay the foundation for future light rail transit, should the region's density grow to the point that it becomes feasible.
The Mayor received prompt responses from the Premier's scheduling branch, BC Transit and several of the nine West Shore and Core Area mayors addressed in the letter who are interested in participating. Watch for more to come.
Future transportation aspirations
There are three regional transportation ideas that come up frequently each time the issue is raised: Light Rail Transit, the E&N Rail Corridor and a West Shore Ferry. 
Light Rail Transit: The table below lists population densities required to support levels of transit service. "Exhibit 4.11 presents suggested density ranges for various levels of transit service based on a compilation of several studies. While these are not minimum requirements to provide the suggested level of service, they are density ranges that would minimize the cost of operating transit service while maximizing ridership potential. At present, with the exception of Downtown Victoria, most areas of the CRD would fall well below 80 persons+jobs per hectare (Exhibit 4.12)."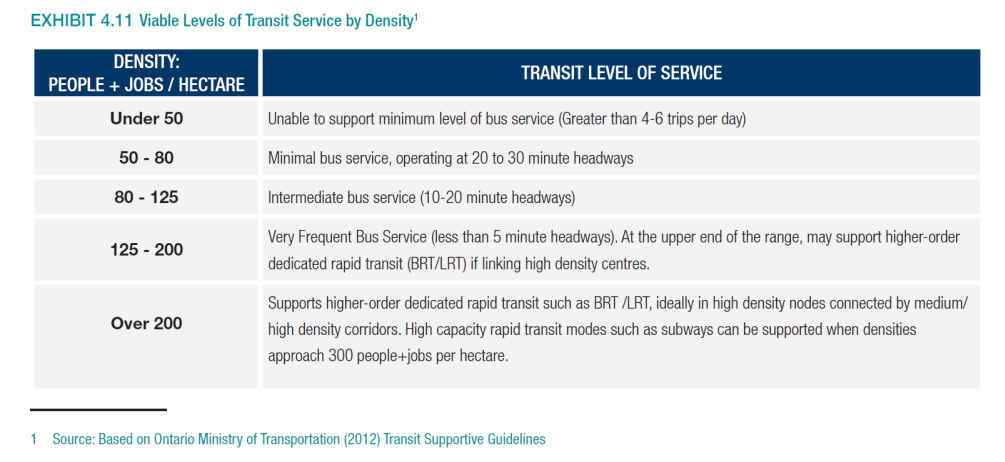 E&N Rail: This BC Ministry of Transportation and Infrastructure Evaluation of the E & N Railway Corridor: Commuter Rail (2010) came to the following conclusions:

"An initial set of concepts for commuter rail service suggests that significant investments could be required in repairs to the current corridor, new trains, additional tracks and signals, stations, and a maintenance/storage facility. For the system from Westhills to Victoria, these costs could range from $69 to $165 million, including $22 to $32 million for the trains and $47 to $133 million for the facilities within the corridor.

Due to the size of the travel market from the West Shore communities into Victoria, the estimated ridership for this type of service may not justify a commuter rail service as defined by the initial operating parameters. The greatest impediments to higher ridership within the existing market include the slower running speeds of the train and competition from existing transit services along the same general route.

The possibility of operating service through this area as part of an expanded intercity service is discussed elsewhere, in the Passenger Analysis Report, and the Foundation Summary Report. By starting the service off with a more modest investment in vehicles and accepting slower speeds until tracks can be upgraded, a lower cost, lower ridership option would result, but one that might become feasible sooner than a full-fledged urban commuter rail service.

If BC Transit were to implement a commuter rail option from Langford to Victoria, the appropriate service plan, cost and ridership would also depend on integration with other transit services and land use policies around the train station sites. Higher densities of development and a larger commuting population base headed into Esquimalt and Victoria (or in future reverse commuting) would be more supportive of a commuter rail concept than the current situation."
 

West Shore Ferry: The idea of a West Shore Ferry from Royal Bay has also been explored. It would require a private ferry operator to come to the table and be able to provide reliable and cost effective service. This newspaper article presents some interesting points about challenges with cost, ridership and significant downtime due to stormy seas.