Today, Colwood Mayor Rob Martin and Royal Bay Director of Development, Ben Mycroft from GableCraft Homes cut the ribbon to officially open the new public washroom building at Meadow Park Green in Royal Bay.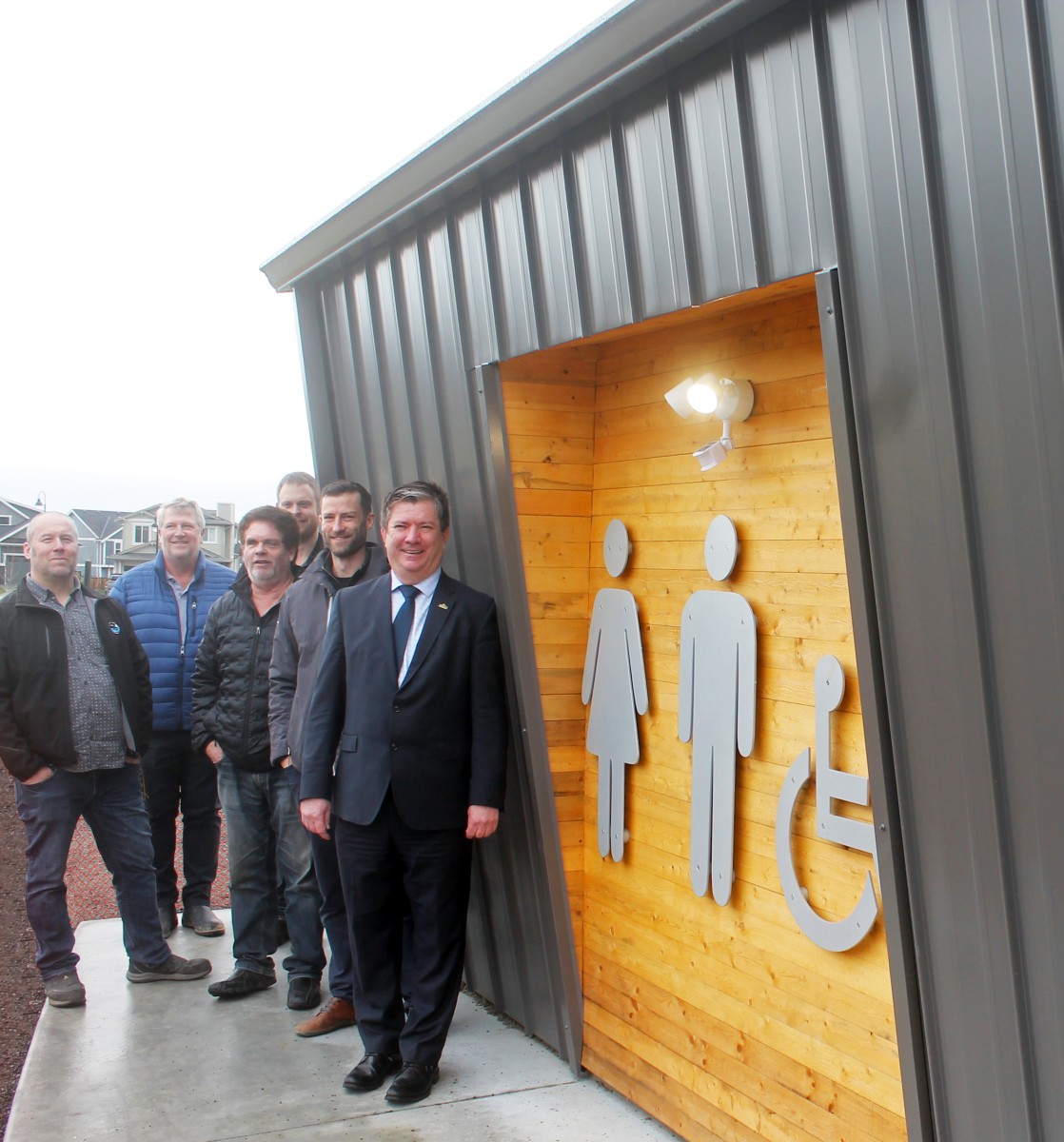 The washroom is a beautifully designed public facility constructed by GableCraft Homes as part of the development plan, and features wheelchair accessible washrooms, automatic lighting, fold-down baby change tables, and fountains for both people and pups. Landscaping enhancements will be completed this spring.
Early in the development of Royal Bay, Colwood Council envisioned Meadow Park Green as a community gathering space and directed the addition of amenities such as the public washrooms as well as electric vehicle charging stations, power sources for food trucks and performances, and electrical outlets on light standards for decorative lighting and displays. The improvements were jointly funded by GableCraft Homes and the Colwood Community Amenity fund from development contributions.
This past December, families enjoyed performances by Sangster School choirs at Meadow Park Green, and a Family Day event in February drew people from around Colwood and throughout the region for live music and family fun. Beginning in May, the park will be one of four locations for Colwood's Friday night Music in the Park events.
Growing public amenities in Colwood
This is the first of several new public washrooms planned for Colwood parks as guided by public input through previous citizen satisfaction surveys and the creation of Colwood's Parks and Recreation Master Plan in 2020.
Since the need for additional public washroom facilities was identified, the City has made portable washrooms available in several parks, including Herm Williams, Colwood Creek, Lookout Lake and the Lagoon Beach, and planning began for permanent facilities in alignment with new development, availability of servicing, and public input.
Living through a pandemic has also highlighted the importance of access to outdoor spaces for a healthy and active lifestyle. Now, permanent public washroom buildings are included in Parks Management Plans for Colwood Creek, Ocean View and Lookout Lake Parks. Residents are encouraged to get involved in parks planning at LetsTalkColwood.ca/OurParks.
About Colwood's Royal Bay neighbourhood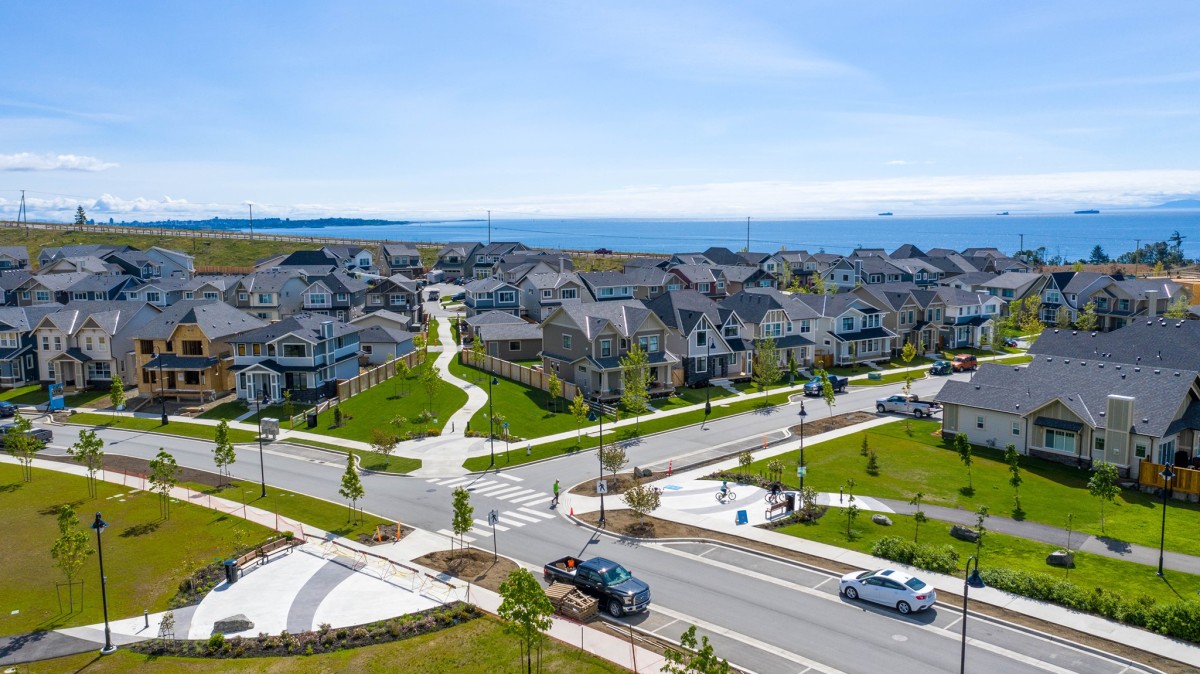 In Colwood, BC on the southern part of Vancouver Island, just 25 minutes from the provincial capital City of Victoria, lie the hidden gems that are Royal Bay and Royal Beach. Once a prolific quarry and gravel extraction site, this remarkable 419-acre plot with 1.3 kilometres of spectacular shoreline is re-emerging as a modern seaside community.
Royal Bay is designed to make the most of the natural landscapes and environment for exceptional everyday living, whether raising a family or savouring the golden years. The master planned community features high quality, efficient homes, from single family to townhouses and multi-family residences.
The neighbourhood is being completed in phases, with the creation of homes, schools, shops, services, bike paths, walking loops and nature trails that provide direct access for all residents to the quality parks and amenities that are highlights of this unique area. Construction has begun on the Commons Retail Village, where Quality Foods, Cascadia Liquor and other shops, services, offices and a day care are expected to open in 2023. It will also be home to the Royal BC Museum Collections & Research building and an Island Health Seniors Care Facility. Learn more at LiveatRoyalBay.ca
- 30 -
Media Contact
Sandra Russell, Communications Manager
srussell@colwood.ca
Subscribe for Colwood News at www.colwood.ca/News
Follow @cityofcolwood on Twitter, Facebook and Instagram