Members of the Colwood Fire Rescue and Public Works crews were ready to protect public safety in the early morning hours of Saturday, January 15, 2022 when news of a volcanic eruption near the Tonga Islands resulted in a Tsunami Advisory for our area.
In consultation with Emergency Management BC, it was determined that there was the possibility of unpredictable surges and strong currents. Therefore access to shoreline areas was to be limited as a precautionary measure. No evacuation of any homes was recommended.
Advising people on the beach
City crews began preparing to advise visitors at the beach about the tsunami advisory, clear the area and close the gates on Ocean Boulevard.
Asking people to move away from the beach to protect safety takes a fine balance of courtesy, understanding and assertiveness. Locating visitors enjoying a walk is often the first challenge, then advising people who may either react with panic or with disdain for the safety measures requires diplomacy. As one staff member said, "Closing the gates is the easy part… encouraging visitors to move along takes a bit of time and patience."
All visitors voluntarily departed the area prior to the gates being closed.
Crews were also positioned at the entrance to the Royal Beach Park, where people were advised to stay away from the shoreline and the property owners later closed the gate for the duration of the advisory.
The closures remained in effect until the Tsunami Advisory was cancelled by Emergency Management BC in the early afternoon.
Sign up for West Shore Alert to be notified when safety issues arise
It only takes a moment to sign up for West Shore Alert and download the Alertable app that will advise you when a safety event is occurring in our area.
Go to www.colwood.ca/WestShoreAlert for more information.
This is the Tsunami Advisory that was sent on the morning of Saturday, January 15, 2022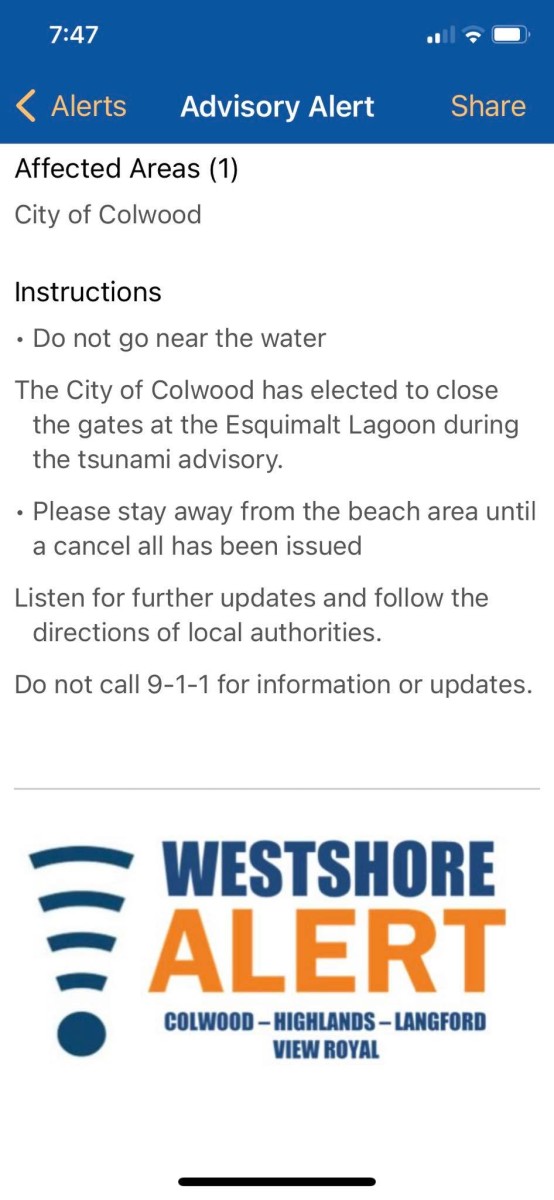 Photo from the Lagoon Beach by Jeremy Cook Photo.