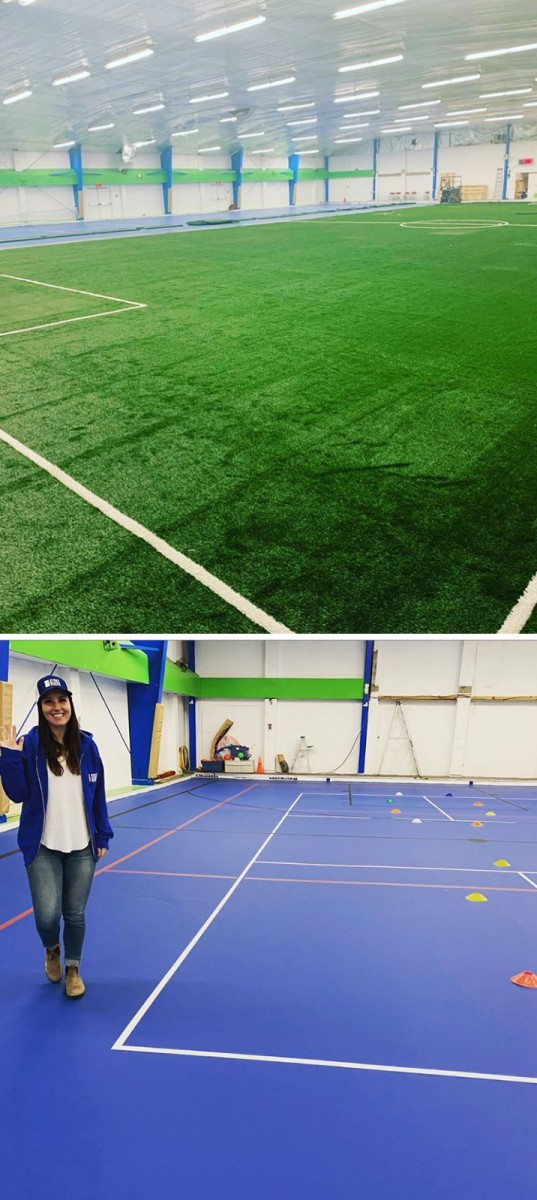 West Shore Parks & Recreation is excited to announce the official opening of the new Indoor Sports Complex at 1767 Island Highway in Colwood. 
The multipurpose sports and recreation facility provides much needed space for a wide range of fast growing team sports like soccer, baseball, lacrosse and rugby as well as drop-in floor hockey, pickleball, basketball, volleyball and jazzercise. It will also allow for child and youth programs such as birthday parties, a childcare space, tot-socials and youth drop-ins.
The space is already being put to good use, with nine unique user groups who have booked the space for weekly training.
The new amenities within the Indoor Sports Complex include:
Artificial turf: 11,000 sq/ft "Nexxfield Modular X-Gen Pro" synthetic artificial turf playing surface which can be removed for trade shows and events
Court sports: Two 2900 sq/ft "Conor Sport Elastiplus" polyurethane multicourt surfaces
Dividers: Two walk draw curtains separating the two multisport surfaces and artificial turf from the multisport surface
Sound system: Upgrades to the audio system for programming needs
Basketball: two wall mount, side fold basketball hoops (still to be installed)
Accessible entrance: to sport court (to be completed)
For booking information contact the West Shore Parks & Recreation Arena, Indoor Sports Floor and Turf Bookings Clerk at 250-474-8626 or visit http://www.westshorerecreation.ca/facilities/bookings/.
Media Contact:
Simon Miles, Marketing Coordinator
West Shore Parks & Recreation
Direct: 250-474-8601 Email: smiles@westshorerecreation.ca