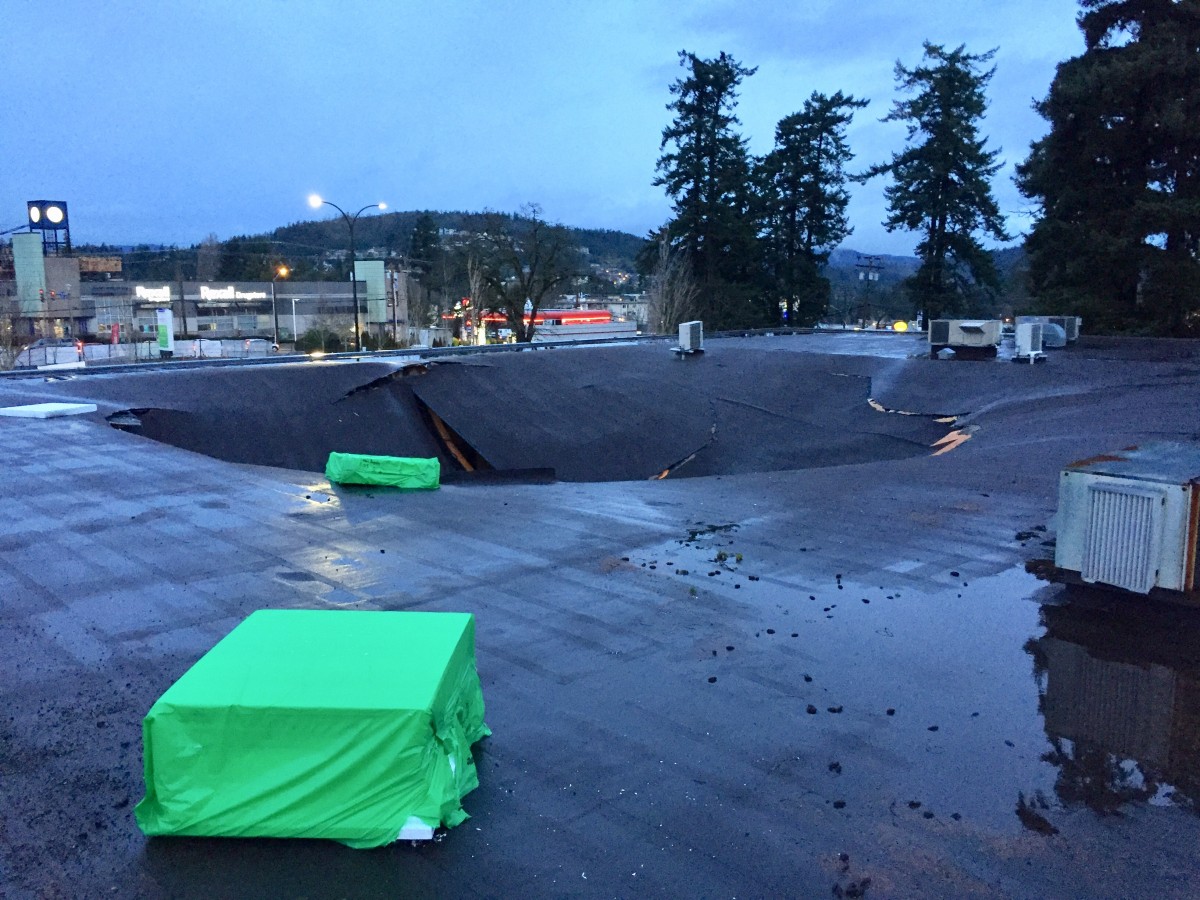 In the early hours of this morning as heavy rain continued to fall, Colwood Fire responded to the structural collapse of a portion of the flat roof on the building adjacent to London Drugs at 1905 Sooke Road.
The building was constructed in the early 70's.
There were no injuries as the building was vacant and the affected units are not currently leased.
Colwood building inspectors were on site this morning to assess the situation.
Supporting businesses
London Drugs remains open, having recently had its roof replaced by the building owner, Onni Group. 
Two other businesses in the building, First Choice Hair Cutters and Kathy's Mutt Cuts, are closed until that portion of the building is deemed safe.
It is extremely unfortunate that this event has impacted the two businesses and their patrons, but public safety must be the primary concern.
City staff were on site with the business owners this morning to provide information about working with their insurers and the property owner to track and recover any potential loss of revenue. The business owners were encouraged to contact the City if they have any questions or concerns.
Plans for the building going forward
The building is part of the Colwood Corners property that is currently being redeveloped by Onni Group. Their plans included upgrades to this building as part of the new development. It is not known at this time how the incident will affect those plans. They will need to make that determination and then work with the City to adjust their plans going forward. 
Built to 1970's standards, this building has been subjected to 50 years of wear and tear. Colwood is one of the few municipalities that employs several Level 3 Building Inspectors to assist property owners and builders. Public safety is the City's primary concern with respect to new construction.
An important reminder to property owners
The incident serves as a reminder of the importance of regular roof maintenance, particularly during the kind of heavy rain and potential snow events we are currently experiencing. 
-        30       -
Media Contact
Sandra Russell
Communications Manager
778-677-5345
Subscribe for Colwood news at www.colwood.ca/Subscribe
Follow @CityofColwood on facebook, twitter and instagram