Where: Seafield Road from Selleck Way to Heatherbell Road
When: Intermittent closures into December until work is complete
What: Traffic Detour for future road opening
---
UPDATED information is in bold:
Seafield Road between Selleck Road and Heatherbell Road in the Lagoon neighbourhood will be closed for construction to facilitate the opening of the new section of Seafield Road.
Vehicles will need to detour via Matilda Drive and Portsmouth Drive to Heatherbell Road as shown on the attached map. Signage and traffic control personnel will be on-site. 
The traffic detour for the opening of the new Seafield Road will remain in effect and is anticipated to be in place into early December until such time as all roadworks can be completed. The remaining surface roadwork (curb, sidewalk and asphalt paving) require air temperatures above 5ºC. 
We encourage residents and the public to refer to the City of Colwood website for updates regarding the detour and the opening of the new section of Seafield Road.
The new Seafield Road alignment is part of the Seafield Development.
We apologize for any inconvenience to residents as these upgrades are completed.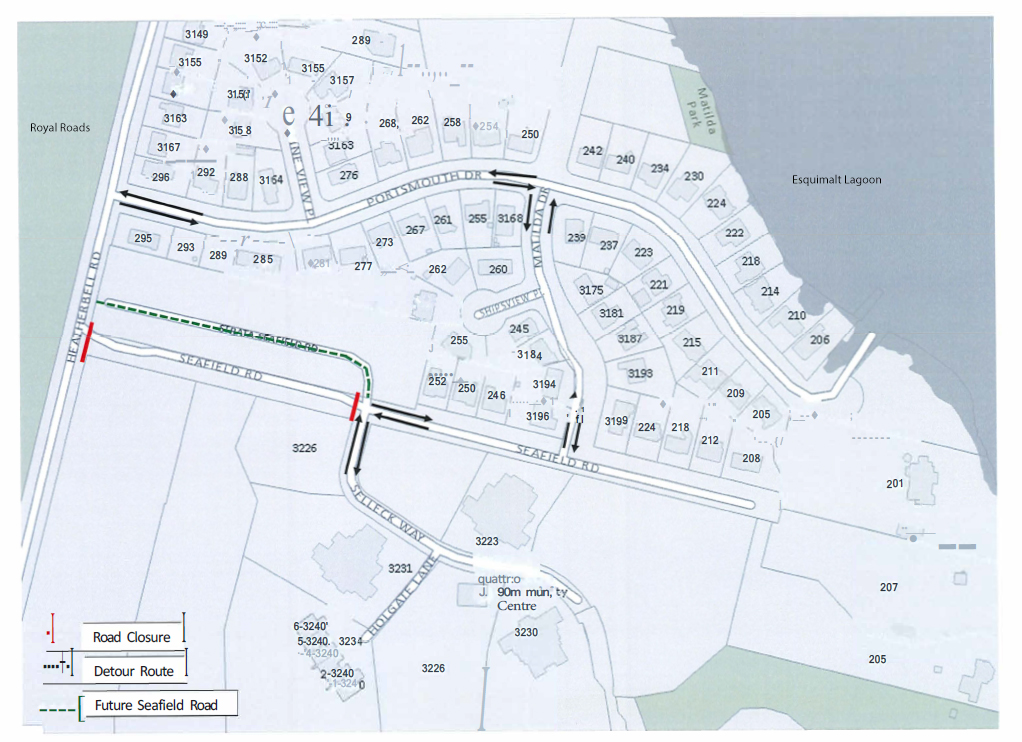 Find City of Colwood news at www.colwood.ca/News
Subscribe for updates by email at www.colwood.ca/Subscribe