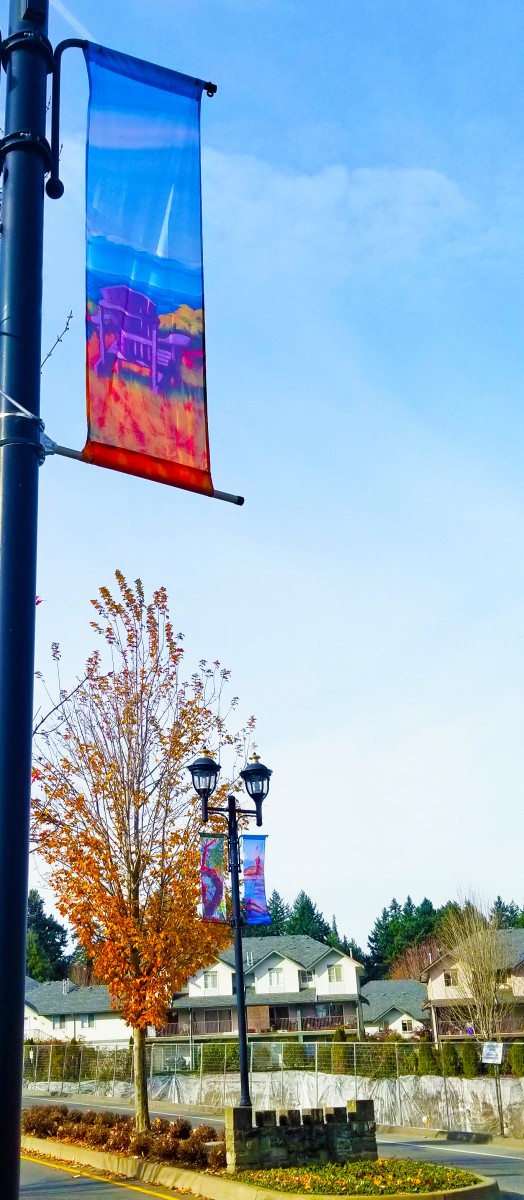 Bright, new banners will soon bring the beauty of Colwood's natural areas out into the streets in several locations around the City. The banners are the result of a collaboration between the City and talented local artists Deborah Czernecky and Sheryl Parsons.
Colwood is a seaside community set along miles of sandy beach and bordered by majestic forests and stunning mountain views across the ocean. The Colwood waterfront features iconic sites like Fisgard Lighthouse, Hatley Castle and Esquimalt Lagoon National Migratory Bird Sanctuary. Further along the beach is the growing seaside neighbourhood of Royal Bay. It's a setting worth celebrating!
"It's wonderful to be able to showcase the beauty of Colwood through the work of talented artists in our community," said Mayor Rob Martin. "These banners help foster a sense of pride and show what a welcoming and engaging community Colwood is."
Featured artwork
Watch for banners featuring the artwork of Deborah Czernecky, including Above the Lagoon, Red Branch, Beach Day, ​Fisgard Lighthouse, October Day at the Lagoon, and Red and White Boat.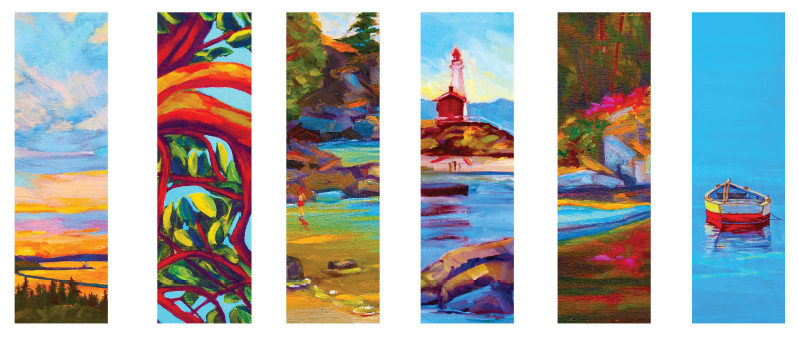 As well as artwork by Sheryl Parsons, including Make Time, Olympic Majesty, Arbutus Loop, Battle Tree, Forest Parade and Toward the Point.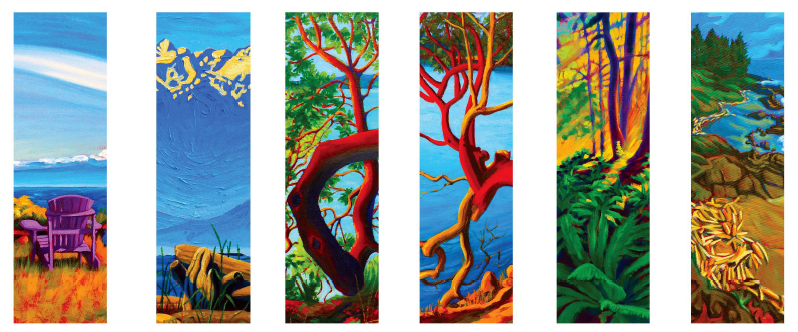 About the artists
Deborah Czernecky lives in Colwood. She grew up in an artistic family in the interior of British Columbia developing a life long passion for paint and nature, especially its spirituality.
While primarily an "en plein air" painter, she has produced a diverse body of work ranging from the raw power of the majestic Canadian Rockies to the serenity of an early "Morning Row" in the mist of the lake, (selected by Ducks Unlimited for its 2018 Art Portfolio). Whether painting on location or in the studio, Deborah combines her dynamic palette with elements of abstraction and traditional realism to convey the essence of the subject matter.
Learn more about Deborah Czernecky at spinningdogstudio.ca
Sheryl Parsons is a Colwood artist whose goal is to reveal the beauty and wonder of creation through her paintings.
Sheryl's artwork pays special attention to nature subjects where the sunlight has created extreme contrasts. Attention to the brushstroke comes from her love affair with artists such as the Tom Thompson, Emily Carr, Vincent VanGogh and Paul Gauguin.
Learn more about Sheryl Parsons at sherylparsons.ca
Banner Locations
The first wave of banners will be installed along Wale Road, then added on Sooke Road near Kelly Road and on Veterans Memorial Parkway near Sooke Road, Cairndale Road and Latoria Road. Metchosin Road near the Royal Bay Bakery will soon have decorative Christmas Lights installed, followed by the new banners early in the new year.
While many of the street poles in Colwood are BC Hydro poles, which don't allow for decoration, new high visibility banner locations will be added as Colwood Corners and other developments enhance the roadways, sidewalks and lighting along their properties.
- 30 -
Media Contact
Sandra Russell, Communications Manager
City of Colwood
778-677-5345 or srussell@colwood.ca