The City has received applications for Zoning and Official Community Plan (OCP) amendments for the Royal Beach property. 
The applications propose creating a new Area Plan for Royal Beach, which will impact land uses, population density, road layouts, traffic patterns, parks planning, shoreline erosion and slope stability assessments.
Staff have asked the Royal Beach developer, in coordination with the Royal Bay Latoria South Developer, to provide technical studies on each of these aspects to inform Council's decision making.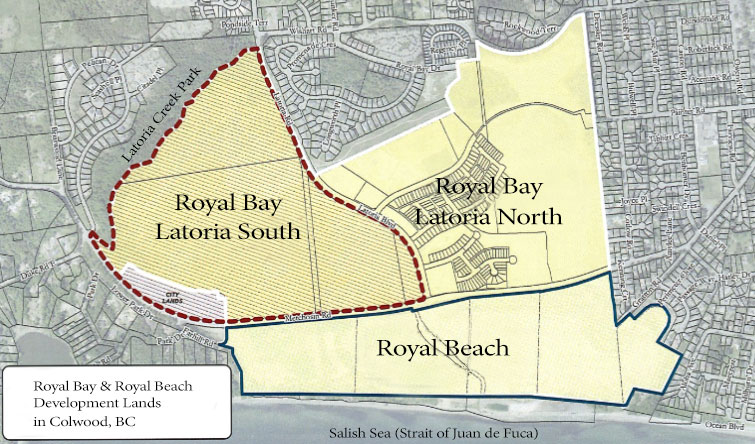 How will decisions be made?
Staff presented a briefing report to Committee of the Whole at their meeting on September 3, 2019.
It may take several months for the technical studies to be completed, submitted and reviewed by staff, then presented to Committee of the Whole and for public review. Then the zoning and OCP amendments may proceed to Council for consideration.
Below is a high level overview of topics discussed in the staff briefing report.  Read the full staff report for more details.
Density
The Royal Beach proposal includes a significant increase in the number of residential dwellings and non-residential floor space. Staff have requested absorption studies for both Royal Beach and Royal Bay Latoria South to confirm that Colwood has the capacity for the proposed amount of floor space.
Traffic impacts
Staff have requested that traffic consultants for Royal Beach and Royal Bay Latoria South coordinate their analysis to provide integrated traffic studies that include the cumulative impact of other potential developments along Latoria Road.
Shoreline erosion and slope stability
Monitoring of the shoreline along Royal Beach has been ongoing for several years. The Royal Beach developer is continuing these studies along with slope stability assessments. This information will be critical in guiding the type and location of waterfront amenities such as walkways and public spaces. 
Parks and open space planning
Waterfront parks and open spaces will be a key consideration in developing the concept for Royal Beach as well as for Royal Bay Latoria South. Staff will be recommending that the developers submit Terms of Reference that describe how parks will function and clear expectations for the ongoing maintenance of parks.
Engaging the community
The Royal Beach and Royal Bay developers have hosted open houses to provide information and gather public input. View open house information for Royal Beach and for Royal Bay (Note that proposals are expected to evolve as new information is received).
Watch for more opportunities to provide feedback as the proposals advance for Council consideration later in 2019.