Head to the beach in Colwood on Saturday, July 20, 2019 for live music all day with a food truck festival, a craft beverage garden, a street market, a climbing wall, paddling, cycling and more! We're celebrating summer with FREE fun on the street, sand, and sea on Ocean Boulevard along Esquimalt Lagoon. You'll find Eats & Beats on the beach between the castle and the lighthouse, with the ocean all around you.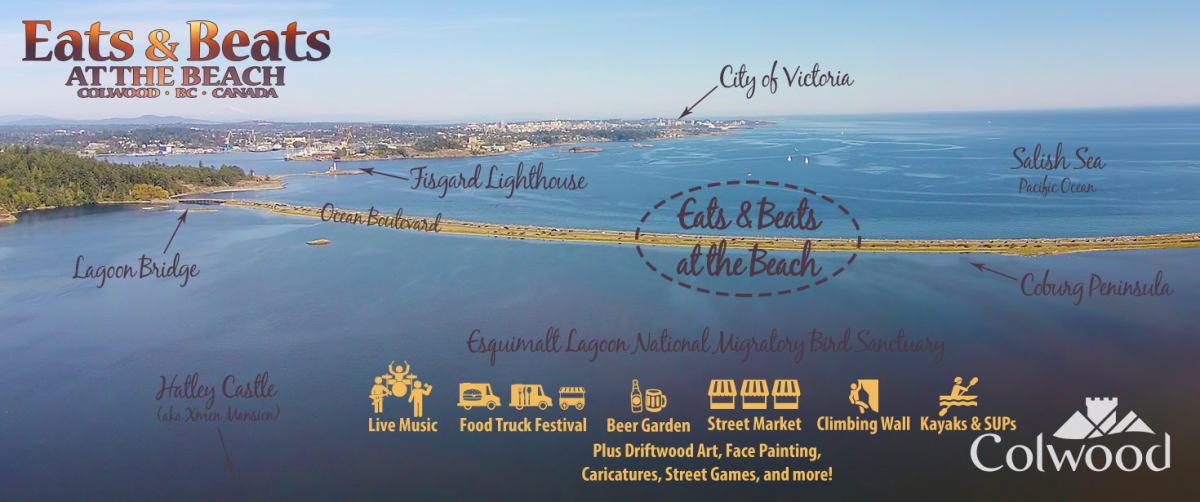 Live music, street food and beach beverages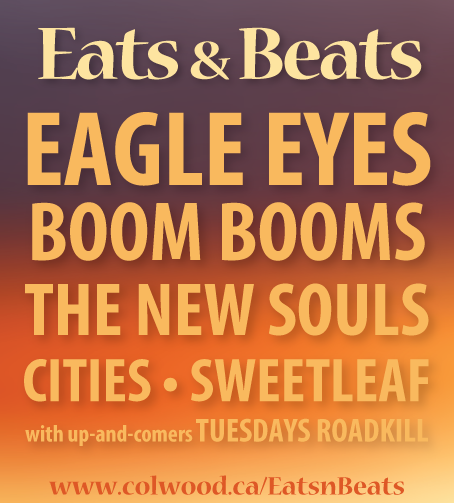 Sample international flavours from more than a dozen food trucks, including Songhees Seafood & Steam's local indigenous flavours, Kebab me Crazy's authentic Syrian street food, Deadbeetz Food Truck burgers with a Vancouver Island twist, a taste of the Phillipines from Mama Rosie's Food Truck, L'Authentique Poutine and Burgers straight from Quebec, Indian specialties from Spice Aid plus ice cream, mini donuts and more!
Enjoy an ice cold beer or cider on the beach. The Victoria Beer Society pop up Beer Truck will offer a broad selection of taps so you can sample a flight of local favourites while you groove through the afternoon and into the evening with live bands like Eagle Eyes, the Boom Booms, The New Souls, Cities, SweetLeaf and Tuesdays Roadkill.
Tons of free activities at Eats & Beats
Eats & Beats will get you moving too! Stroll along the beach street market featuring unique Vancouver Island gifts, crafts, treasures, and treats. Flex your muscles on the Eats & Beats climbing wall, which is equipped with an auto belay system to let you down easy, making it a fun, safe, outdoor activity for all ages. Try out a kayak or stand up paddle board from West Coast Outdoor Adventure. Go for a spin on an e-bike from Oak Bay Bikes that will make the trip up from the beach as easy as the cruise down. Grab some friends for a big beach game like oversized beach pong with West Shore Parks & Recreation. Your favourite mascot might even join the fun — watch for some crazy antics from furry friends like Harvey the Harbourcat, Rocky from the Shamrocks and Marty the Marmot. You can even get into the festival spirit with body art from Sparkle Shack and a caricature by Fun Sketches. 
Getting to Eats & Beats
With two Eats & Beats shuttle buses, bike parking, and free parking all along the lagoon, there are lots of ways to get to Eats & Beats.
Driving to Eats & Beats: Drive to the Park & Ride and jump on a free shuttle. Ocean Boulevard will be closed to through traffic for the event, but there will be some vehicle parking along the beach on Ocean Boulevard. Parking attendants will assist drivers.
Hop on a free Eats & Beats Shuttle: The Eats & Beats Shuttles will run all day between the the event and the Park & Ride at Island Highway and Ocean Boulevard (next to West Shore Parks & Recreation). 
B.C. Transit makes it easy to get to the event: Take transit to the Colwood Transit Exchange (Routes #50, #52, #53, #61) then hop on the complimentary shuttle to the event. For more information visit http://bctransit.com/victoria/schedules-and-maps
Walking and cycling to this event is encouraged! Bike racks will be available at the event. There is also covered bike parking at the Colwood Transit Exchange at West Shore Parks & Recreation, right next to the Park & Ride where you can jump on a shuttle to the site. The Galloping Goose Regional Trail leads directly to the the Transit Exchange and the shuttle bus stop, so biking is a great option.
Got your own kayak? Paddle over to Eats & Beats! If you have your own kayak or canoe - park at Royal Roads University for an easy paddle across the sheltered lagoon to the event.
However you get there...don't miss the best beach party of the summer! 
Get all the details at www.colwood.ca/EatsnBeats and on the Eats & Beats facebook event page.