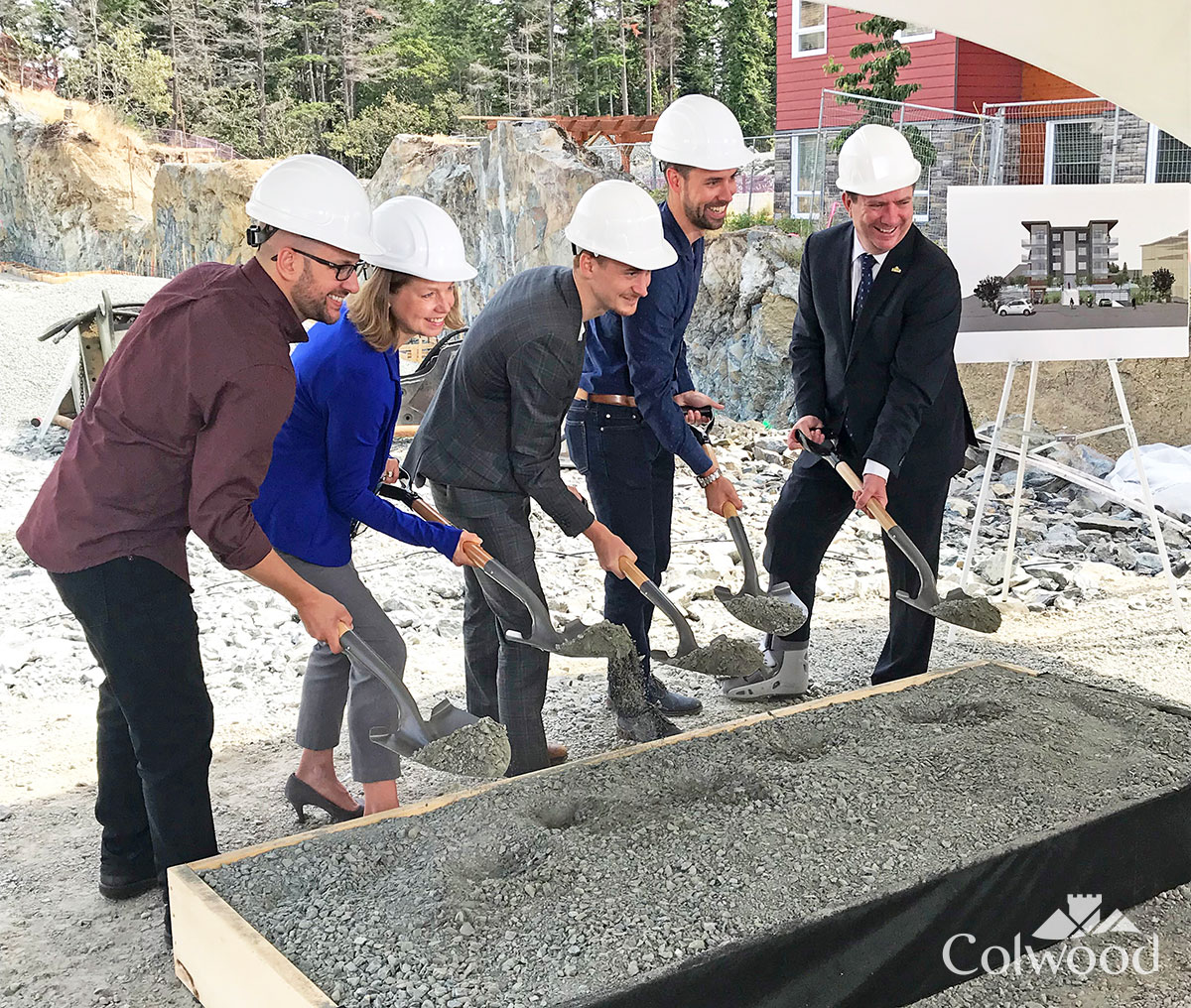 Today Mayor Martin and MLA Mitzi Dean joined BC Housing and Stride Properties at the groundbreaking of 284 Belmont Road in Colwood where a new 4-story building will be constructed to provide 48 new rental homes. 
The project is being built by Stride Properties in partnership with the BC Housing HousingHub program which helps to create new affordable rental housing and homeownership options for middle-income British Columbians. These apartments are geared toward people with annual incomes ranging between approximately $52,000 and $66,000. Rental rates are projected to be approximately $1,300/month for a one bedroom apartment and $1,650/month for a two bedroom apartment.
Through the HousingHub program the Province will provide interim construction financing of approximately $9.7 million for the project.
"These new homes for middle-income families will increase the diversity of housing choice in Colwood," said Rob Martin, mayor of Colwood. "We want Colwood residents to be able to live in our community throughout their lives, and that includes having affordable rental options for young adults, families starting out, seniors needing to downsize and people on fixed incomes."
Colwood is an exceptional seaside community that offers unique connections to nature and a high quality of life. These new homes will have access to a dedicated natural park area where the developer has worked with the City to preserve a Garry Oak ecosystem. At their doorstep are miles of trails through the Royal Roads old growth forest and the Colwood waterfront is within walking distance just down the hill. They will benefit from the incredible recreational facilities down the block at West Shore Parks and Recreation with the library, pool, playing fields and other facilities, as well as a growing commercial town centre at Colwood Corners.
Completion of the new housing is expected in late 2020.
Read the BC Housing News Release.