The City of Colwood will be consolidating its development services and engineering functions under a single director. The move will help to streamline decision making and speed up the development process as the City works toward its vision of creating a spectacular seaside community with exceptional connections to nature and a high quality of life. 
New Director of Engineering and Development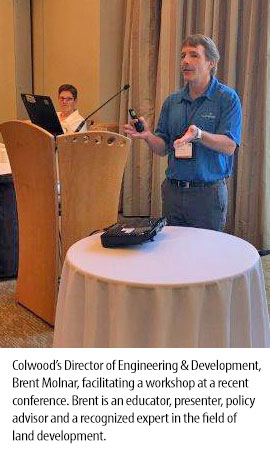 Brent Molnar will step into the role of Director of Engineering and Development beginning July 3, 2019. Brent has been leading Colwood's development services team since March 2017.
The change comes as the City's current Director of Engineering, Nikii Hoglund, moves on to an exciting new role with the University of British Columbia. In her two years with the City, Nikii brought a new sophistication to Colwood's asset management systems, GIS mapping technology, Public Works levels of service and much more. Nikii will be missed and we wish her much success in her new position. 
A new Manager of Engineering will be recruited to manage the work of the engineering staff under the leadership of the new Director of Engineering and Development. The City is currently accepting resumes for the position of Manager of Engineering. 
Coordinating critical functions
Closer integration of development and engineering functions is a logical move for Colwood as the City oversees significant development in the new Royal Bay and Royal Beach waterfront communities as well as the revitalization of its town centre.
A single point of coordination and communication between engineering and development staff will create greater efficiency and focus in regards to the development process.
The two departments work closely on subdivision and development applications which require both planning review and direction, as well as detailed engineering drawings for utilities, services, lighting, stormwater systems, road and sidewalk infrastructure and more. 
Learn more about Colwood Engineering and Development Services.