Plans for a vibrant Seaside Village at Royal Bay are moving forward.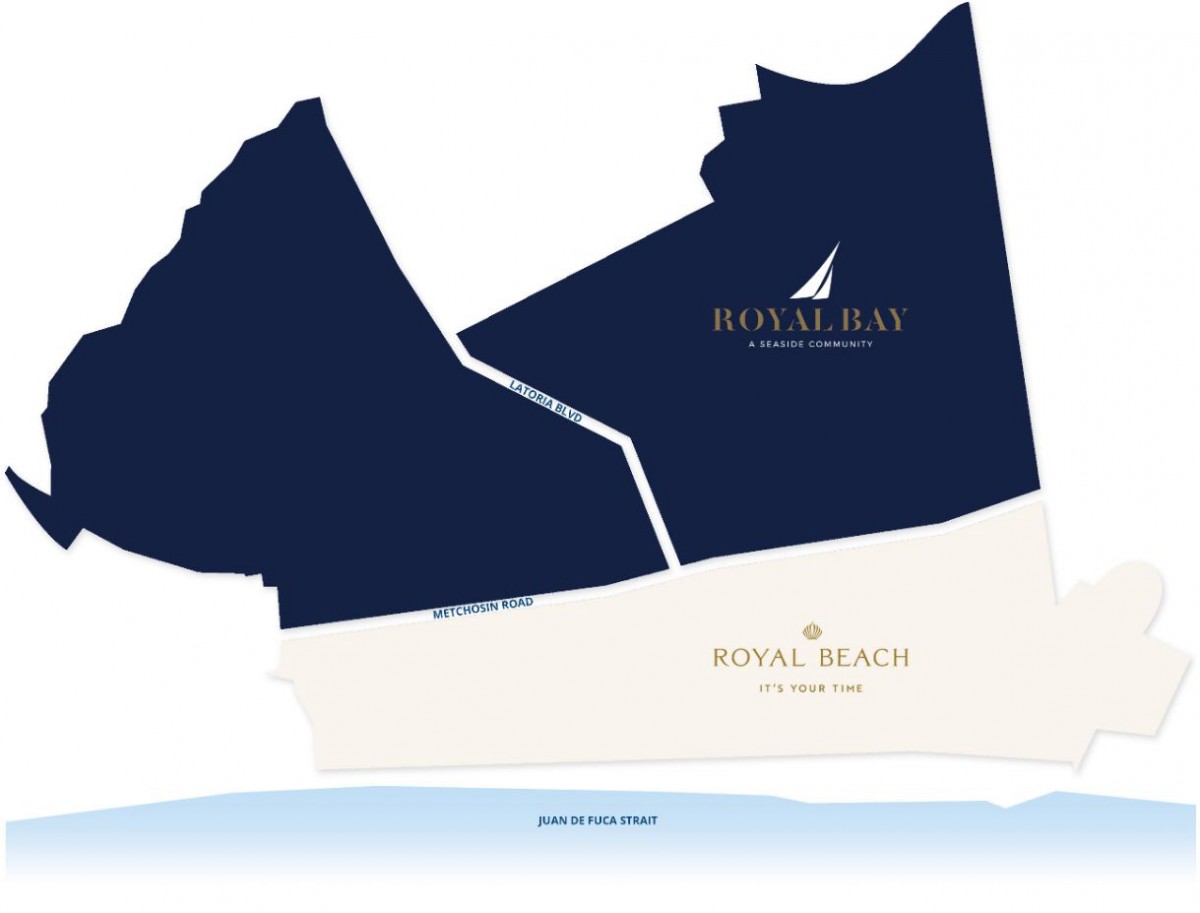 Gablecraft Homes is planning an expanded commercial centre in Royal Bay (south of Latoria Boulevard) that will include a mixed-use village, a range of housing types, an elementary school site and rich network of public parks, trails and pathways.
Seacliff Properties is developing a revised plan for Royal Beach that includes a destination public waterfront surrounded by boutique shopping, dining and seaside living.
As a world class seaside destination, Royal Bay and Royal Beach will attract new homeowners, businesses, visitors and tourists. The City is working with all partners to coordinate transportation plans to address traffic flow as the community grows.
The developers will be required to construct transportation upgrades that are coordinated with other planned and future potential developments in the area. Improvements over time may include:
road and intersection upgrades on Metchosin Road, Latoria Road and Veterans Memorial Parkway;
BC Transit enhancements;
walking and cycling improvements on Metchosin Road and Latoria Road;
exploring options for marine routes.
Frequently asked questions
1. When will we see some commercial development in Royal Bay?
We hope to see the first small coffee shop and/or local store in Royal Bay in the near future, while the City and Gablecraft work together on the overall rezoning and then building permits for the Commons. Adding seaside retail at Royal Beach will also be key to animating the public waterfront.
2. What kinds of commercial amenities will Royal Bay and Royal Beach have?
The plan favours local, boutique shopping and dining over "big box" outlets, as well as various professional and health & wellness services. The City is excited to see the commercial market move in to serve the residents and visitors who come to enjoy this beautiful area of the Colwood waterfront.
3. Will Latoria Road be expanded to two lanes in each direction?
Transportation consultants are looking at a whole range of options to accommodate growth over time. Latoria Road runs along Latoria Creek which presents environmental factors that need to be carefully considered. Any plans would be long-term and need to consider full build-out of the development lands as well as other nearby properties that may develop over time.
4. Will Metchosin Road be expanded to two lanes in each direction?
Transportation consultants are looking at a whole range of options to accommodate growth looking at the next 10 years and beyond. Stay tuned for updates as transportation plans progress.
5. Will there be a traffic light at Ryder Hesjedal Way and Latoria Boulevard? 
Yes, in fact Royal Bay has agreed to move this up on their schedule. The City will also use frontage improvement funding from School District 62 to support this intersection upgrade which will help ease congestion during peak school traffic times. It is expected to be in place by school start-up in Sept 2019.
6. Will the intersection of Latoria Road and Veterans Memorial Parkway be upgraded? 
Yes. That upgrade is part of the development agreement with Olympic View. The design has not been finalized, but both a roundabout and a signalized intersection are being considered.
7. Will there be a traffic light at Latoria and Metchosin Roads?  
Yes. A traffic light at this intersection is a requirement of the Royal Bay and Royal Beach devlopers.The intersection design is part of the study that is currently underway.  Information will be shared as it becomes available.
8. Will there be a West Shore Ferry?
The City is open to exploring this option. BC Ferries has undertaken a feasibility study and will be sharing their findings in the near future.
9. What planning has occurred with BC Transit?
BC Transit has proposed a high frequency transit route that travels along Metchosin Road, Latoria Road and Veterans Memorial Parkway and has been actively engaged by the development teams. BC Transit is also planning for a "transit node" which will act as a transit exchange. 
10. How were First Nations consulted about Royal Bay?
The Songhees, Esquimalt and Scia'new First Nations were consulted most recently through the Colwood Official Community Plan (OCP) update which was adopted in 2018. The OCP includes the full area plan for Royal Bay and it was discussed during meetings with First Nation partners. Royal Beach does not represent an expansion of the plans as described in the OCP, it is a new name put forward by the current owner of the property. 
11. What happens next?
City staff will be presenting an analysis of the plans for Royal Bay and Royal Beach to Council. Residents are encouraged to attend Council meetings to hear discussions first hand and offer input as plans move forward.
Connect with Colwood
Follow @cityofcolwood on facebook, twitter and Instagram and subscribe for Colwood news and event updates at www.colwood.ca/Subscribe.