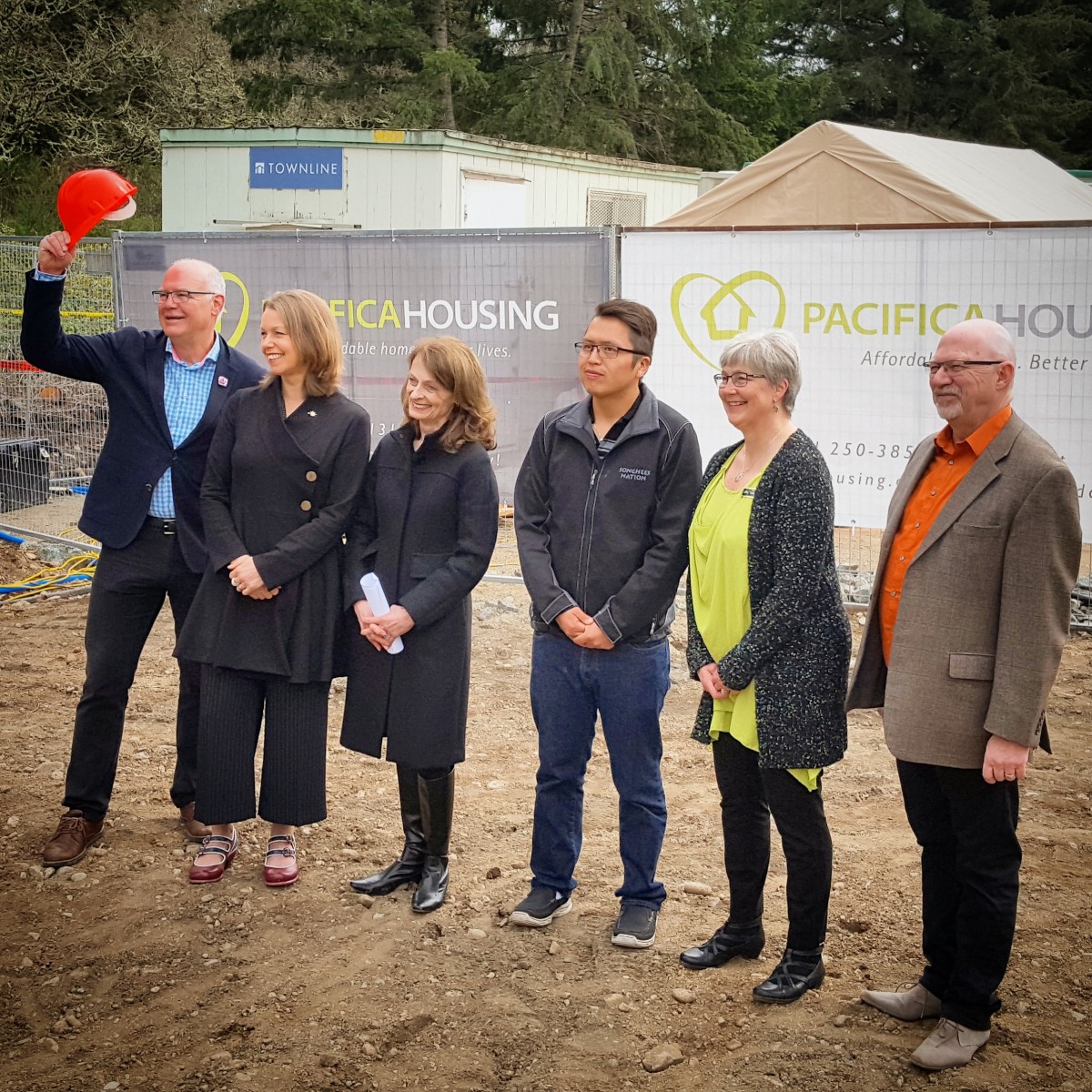 Thanks to Pacifica Housing, and with funding from the Province and the City, Colwood will soon be home to 82 much-needed rental homes for families, seniors and people with disabilities.
"Our community has been struggling under the weight of this housing crisis, along with the rest of the province, for far too many years," said Mitzi Dean, MLA for Esquimalt-Metchosin. "I am excited for the people who will be living in these homes. Our government is working hard to create the partnerships needed to build even more projects like this to help people find a place to call home."
Located on Sooke Road near Royal Roads University, construction is underway on the redevelopment that will replace 12 aging townhouses with 82 new homes.
Read more about Helios on the Pacifica Housing website.
The project will create more homes for low-to moderate-income households and is near Colwood's town centre with community amenities, schools, retail areas and transit nearby.
"Colwood is proud to support Pacifica Housing on the construction of 82 affordable rental units at Helios in Colwood," said Carol Hamilton, mayor, City of Colwood. "Current housing costs and low vacancy rates can make homelessness a frightening possibility for people on low or moderate incomes. The kind of safe and affordable housing Pacifica provides is the foundation people need to build the life they envision for themselves and their families."
The City of Colwood contributed $328,000 toward the project from its Affordable Housing Reserve Fund, plus $136,000 in waived amenity contributions, for a total of $464,000. Colwood has also taken steps to ensure these units continue to be affordable into the future, by putting in place a covenant that rents cannot exceed established Housing Income Limits.
Helios will include homes of varying sizes, from studios to three-bedroom units, with a projected rent range of approximately $825 to $1,575 per month.
It will be operated by Pacifica Housing and will include pedestrian walkways, a playground, and community gardens.
"We are thrilled to be working with our partners to increase the affordable housing stock for families in the Western communities," said Dean Fortin, executive director, Pacifica Housing. "People should be able to work in the communities where they live, and projects like Helios make that possible."
The new building is expected to be complete by summer 2019.
Read the release from BC Housing
Read the BC Government News Release