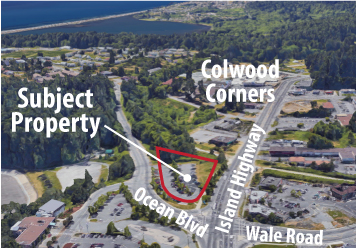 The application to rezone the property that is currently used as a park & ride facility in Colwood has been rescinded.
Involving the community in decision making
The City shared information and hosted an open house on January 31, 2018 to hear from community members about a proposal to construct a professional medical centre on the park & ride property. The proposal coincided with BC Transit reporting that they were working to secure additional park & ride spaces within the West Shore. Read more about the proposal.
The majority of community feedback focused on the need to secure park & ride spaces in other locations prior to considering zoning changes to the property. There was also concern that uses other than a medical centre should be considered if the property were to be rezoned.
Colwood Council considered this feedback from the community along with input from the Advisory Planning Commission and other data and financial considerations, and at their meeting on February 26, 2018, decided not to make any change to the zoning at this time.
Realizing the value of the land
To make any legitimate use of the land possible—including any kind of lease agreement with BC Transit or other parties—the property needed to be changed from highway dedication to an actual land asset. This valuable property in Colwood's town centre had $0 assessed value with its status as highway dedication. As a land asset, the property has an estimated value in the range of $2M. Council gave that change final reading at their meeting on February 13, 2018. The final step is for title on the property to be registered in the municipality's name.
The bottom line is that no change in use is planned for the Colwood Park & Ride at this time, and the City looks forward to hearing from BC Transit about the allocation of additional park & ride spaces on the West Shore.