With a development permit in hand, the owners of the Colwood Corners property are set to begin work at the 12.5 acre site on Sooke Road near Goldstream Avenue.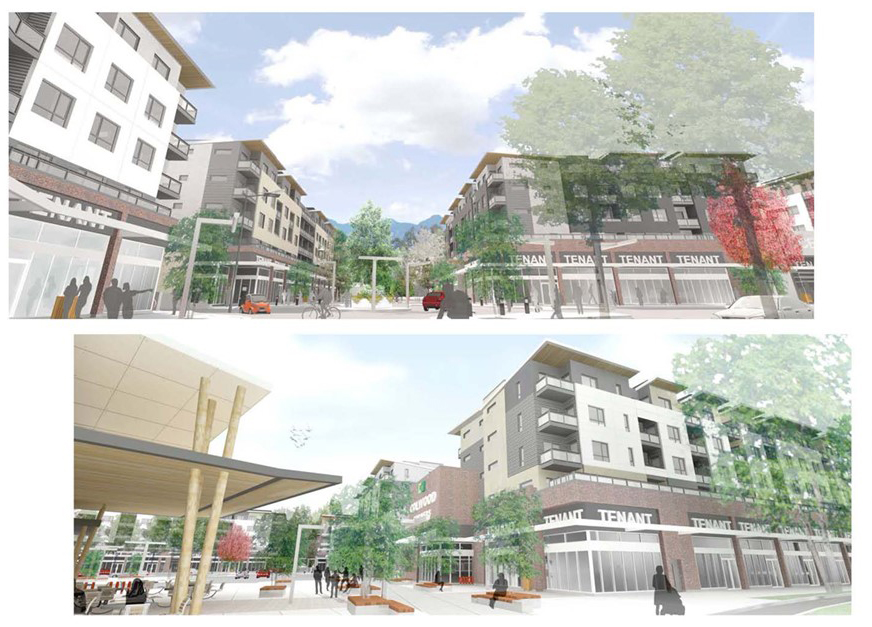 The first phase includes three mid-rise residential buildings plus an additional 152,000 square feet of commercial space which will house four anchor tenants, including one major grocery store. The development is set to bring added balance and vibrancy to the Colwood housing market with an additional 471 new residential units.
Onni Group expects to begin site work in mid August, with completion of the first phase anticipated for 2020. 
"Onni is very excited to announce its plans for Colwood Corners," says Rodney Rao, Development Manager for Onni. "Colwood is a vibrant and active community, however we have seen that demand has been exceeding current supply in the region. We look forward to bringing new home opportunities to Colwood with a unique new 'live, work, play-style' community that everyone can enjoy." 
Creating connections and public spaces
Plans include new pedestrian and cycling connections to the Galloping Goose Regional Trail, as well as landscaped public spaces with attractive seating, lighting and places for kids to play.
New bike lanes and boulevards are planned for the frontage along Sooke Road as part of the Colwood Corners development, and will connect to improvements at the Brookes Westshore School site next door as well as the new Helios affordable housing project at 2006 Sooke Road.
For more information on Colwood Corners please visit: https://www.onni.com/colwoodcorners/.
About The Onni Group
The Onni Group is one of North America's leading private real estate developers, with extensive experience designing, developing, building, and managing innovative projects. As a fully integrated company that directly oversees every step in the development process, Onni has built over 12,000 homes. In addition, the company owns and manages more than 7 million square feet of commercial property, over 5,500 rental apartment units and has an additional 10 million square feet in various stages of development.  With offices in Vancouver, Toronto, Chicago, Los Angeles, Phoenix, Seattle, and Mexico, Onni continues to expand and diversify into new markets throughout North America. www.Onni.com
Media Contacts
Chelsea Moore, Marketing Manager
Onni Group
Phone: 604-602-7711
Email: cmoore@onni.com