Colwood, December 5, 2016 – Today, the City of Colwood's Mayor and Council received the very first "Order of the Bear" from the Canadian Federation of Independent Business (CFIB), in recognition of their decision to create a permanent business licensing system. Starting in 2017, Colwood's entrepreneurs will no longer have to pay a fee to license their business, but will simply need to complete a quick and easy online renewal each year to keep their business in good standing. New businesses will pay a one-time fee when they first apply, and, once approved will receive their perpetual license.
"This is exactly the type of action governments can take to help reduce the burden of red tape on small businesses," said Laura Jones, Executive Vice President and Chief Strategic Officer.  "Red tape, no matter how big or small, is destructive to our economy, our communities and to entrepreneurs, so when action is taken, it deserves recognition.
Read more at Colwood eliminates annual business license fees.
[Photo: Councillor Jason Nault, Councillor Lilja Chong, Councillor Rob Martin, Mayor Carol Hamilton, Committee Member Duane MacNeill, CFIB's Laura Jones, Councillor Cynthia Day, CFIB's Samantha Howard, Councillor Gordie Logan, Councillor Terry Trace, Committee Member Doug Kobayashi, CAO Ian Howat]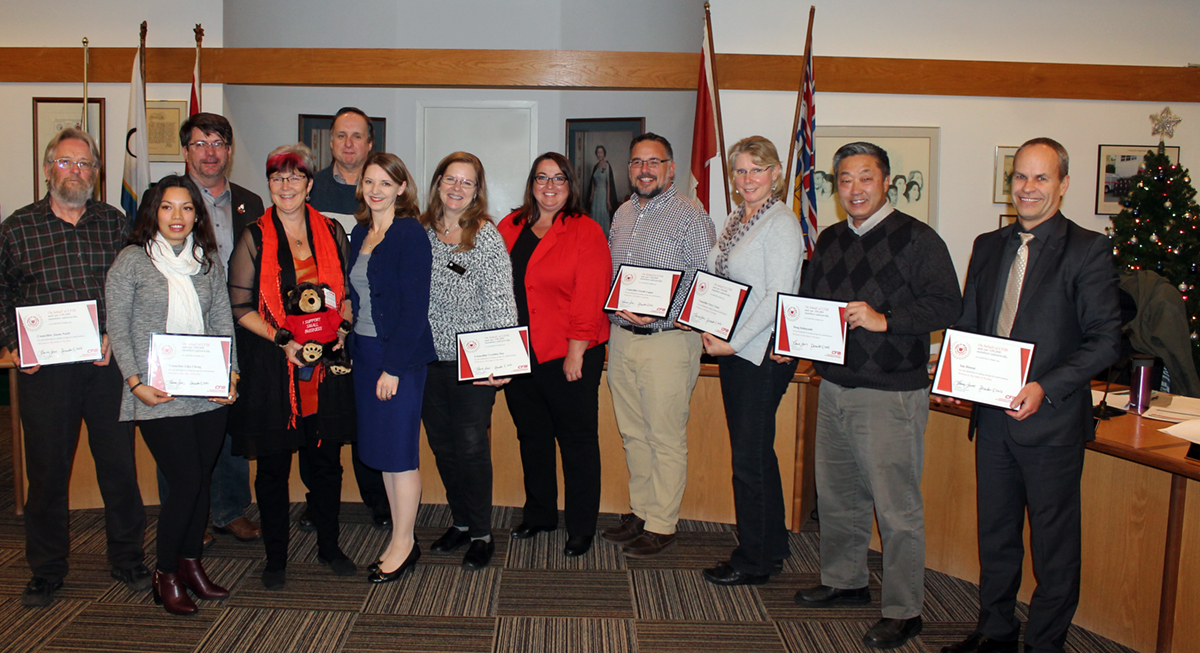 About the CFIB Order of the Bear
The Order of the Bear was created by CFIB to say "thank you" to government officials at all levels that support small business by cutting red tape. Inductees are groups or individuals who are taking action to support small business by doing things such as reducing paperwork and wait times, putting things in plain language, and getting rid of unnecessary requirements.
Recipients of the Order of the Bear will receive a Bravo in the form of a bear and a certificate.  Bravo the Bear is our front facing champion for those reducing red tape. Small Biz Bravo is the product of a BC Small Business called Warm Buddy and the owner Karen is happy her bears are being used as good news bears.
"Although the thank you in the form of receiving a stuffed toy bear is cute enough to make people smile, its intention is very serious," said Jones. "If these little bears can help raise awareness about how important it is to support small business by keeping government rules and attitudes around administering those rules simple and more reasonable, our country will be much better for it."
​CFIB has advocated for red tape reduction for many years and has a week dedicated to the issue every January aptly called Red Tape Awareness Week.  During this week, governments are evaluated on their leadership and accountability towards reducing red tape, and those who have created the most change on the red tape file are recognized and acknowledged.  The creation of The Order of the Bear will serve as a complement to the week by recognizing smaller acts of reduction throughout the year and saying "thank you" to the well deserved recipients.
To arrange an interview with Laura Jones, Executive Vice-President and Chief Strategic Officer, please contact 604-584-5325 or msbc@cfib.ca. To follow Bravo on his thank you missions he can be found on twitter and instagram @SmallBizBravo
CFIB is Canada's largest association of small- and medium-sized businesses with 109,000 members across every sector and region, including 10,000 in B.C.